Worst Political Endorsements Ever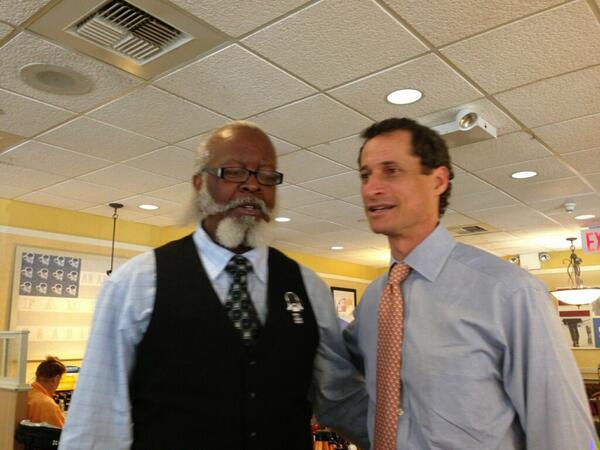 Political endorsements for a candidate are like getting a letter of recommendation for your job interview. For some candidates however, it may seem like that "letter of recommendation" is coming from their crazy Uncle Louie the meth head who can't stop picking his scabs and gets blood spots all over the letter. Damn it Louie! Take for instance the recent endorsement of New York City mayoral candidate Anthony "Carlos Danger" Weiner by the eccentric, one time candidate for governor, Jimmy "The Rent is Too Damn High" McMillan.
Jimmy McMillan officially endorses Anthony Weiner in the Sept 10 Democratic Primaries! #1010WINS #RentIsTooDamnHigh pic.twitter.com/aHsriICJsD

— jimmy mcmillan (@damnrentparty) August 1, 2013
McMillan sounds like a good guy at heart, but he won't exactly help Weiner seem like a serious contender.  And it's hard to tell if it isn't actually McMillan who looks bad for giving him an endorsement. After all, while the rent may be too damn high, Anthony's weiner is also too damn high! In honor of this insane political union that seems like it was a thrown-out Saturday Night Live sketch, here are the worst political endorsements ever!
Gary Busey Endorses Donald Trump
Last year's US Presidential election saw its usual round of no-chance-in-Hell fringe candidates, but none may have been as entertaining as loud mouth, comb-over resting place Donald Trump. Although he never officially declared his candidacy, he spent a lot of time hinting at it and even scored a huge endorsement. And by huge endorsement I mean the size of Gary Busey's teeth. The former Celebrity Apprentice contestant said, when asked if he would endorse Trump for president, ""I assure you that will happen; he knows about the country; he has an awareness; he has great marks in school." Sounds like a solid resume to be president to me. And the endorsement makes sense if you stare at these two guys long enough: Gary Busey and Donald Trump could be long lost brothers, one went off to become a millionaire businessman and one went off to become whatever it is that Gary Busey does these days.
Larry Flynt Endorses Mark Sanford
When I see someone trolling online, I picture legendary Hustler porn magazine publisher Larry Flynt sitting at his golden computer with a big jowly smirk on his face typing away. That's because Flynt loves to troll politicians and has made bit of a sport out of it.  Like the time he offered a million dollars for Mitt Romney's tax returns or another million for sex stories about Texas Governor Rick Perry. Of course, all Flynt really has to do to truly damage a candidate is offer his ringing endorsement! This past year former South Carolina Governor Mark Sanford ran successfully for Congress after resigning in 2009 when he went missing for several days while running off with his mistress. He later divorced his wife and is now engaged to his mistress. This display of "family values" earned the endorsement of the pornographer Flynt, who said, "His open embrace of his mistress in the name of love, breaking his sacred marriage vows, was an act of bravery that has drawn my support."
[[contentId: 2501322| data-allowvote: false]]
Mike Donnelly Endorses Brother Al Donnelly For Governor of Washington State
Some political candidates don't embarrass themselves like Anthony Weiner, they have the help of family members to do it for them. Bill Clinton had his hard drinking half-brother who the Secret Service gave the code name "Headache" due to his exploits, and Bill himself gave a presidential pardon to his bro for a cocaine conviction. However, Roger never embarrassed his sibling as bad as the on stage endorsement of Al Donnely for Governor of Washington by his brother Mike. In a rambling, pot fueled haze Donnely grabbed the microphone at a Rock The Vote event to the cheers of the crowd.. only to end in total meltdown.
[[contentId: 2501371| data-allowvote: false]]
Meatloaf endorses Mitt Romney
During Mitt Romney's 2012 election campaign the singer Meatloaf appeared onstage with the candidate to belt out what is possibly the worst rendition of "America The Beautiful" ever. Not sure what is more embarrassing; the endorsement to Romney by Meatloaf or the fact that Meatloaf has sold over 100 million albums and this is how bad he now sings. While he might do anything for love, he shouldn't have done that. Check out this hot plate of…. Mittloaf.
[[contentId: 2501372| data-allowvote: false]]
Chuck Norris Endorses Thinly Veiled Conspiracy Theory
Chuck Norris Fact! Chuck Norris will read a bunch of crazy conspiracy theories on the internet and will them to come true with the force of his mind a roundhouse kick to the face! Chuck Norris endorsed Newt Gingrich for president during the 2012 election, but after Newt dropped out he continued to comment on the election, releasing a video with his wife, giving a "Dire Warning for America."  He said that unless America made the right choice,  "..we will sentence them to take the first step into a thousand years of darkness." Chuck is known for the legitimacy of his facts.
[[contentId: 2501373| data-allowvote: false]]
Political campaigns are tough. Just as you wouldn't want to borrow Anthony Wiener's iPhone, you might not want him stumping for you on the campaign trail. Then again Mark Sandford did win his congressional campaign after Larry Flynt's endorsement.
Follow me on twitter @PhilHaney
---
Phil Haney is Break's newest editor. He joins us after years at Maker Studios and National Lampoon. You can trust him. He's spent a lot of time on the internet.