What Is Up With The Tulisa Sex Tape?
What happens in the sex tape?
In 2012 Tulisa Contostavlos' ex-boyfriend, Justin Edwards, released a sex tape of the two allegedly without her knowledge.  The tape was filmed in 2009 during a sound check for an N-Dubz show although she claims that she was unaware at the time of the filming because she was very drunk.  If and when you watch the video, you'll be able to make a judgment call yourself but it seems like she is very aware of the camera and the fact that it is on and rolling.
"Now that I can see the video, I can see it is me in it. I must have been very drunk to let my then boyfriend Justin Edwards, who I also know features in the video, take the footage." –Tulisa
She sued Justin and was immediately granted an injunction that prevents any and all parts of the tape from being distributed.  Sadly, these days once something hits the Internet, it is never truly gone and a few illegal digital copies are still floating around.  There were even some physical copies of the couple on tape being sold in various sex shops in London's Soho neighborhood but they no longer exist.  Later on in 2012 after denying any connection to the leak of the video, Edwards admitted that he was responsible for selling the video.  Simon Cowell, Tulisa's boss at the time, said she would not be fired from the X Factor UK and she addressed the tape on her YouTube account to her fans and supporters.
Where is the tape?
Because action was taken so quickly against the tape, there are barely any digital or physical copies to be found.  Tulisa was even paid $70,000 in damages from the only mainstream news site to publish one still photo from the tape.  The payout was commanded by The High Court of London because the photo was considered a major breach of privacy.  Unfortunately for those out there that wanted to see a high-quality version of the tape, there was no deal made with a major porn distributor so the tape cannot be purchased.  But as is with everything on the web, once its there, you can never fully get rid of it.  There are still photos from the tape floating around.  They show Tulisa in a pink romper on her knees pleasuring Justin Edwards.  In the 6 minute video, Tulisa slaps herself playfully in the face with little Justin and then proceeds to go to work.
Who is Tulisa?
Tulisa Contostavlos is a famous musician from London who was previously a member of a very popular hip hop group N-Dubz.  The group had two other members: Fazer and Tulisa's cousin, Dappy.  The three group members bonded over their rough upbringing sprinkled with violence, drugs and gang affiliations.  Their debut album Uncle B was released in 2008 and has since been certified platinum. 
The group had three albums and a handful of tours but disbanded after record label drama and discord amongst the members.  Even though they found a good amount of success together, they eventually decided to enter an indefinite hiatus in order to concentrate on solo projects. 
After the group died, Tulisa went on to be one of the judges on X Factor in 2011 and her group, Little Mix, won the competition.  The X Factor job really paid off for Tulisa, bringing her into the homes of families every week which really raised her fame to the next level.   
[[contentId: 2890125| allowfullscreen: | frameborder: 0| height: 315| width: 560]]
[[contentId: 2890126| allowfullscreen: | frameborder: 0| height: 315| width: 420]]
Who is Justin Edwards?
According to his Twitter account, Justin is an actor, singer, and songwriter.  He goes by his MC name 'Ultra' and his music is reminiscent of early 90s house music – in a bad way.  Besides that, it is unclear what acting projects he's actually done.  It also seems that he hasn't written any songs for anyone besides himself.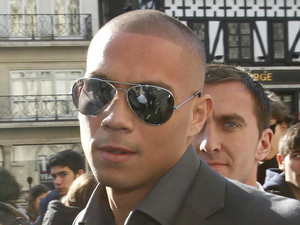 After the tape was released, Justin initially denied that he was responsible due to the fact that the video was recorded on Tulisa's phone.  He quickly changed his tune, saying that he did in fact post the video online and publicly made an apology.  In interviews since then Edwards has openly discussed how he received tons of death threats from Tulisa's fans. 
Was there any backlash?
Luckily enough for Tulisa, the public actually went on the defensive for her.  Because of the support from her fans she says she felt relieved.  This has much to do with that fact that a lot of the N-Dubz fan base grew to know Tulisa from her time working with X Factor.  Although not a typical sweetheart, the public generally held a good opinion of her so they were supportive of her even through this difficult time. 
"I'm thinking, 'Oh God, my career could be over – the whole UK thinks I'm a stripper.' I have been surprised by how nice everyone has been. I haven't done anything wrong, so any normal person would be like, 'She's human'."-Tulisa
What is Tulisa doing Now?
After the sex tape scandal, Tulisa's home was raided after she was discovered to be an alleged part of a cocaine sale during an undercover sting.  She was arrested under suspicion of selling drugs in June 2013.  She was charged with negotiating a cocain sale for an undercover reporter named Mazher Mahmood.  The sale was reportedly for over $1000 worth of cocaine.  The transaction she orchestrated used the term "white sweets" as code for cocaine.  Unfortunately for Tulisa, all of this was going on while Xfactor UK was still being filmed. While she wasn't dropped from being an X Factor UK drug because of the sex tape, she was fired because of the drug charges.
She started dating Newcastle's Danny Simpson in 2012 but they quickly split after an alleged argument about high heels.  Seriously.  Then there were rumors off infidelity when she was photographed with a mystery guy.  Although she took to Twitter to shoot down the rumors, it was too little too late.
Dappy, her cousin and former N-Dubz bandmate, was one of the stars cast on Celebrity Big Brother UK.  Just this month, Tulisa made news by appearing on the show to support Dappy as he exited the house in second place.  Fans were shocked to see that she looked much different from how she did just 6 months ago.  People are saying that shes had a nose job and lip injections. 
Just this month, Dappy had a baby which reportedly made the Tulisa want to have children of her own.  In a photo posted to her Instagram, you can see that she looks very comfortable holding her brand new baby cousin.
As kind and innocent as Tulisa appears in the photo, she unfortunately is not past her legal woes.  Just this month, Tulisa had to appear in court to defend herself against a man that accused her of punching him in the eye.  The incident allegedly took place at V Festival 2013.  The festival is an annual event held in the UK.  Sponsored by the Virgin Group, it is televised all over and has become a marquee music event for the country ever since its inception.  Tulisa denies that she actually punched the man in the face, but with all of the attention on the festival its unfortunate that she is once again in the spotlight for undesirable reasons. 
How will she get over her legal issues?
Because of the overwhelming about of pressure from dealing with her legal problems, Tulisa has been overindulging in tons of exercise.  Following along her Twitter and Instagram you can see that she has been working out nonstop.
Besides her workouts she is working on new music that seems like it may have more of a rock edge than her previous pop and R&B records.  She has taken to social media to show that she is in fact busy focusing on new music amidst all of the negative things going on in her life.
Hopefully with a made over music style and an end to all of the legal issues in her life, Tulisa will be able to move forward and leave all of the negativity in the past.  In the meantime, you can keep up with her by following her Instagram and Twitter for real time updates straight from the horse's mouth.