What are Blue Films?
Blue film is the term used to describe porn that comes from India.  Production of blue films has generally been centered in South Indian states as the rules for censorship were a bit more relaxed.  They're called blue because of the special filming techniques used on set with the goal of obscuring the identity of the actors.  The reason? Pornography goes against the traditional fibers of Indian society.  Sex workers, as people equate porn actors with, are highly frowned upon in a culture where men and women are expected to be hush about their sex lives.  Additionally wearing risqué clothing is a no-no and premarital sex is out of the question. 
Where do Blue Films Come From?
Using blue film to describe porn is actually antiquated, as it was a slang used for porn in the United Kingdom.  But even before that it's rumored that "blue movie" was borrowed from an actual feature film directed, produced, and written by art pioneer, Andy Warhol.  The stars of the film are Viva and Louis Waldon playing themselves.
Blue Movie (originally named Fuck) sprung from a moment where Warhol decided to film the two subjects of the film having sex.  The story takes place over an afternoon in NYC and shows the couple lying in bed discussing various social issues.  They speak about the Vietnam War, marriage, and other things.  Sexual acts take place between mundane activities like getting dressed, eating, and showering.  In July of 1969, the NYC Police confiscated the movie and the Garrick Theatre staff was arrested for showing the film. 
Not one to back down, Andy published the movie as a book that included the entire dialogue of the film and still shots from the production.  Although it is not confirmed whether or not this film influenced the UK's use of blue movie to describe pornography, it presents an interesting case in its favor.  You can still purchase old paperback copies of the book on Amazon.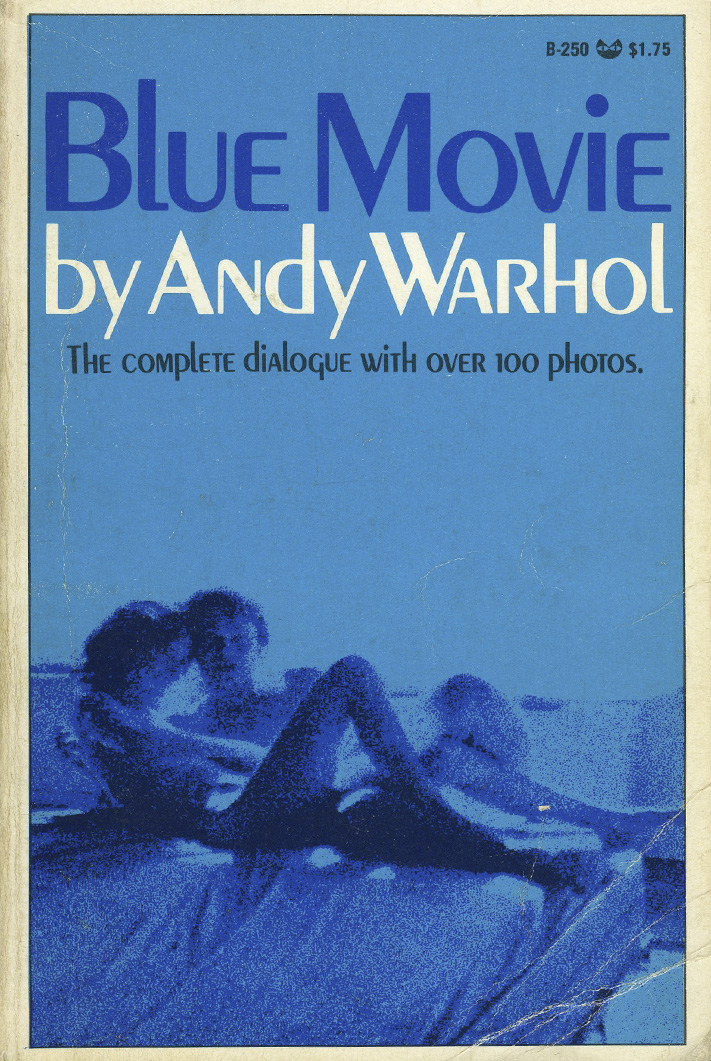 Who is Shakeela?
In the early 90s, Shakeela was a 20-year-old actress who debuted in Playgirls, a popular blue film.  She had moderate success acting in over 100 films that included both blue films and b-movies.  Some of her b-movies even became so popular that they were dubbed in almost every Indian language and even in a few international languages. 
Shakeela served as an important indicator as to how popular a blue film star could get.  When she stopped doing porn in 2002, she was a big threat to the South Indian mainstream film industry because her films decreased their revenue.  The fact that enough people were spending their hard-earned money to see Shakeela rather than mainstream films is a testament to the impact a blue film actress can have.
She has since been able to move into family comedy films and even plans to release an autobiography in the immediate future.  Once the Shakeela is published, it is sure to stir up some controversy, as many believe she doesn't deserve the success she's had because of her past.  But she has been one of the most outspoken actresses from blue films and the book will reveal many things previously unknown about that industry. 
How Did Blue Films Become Popular?
The spiked growth in popularity of these films is fairly recent.  In a world where Bollywood reigns supreme, Indian film is traditionally very PG.  One famous Bollywood actor even called India a, "sexually repressed society".  Known for its wide socioeconomic gap, luxuries like the Internet weren't so easily available to the lower class people. 
Furthermore, blue films are not meant to target international viewers.  Yes, the globalization of sexuality has been largely influenced by western culture.  But because the references and styles of women in the films are relevant to India, lower middle class and working class audiences can more closely relate to the films due to their limited exposure to non-Indian cultures. 
Access to the Internet is not the only thing spurring the interest in porn, there are signs that the attitudes of many people are changing as well.  While searching for porn has been considered a cyber crime in India until recently, an article by India Today states that, "One out of five mobile users in India wants adult content on his 3G-enabled phone."  Being able to search for porn while mobile provides a sort of loophole around the blocks placed on computer search engines.  Plus, its super easy to download programs that allow people to scramble their IP addresses in order to jump over the invisible firewall.   Unfortunately, there have been recent rapes in India that have sparked debate as to whether porn should be banned.  The concern is that what people see in the videos might cause them to desire to do the same thing in reality.  A debate similar to America and the influence of violent video games and movies.
Porn at work, why not?
To get an idea of how popular blue film is, consider the example of the Karnataka Janata Party ministers.  The official members of the South Western Indian region were caught watching pornography on cell phones while in the Legislative Assembly.  Great use of the company WIFI network.  Comically, their excuse for doing so was because they were supposedly investigating a rape case.  Either way, they were forced to resign until the matter was looked into further by a special committee hired to deal with the unique case.
Currently in India, there are some vague laws around "obscene material" but it essentially boils down to this: you can watch it, but you can't make it or sell it.  Censorship, however, tends to be a little bit more relaxed in southern Indian states where production of the material is based.  Despite the negative perception of blue films, the industry is said to be thriving.  Some experts estimate it could be worth up to a billion dollars!
Who are Blue Film Stars?
It would be difficult to really determine how all of this plays out in modern Indian society since porn is still highly taboo.  But there are some girls who have stepped out of the blue shadows and made a name for themselves internationally.  While not famous for being direct products of the blue film industry in India, these international Indian women are examples of what wild success in the adult industry could look like.  More interestingly, they all eventually want to do mainstream acting in India and the rejection or acceptance of their transition by the Indian public will be a strong indicator of current attitudes toward porn actors.     
Nadia is considered to be one of the first Indian porn stars. In 1995 she shot her first video with porn actor Rodney Moore.  Her career was very short lived and she now lives in the UK with her husband and family.
Priya is an award winning porn actress who started out stripping until she was 29.  Complex magazine named her the 19th hottest porn actress of 100 soon after.  Controversially, she openly opposed a measure that would require all porn actors to use condoms during shoots in Los Angeles.  Like many porn stars-turned-actresses, Rai is currently trying to transition into features and has her eyes set on Bollywood.
Sunny is the most famous Indian porn actress to date.  A bit different from a traditional blue film actress, Leone was born in Canada and raised in various locations around North America.  She was discovered by a photographer for Penthouse magazine while attending nursing school.  Soon after, she became Penthouse Pet of The Year in 2003.  The attention garnered by her steady modeling work was something Vivid Entertainment couldn't pass up.  They offered her a three-year contract and her first adult film was released in 2005.  She won her first AVN Award for Virtual Vivid Girl Sunny Leone, the first interactive video made by a Vivid actress. 
After re-signing her contract with Vivid, she agreed for the first time to have on-screen sex with a man but it had to be with her fiancé.  Seeing this as unfeasible, she started to perform with other male actors.  Since 2009 she began working with studios outside of Vivid and even launched her own studio, Sunlust Pictures.
Using her brand wisely, she has gone on to broker many business deals.  Leone has extended her name into products including vibrators, apps, skateboards, lingerie and even jewelry. 
She became even more famous after she appeared on Bigg Boss, and Indian reality series similar to Big Brother.  Complaints were filed against the Indian broadcast channel for airing the show once Leone appeared because of her past.  Concurrent with her time on the show, she began to receive Bollywood love calls and is focused on building her theatrical career in Mumbai.
What are Blue Film Controversies?
Many of the concerns surrounding the exposure of pornography to modern Indian citizens match our domestic issues.  There's a worry that after watching porn, men will want to imitate the acts they see in video, in real life.  For this reason, in India, there are many groups trying to ban access to all pornographic material.There have been tons of stories covered by the Indian media questioning the safety of children subjected to the presence of adults that may want to sexually assault them.