Facing Foreclosure, Water Park Owner Chains Himself to Slide Tower
A New Hampshire water park is facing foreclosure, so the owner came up with a last ditch plan to try and save his park: chain himself to the top of a water slide tower.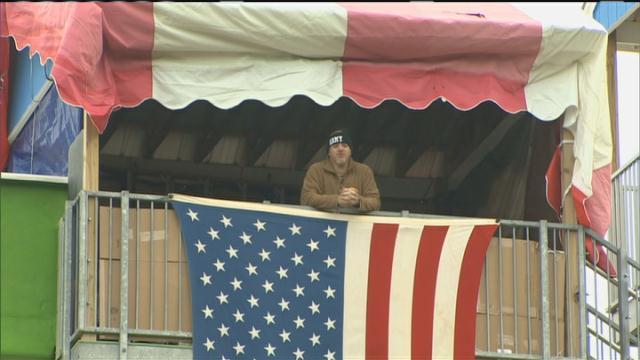 Image source: whdh.com
In his quest for a financial miracle, Kevin Dumont has taken to Facebook while he is chained to the tower and said he is not looking for a handout, but just for someone to work with him to stop the auction of his park, Liquid Planet.
Image Source: Liquid Planet
The auction is set for December 2nd and the owner has promised to stay chained to the tower 24/7 to try and save the business.
Dumont told the Associated Press: "I plan to stay up here until the bitter end."
He has been posting selfies on Facebook, showing inside the tent he is living in, complete with food and a microwave. He also has a portable toilet. Or so he says.
Note: This is not Kevin Dumont. It is only a selfie reanactment.
Image Source: GoGetaHaircut.com
"It's not comfortable, but I'm making it through and it's worthwhile to try to save this," he said. "Last night was a cold one, not gonna lie."
He has been supplied with pizza and beer from friends, so at least he'll be in great shape when he unchains himself. But perhaps some of this was actually Dumont's fault. Two of the slides at the park had to be closed in August when they were found by experts to be covered with bacteria and Dumont had opened them without being tested.
The most pressing question for me is how is he emptying that toilet? With all that pizza and beer over 3 ½ weeks, there is going to be a lot of poopy situations.
Maybe he just empties it down the slide? That would explain the bacteria in the first place…
With that in mind, I can now add water parks to the places I will never go to again in my life. Along with church, subways and my Grandma's basement.
Note: This is Kevin Dumont.
Image Source: Mashable
FYI: You can help Dumont get his park back by going to his GoFundMe page.
Source: NY Post