The Internet's Guide To Wardrobe Malfunctions
The term "wardrobe malfunction," officially made history and entered into the American lexicon on February 1, 2004, Super Bowl Sunday when singers Justin Timberlake and Janet Jackson performed during the Super Bowl XXXVIII halftime show and Jackson's right breast and nipple was revealed when Timberlake tore at her bustier.  They both later apologized and said the incident was due to "a wardrobe malfunction," however, to this day, many still think the revelation was intentional and for publicity.  The Janet Jackson breast controversy coined the term "wardrobe malfunction" and it was then used in numerous TV, print and radio news stories in the U.S. and worldwide. 
Moments before the birth of the term:
In 2008, the Chambers Dictionary (which used to be the official dictionary for the board game Scrabble) officially added the term, defining wardrobe malfunction as "the temporary failure of an item of clothing to do its job in covering a part of the body that would be advisable to be kept covered."  The American Dialect Society defines the term as "an unanticipated exposure of bodily parts."  The Global Language Monitor which tracks worldwide usage of words in print and on the internet identified "wardrobe malfunction" as Hollywood's top contribution to the English language in 2004. The term is so popular, it has been translated into other languages such as mal funcionamiento del guardarropa (Spanish), incident de garde-robe (French), disfunzione del guardaroba (Italian) and garderobedefect (Dutch).  Wardrobe malfunctions also happen in other parts of the world and depending on the country, a malfunction can be humorous or scandalous.  In more sexually liberated Europe, wardrobe malfunctions are not considered a big deal but in more conservative countries like India, even a benign malfunction can be seen as scandalous.  In the U.S., wardrobe malfunctions have now become so commonplace that The Huffington Post dedicates a whole section to the subject.
HOW DID JANET JACKSON'S WARDROBE MALFUNCTION HAPPEN?
Justin Timberlake and Janet Jackson were singing and performing a routine that included bump-and-grind moves  during the Super Bowl halftime show and while singing the lyrics, "Gonna have you naked by the end of this song,"  Timberlake reached across Janet's chest and flicked off the molded right cup of the bustier.  Supposedly only Janet's red lace bra was suppose to show but somehow, her entire right breast topped with a starburst nipple ring was revealed.  The breast was exposed for 9/16th of a second to an estimated 90 million viewers, many who didn't even see the faux-pas.  However, outrage about the breast exposure soon poured in from the Federal Communications Commission, the NFL Commissioner and censorship advocacy group, the Parent's Television Council. 
Janet, that thing looks like it could hurt:
Both Janet and Timberlake issued apologies for what the press was now calling "nipplegate."  Timberlake said, "I am sorry if anyone was offended by the wardrobe malfunction during the halftime performance at the Super Bowl. It was not intentional and is regrettable."  Janet's statement said, "The decision to have a costume reveal at the end of my halftime show performance was made after final rehearsals.  MTV was completely unaware of it. It was not my intention that it go as far as it did. I apologize to anyone offended including the audience, MTV, CBS and the NFL."  MTV produced the halftime show and the Super Bowl was broadcasted on CBS that year. 
Properly apologetic:
Both companies offered their own apology statements.  CBS said, "CBS deeply regrets the incident that occurred during the Super Bowl halftime show. We attended all rehearsals throughout the week and there was no indication that any such thing would happen.  The moment did not conform to CBS broadcast standards and we would like to apologize to anyone who was offended."  MTV's statement said they regretted "this incident occurred and we apologize to anyone who was offended by it."  NFL Commissioner Paul Tagliabue also expressed his displeasure, "The show was offensive, inappropriate and embarrassing to us and our fans. We will change our policy, our people and our processes for managing the halftime entertainment in the future in order to deal far more effectively with the quality of this aspect of the Super Bowl."
Timberlake holds the bustier's cup after the incident: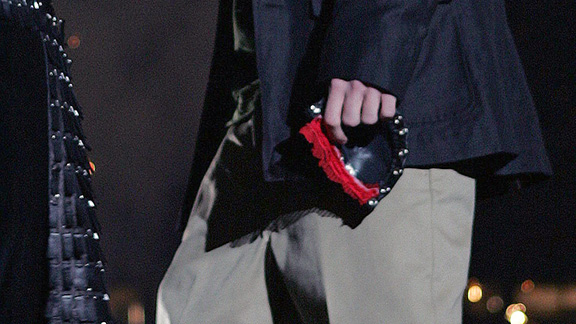 One person who was not convinced the incident was an accident was then FCC Chairman Michael Powell who was watching the game with his two children.  He immediately ordered an investigation of the incident.  "I knew it would cause great outrage among the American people, which it did," Powell said, citing "thousands" of complaints received the Monday after the Super Bowl. "We have a very angry public on our hands." At the time, Powell estimated that MTV and CBS network's more than 200 affiliates and company-owned stations could be fined $27,500 apiece. "Clearly somebody had knowledge of it. Clearly it was something that was planned by someone," Powell said. "She probably got what she was looking for."  It was Janet's spokesman Stephen Huvane who famously said it "was a malfunction of the wardrobe; it was not intentional"  thus introducing the term to the public.  Ultimately, the FCC fined CBS $550,000 but upon appeal, The Third Circuit Federal Court of Appeals threw out the fine and ruled that the FCC imposed the original fine "arbitrarily and capriciously."
WHAT KIND OF WARDROBE MALFUNCTIONS ARE THERE?
Wardrobe malfunctions come in a range of mishaps. There are minor ones like visible panty lines, butt cleavage due to low hanging pants and whale tail flashing which is when a woman's thong can be seen above her pants.  String bikinis tend to be the source of many celebrity wardrobe malfunctions usually captured by the paparazzi.  Because of the bikini's flimsy string design, bikini-top malfunctions happen frequently in which a breast is exposed or the bottoms form wedgies.  Then there are the major wardrobe malfunctions which involve a nipple, an entire breast or exposed female private parts. 
Sometimes it's just not a good day:
"Nip slips" are when a woman's nipple is fully or partially exposed.  This seem to happen quite frequently nowadays to female celebrities.  Many celebrities have even worn sheer tops which raises the question of whether they intentionally want to show off their breasts.  It used to be considered avant garde fashion by even showing just the slightest breast exposure but it now has become an everyday occurrence. 
At least Hayden Panettiere's nip slip was covered:
Another major wardrobe malfunction happens when female celebrities expose their crotches getting out of a car especially when they are not wearing underwear.  Crotch and butt shots also happen when the woman's skirt flies up and open.
Eva Mendes exiting a car. Thankfully for her, she's wearing underwear:
Selena Gomez's skirt opens up while she's performing at a concert:
Men also experience wardrobe malfunctions but they happen mostly when a guy forgets to zip his fly or his low hanging pants drop revealing his underwear.  These types of malfunctions are pretty harmless unless the guy is going commando and something falls out.  With the roughhousing that goes on in professional sports, it's a wonder audiences don't see more wardrobe malfunctions during games like below:
At Iron Man 3' Premiere Robert Downey Jr.'s fly was down. Big deal; you could barely tell.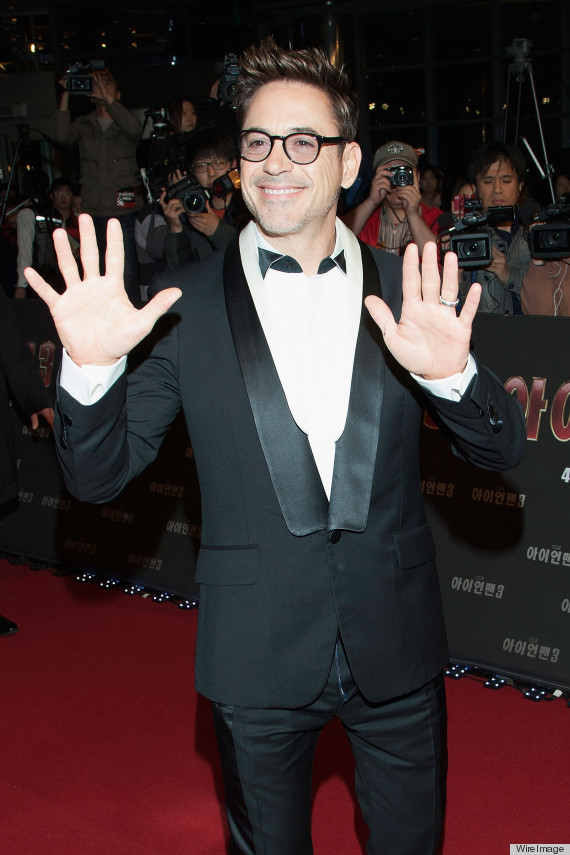 Brad Pitt at his movie premiere. Now, that's an open fly.
Kanye West's pants fell down after he gets out a car with Kim Kardashian. How does that happen? He's already wearing a belt.
ARE SOME WARDROBE MALFUNCTIONS INTENTIONAL?
Wardrobe malfunctions are never welcomed but there are certain social occasions in which you really don't want to experience one especially when you're the center of attention like at your wedding.  However, despite knowing there will be a cavalry of photographers, some celebrities seem to be unable to dress themselves and find themselves victims of wardrobe malfunctions so often that it makes you wonder if they intend to flash the public.  The Janet Jackson breast incident still has people speculating that it an intentional publicity stunt.  Nowadays with the frequent occurrence, it seems certain people are deliberately malfunctioning their wardrobe to gain relevancy and attention.  Some people get famous for being naked (see any British Page 3 girl or Paris Hilton and Kim Kardashian) and society enjoys voyeurism especially when it comes to a famous female's body.  Therefore, it makes sense that in order to get any press, an actress, model or socialite will execute a wardrobe malfunction stunt.  These have become so prevalent that various websites have created lists and rankings of the best celebrity wardrobe malfunctions.
Lady Gaga; come on, what do you expect when you wear a shirt like that?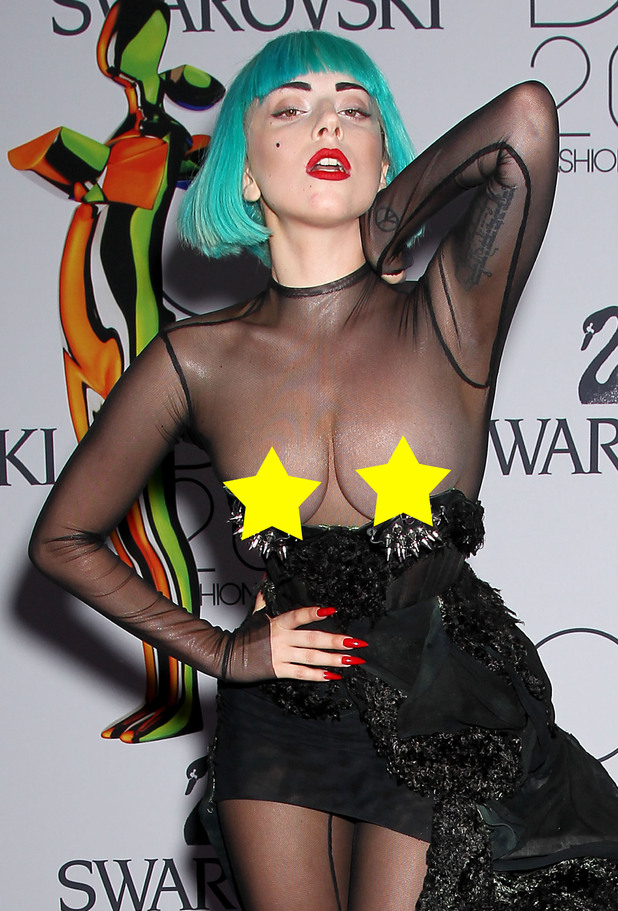 WHO ARE THE BIGGEST CELEBRITY WARDROBE MALFUNCTION OFFENDERS?
Is anyone surprised that Lindsay Lohan is on this list? Every since 2006 when she first exposed the side of her breast and nipple at a GM fashion show and then her naked rear end at the Nickelodeon's Kids Choice Awards,  Lindsay has been flashing either her breast, nipple or vagina at various events and appearances. 
And that's just when she's not intentionally posing nude.  Lindsay even went to her community service at the Los Angeles Downtown Women's Center wearing a see-through shirt and no bra.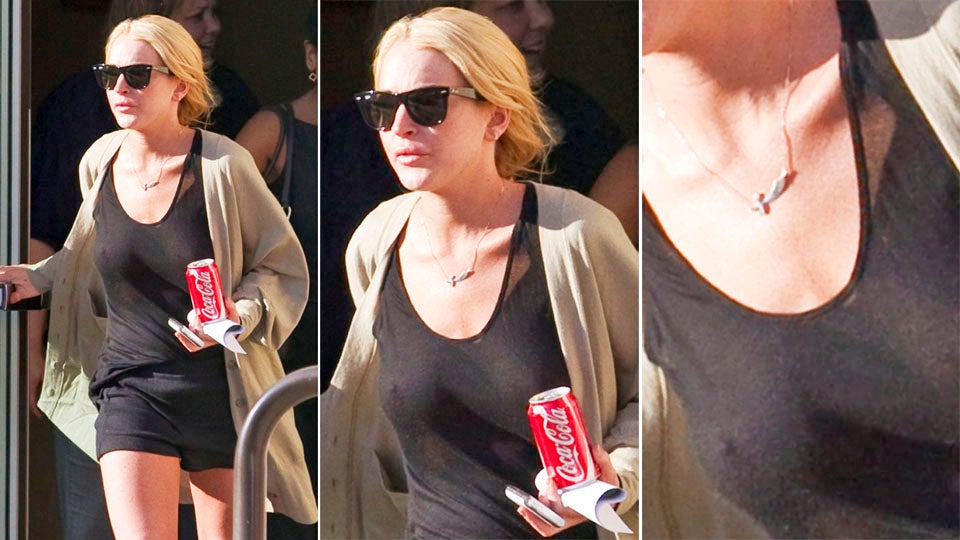 The next biggest offender also comes as no surprise.  Since 2008, Britney Spears is guilty of nip slips and crotch shots in addition to on stage performance blunders.  There was a period there when photographers could almost place bets on getting pictures of Britney without panties.  And perhaps because she's such an energetic dancer during her show, Britney has experienced several wardrobe malfunctions. In December 2013 during her "Circus" show in Las Vegas, Britney kept singing when the zipper on her corset fell down.  Luckily, one of her dancers was able to zip up the top before anything was exposed.  During another show, Britney experienced a malfunction this time on her bottoms.  Not knowing her mike was still on, after the song was over, Britney told one of her crew members that she was experiencing a wardrobe malfunction since her "p---y was hanging out."
Listen carefully to hear Britney:
In this video, something else hangs out of Britney:
WHAT ARE SOME NOTABLE CELEBRITY WARDROBE MALFUNCTIONS?
Janet Jackson's Super Bowl breast appearance tops the list of the most notable wardrobe malfunctions recorded in history since it was the first that went so viral  Since then, other celebrities have had their own super malfunction moments.  One of the most infamous malfunctions belongs to an oblivious Tara Reid who in 2004 attended P. Diddy's 35th birthday party in New York City.  As she walked the red carpet, she smiled for the cameras, completely unaware that her dress was falling down, revealing her entire breast.  Later Tara said, "Then, when someone came up to me, I was like, 'Oh, I'm so embarrassed!' I cried and begged the photographers not to print it, but it was everywhere."
At the 2012 Emmy Awards, Sophia Vergara's dress split in the back showing her naked behind.  This truly was a wardrobe malfunction and was quickly fixed by Sophia's stylists who sewed the seam together.  Sophia herself tweeted out this picture of her bare butt so suffice to say she didn't mind sharing the malfunction with the world.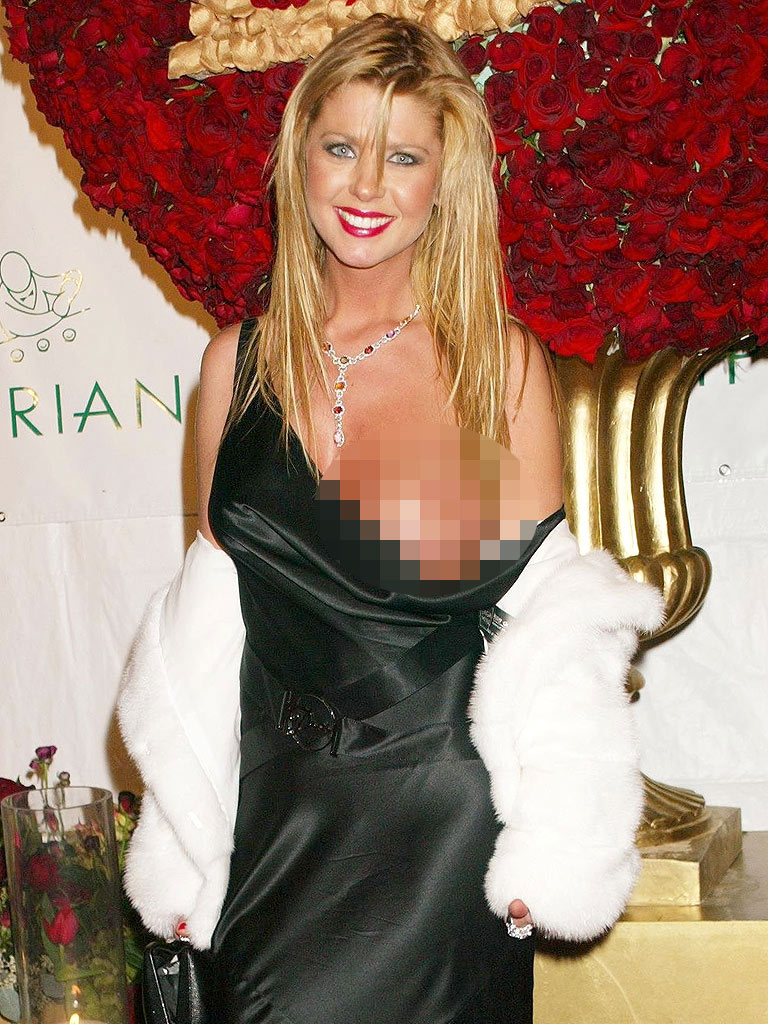 Sofia Vergara had her own waldrobe malfunction on the red carpet as well.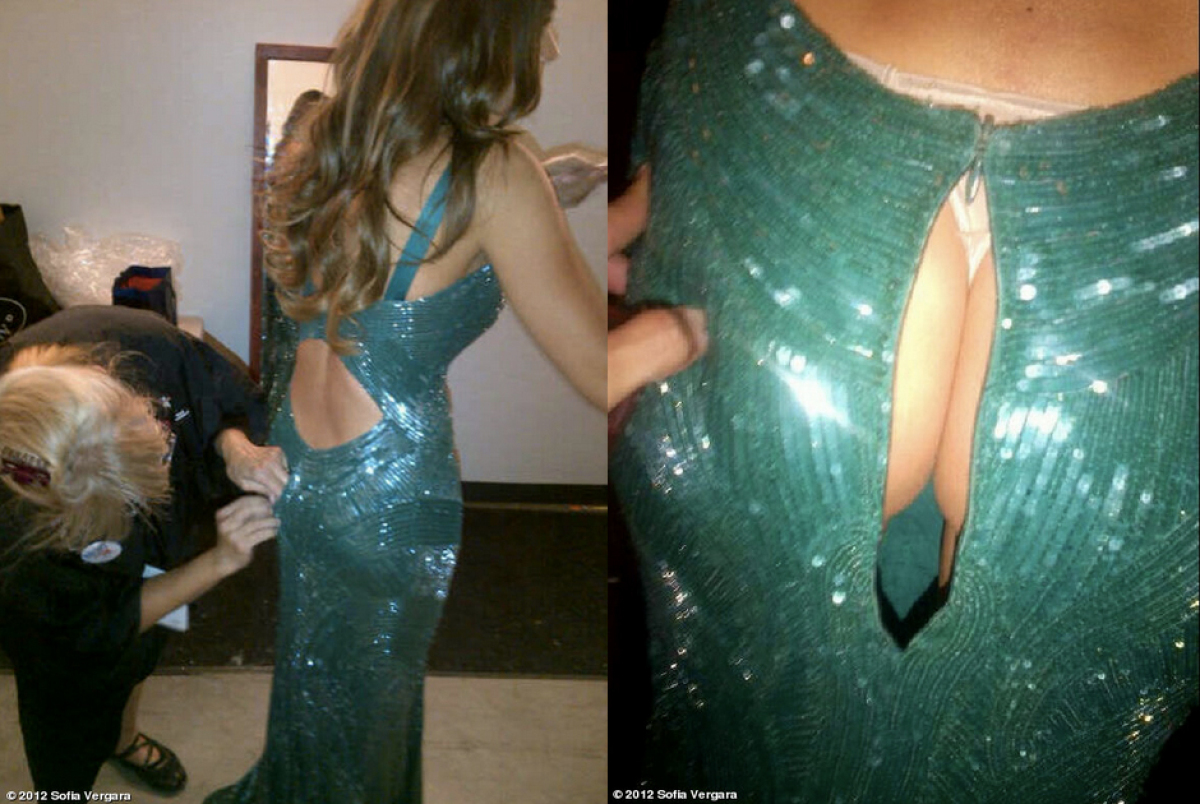 In New Jersey in 2013, Toni Braxton was performing onstage when the back of what was barely a dress to begin with, started slipping revealing her bare behind.  Luckily Toni had invited some fans onstage to join her and one of these gentlemen covered her with his suit jacket.