Victoria Justice Proves There is Justice in the World!
If there is one takeaway from the massive hacked nude photo leaks that happened first at the end of August and then again the weekend of September 20th is that many former Disney and Nickelodeon actresses are all clearly now all grown up.  Multi-talented singer and child star Victoria Justice falls into this category and is the former star of several Nickelodeon series including Zoey 101, Victorious and True Jackson, VP. And like her True Jackson, VP co-star, Keke Palmer, Victoria is one of the victims of the first wave of nude photo leaks.
She has about 30 shots in the leaks with half of the pictures showing her clothed and in the other half she is topless.  In some of the clothed pictures, Victoria seems to wearing Halloween costumes and she's posing with friends in several of the pictures. Most of the pictures are selfies where she's mugging for the camera or taking a picture of her outfit. In most of the topless photos, her head is cut off which gives her a way to deny the pictures belong to her. However, she would then have to explain how her clothed pictures got mixed up with some other girl's boobie pics.  The bottom line is Victoria really can't deny she is the person in these pictures since one topless picture actually shows her face but her hands are covering her nipples.  Another takeaway from these pictures is that Victoria has nice sized breasts for such a small girl so maybe that's why she's showing them off.
[[contentId: 2772177| | size: 75]]
WHAT WAS VICTORIA'S RESPONSE TO THE PHOTO LEAK?
A gossip website reported that Victoria was supposedly, "completely flipping out" about the alleged nude photos but the singer/songwriter didn't sound so flipped out when she took to Twitter on August 31, 2014 to say, "These so called nudes of me are FAKE people. Let me nip this in the bud right now. Pun intended." However, after a couple of days, perhaps Victoria thought about the situation more carefully or at least her legal team thought about it and she followed up with another response on Sept. 2 using TwitLonger, a place people can on Twitter when they need more than 140 characters.
And boy did Victoria need more space to get something off her what was revealed to be a very nice chest, " "Shortly after I tweeted about certain pics of me being fake, I was faced with a serious violation of privacy." Commentary: What exactly does that mean? Wasn't her privacy already violated by the time she sent her tweet? Victoria continued, "There have always been fake photos of me on the internet but I will not be put in the position to defend myself as to what is real or what is fake." So why say anything at all? She went on, "I am angry at this massive invasion of privacy and like the other women who are in this situation alongside of me, I am taking legal action to protect my rights." So far, only a handful of actresses like Jennifer Lawrence and Gabrielle Union have threatened legal action. If legal punishment could be pursued, there's no doubt with these group of women's financial resources, a major class action suit would be well-funded. However, although justice is Victoria's name, unless the legal wheels spinning for these outraged actresses can come up with a perpetrator, it looks like there is very little action to be taken.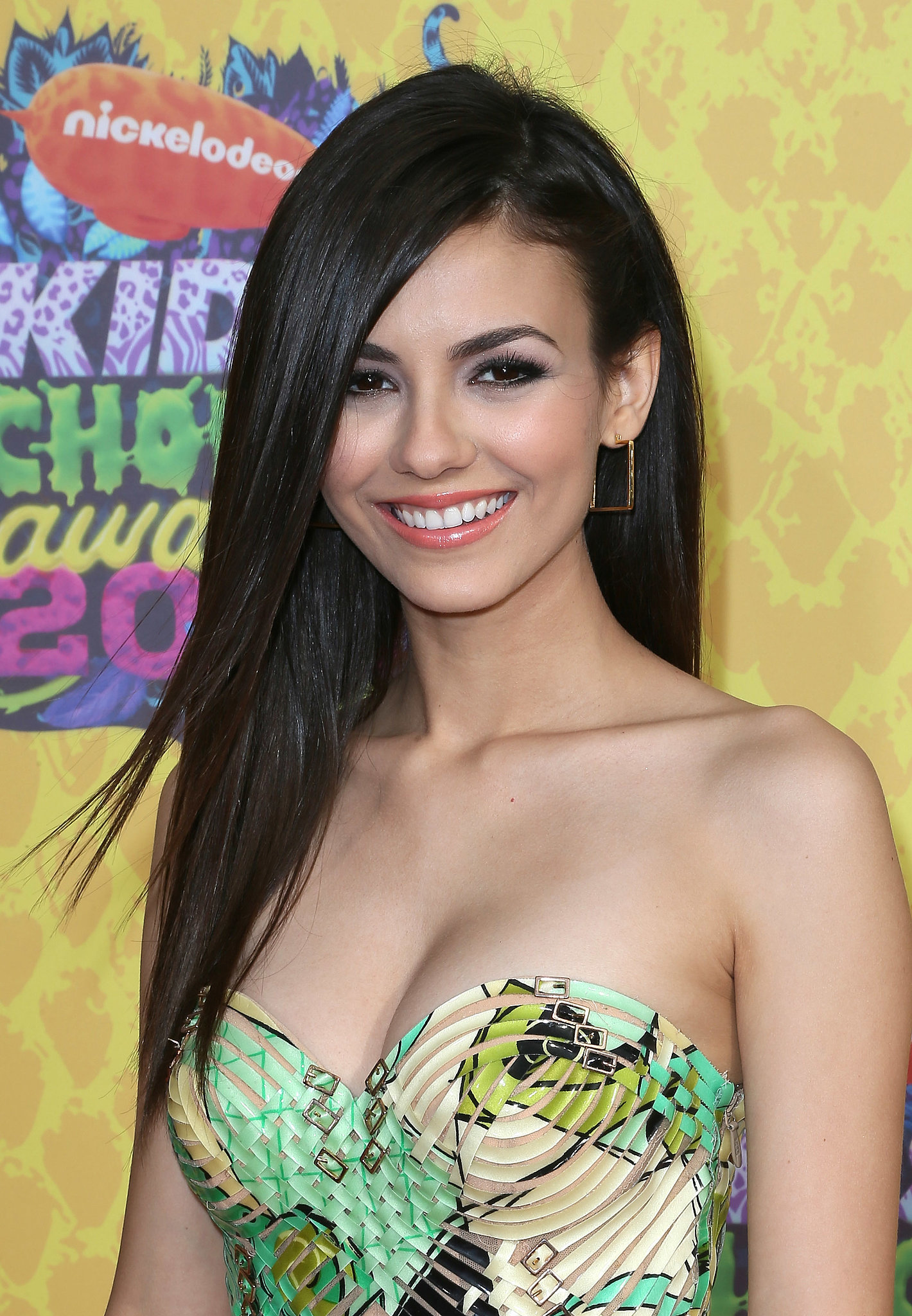 WHO WAS VICTORIA SENDING TOPLESS PICTURES TO? 
Depending on when the pictures were taken, the pictures could have been intended for Victoria's boyfriend, Pierson Fode, an actor who has appeared on Nickelodeon's iCarly and Jessie. However, since one of the guys Victoria is posing with and wearing what seems to be Halloween or costume party outfits, looks a lot like actor Ryan Rottman. Chances are these pics were taken around the time Victoria dated Rottman which was from 2011 to 2013.  The two appeared in Victorious together and Rottman, who is 9 years older than Victoria, is also known for playing Joey Colvin on the TeenNick series Gigantic.
HAS ANYBODY BEEN ARRESTED FOR THE PHOTO HACKS?
So far no one specific person has been accused of what Jennifer Lawrence calls, "a sex crime." Brian Hamadem a 26-year-old software engineer from Atlanta, Georgia was first accused as the source of the celebrity nude leaks during Labor Day weekend. Hamadem originally bragged he was hacker when he tried to sell a photoshopped fake picture on file sharing website 4chan. When other internet users on 4chan identified Hamadem, he was forced to reveal that not only was he not the hacker but the nude picture he was trying to sell was also a fake. Hamadem admitted, "I am not behind this. I lied to someone on Reddit to try and get bitcoins with a photoshopped picture." Hamadem's family said they were being harassed after news stories pointed the finger at Hamadem and that they were trying to find a lawyer however since it was Labor Day, they were having a problem. There's around fifty actresses who don't feel sorry for the Hamadems since their Labor Day holidays were also ruined due to the photo hacks.