The Most Unusual Online Dating Sites We Could Find
Let's face it – dating is and always has been a weird thing. Modern technology has now made it easier with countless dating websites, and inevitably, some have been created to appeal to very niche audiences.  
One such site recently launched and immediately brewed up quite a controversy. "Where White People Meet" came under attack, but the founder claims his intentions weren't racist.
"The last thing in the world I am is racist. I dated a black woman once. I helped raise a young black man. I just believe it is hypocrisy to say 'one group can do this, but another can't.'"
No, this image isn't real – but does show how many people think of such a site.
It's not the only site of course that offers a relatively narrow group of would-be daters. Seeking Arrangements claims it is the website for Sugar Daddys.
Meaning, and let's be honest here, it is basically an upscale cyber-brothel.  We'll try to not be too judgmental, but if we had the chance to metaphorically clog up these guys' toilets with our poop, we would.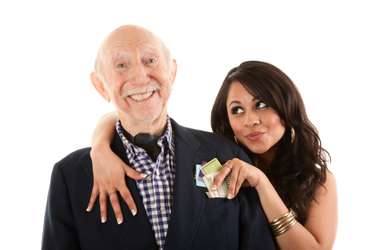 We certainly can't judge those who have an adult diaper fetish (we can't judge them because we're laughing too hard), but those who really focus on the poop metaphor will want to scope out Diaper Mates.
180 degrees away is Mouse Mingle, a dating site for those obsessed with all things Disney.
We've all dated some clowns in our day, but probably not intentionally. For those who do dig a person with a big red nose, there's Clown Dating.
The mullet is likely the most joke-friendly hair cut you can think of, but those who troll in Mullet Passions might beg to differ.
It takes true self-awareness (and/or really messed up self-esteem) to find your next date via Ugly Schmucks.
Herpes isn't really a laughing matter, and it actually makes a lot of sense that there would be a need for those who share the disease to find others with it as well. Then again, that one such site is called Herpes Fish is just plain silly. If you found your mate there, would you say that Herpes Fish sticks?
There's something genuinely odd about a site called Amish Dating. In theory, it's a good idea – but, and correct us if we're wrong – don't Amish not use the internet?
We'll leave you with something warm and cuddly….sort of. Like to dress up as an animal to get your kicks? Forget OkCupid or Match – Furry Mate will sound great.
Source: Washington Post