Tiffani Thiessen: What's under that White Collar
The artist formerly known as Tiffani Amber Thiessen has grown up into a more mature but still sexy Tiffani Thiessen.  Tiffani's must stunning quality is that she has the face of an angel and a body made for sinning. First known to audiences and the lust of teenage boys everywhere as the girl next door, Kelly Kapowski in the high school TV series, Saved by the Bell, this good girl has definitely grown up.  Tiffani showed us her bad girl and sexy side when she played the vixen on Beverly Hills, 90210.  She continued to reveal her hotness in several TV movies topped by her role in Fastlane, a TV action series as a cop with lesbian tendencies.  Tiffani has definitely been on the brink of nudity, appearing almost nude in some scenes but the best place to see the full glory of her body is in pictures.  This girl started out her career as a model and definitely knows how to show off her attributes.  Unlike many of her Saved by the Bell cast mates, Tiffani is still in the public eye as she continues to work in television.  Her career has spanned almost 3 decades and still super hot, she now appears on the USA series White Collar.  As Tiffani's longtime fans have watched her grow up, it's amazing to see how a teenage sex symbol has been able to retain her hot status for such a long time proving that hotness can just get better with time.
TIFFANI THIESSEN TRIBUTE
WHERE CAN I SEE TIFFANI THIESSEN NUDE?
Although Tiffani hasn't appeared completely nude in her career, she has done some very un-Kelly Kapowski type things like cavorting naked in a hot tub, lesbian kisses and posing practically topless.  One thing is clear, Tiffani is definitely a woman who isn't shy about showing off her assets.  In Tiffani's appearances on various TV shows, she's been seen in an assortment of low-cut tops, lingerie and breasts promoting attire.  In 1996, Tiffani was in TV movie Sweet Dreams where she plays a woman who has no memory of her past after waking up from a coma.  Surprisingly the movie aired on NBC because there's a steamy hot tub love scene in which Tiffani appears to be nude and in some stills, you almost can see her nipple.
Tiffani had a couple of lesbian kissing scenes with Jamie Pressly in Fastlane, the Fox crime drama series she did from September 18, 2002 to April 25, 2003.  Tiffani must really like hot tubs since one of the kisses happens once again, in a hot tub, and the other lesbian kiss happens in a club.
[[contentId: 2888547| ]]
WHERE CAN I SEE TIFFANI THIESSEN'S NUDE BREASTS?
When Howard Stern said Tiffani had the "most perfect breasts" in the world, she was flattered. "He first said that around the time that first FHM cover came out, it came up again when I did his show again last year. He was really nice and complimentary, in his own special way he was very respectful."  She added, I'm not gonna say I'm not flattered, he's Howard Stern, Howard knows boobs."  It's widely known Tiffani got breast enhancements when she was on 90210 and they've definitely enhanced her already spectacular body. "I was not the girl that was a size 2 and didn't work for it. I was never the waify model type," she once said about her curves.  Well, Tiffani fans definitely don't mind the lack of waifness especially when her curves and assets are in all the right places.  Tiffani has appeared on various magazine covers in sexy poses but one particular photo shoot is especially hot since you can see her breasts.  Even though they are technically covered by sheer clothing, they are prominently displayed in all their glory.  See the pictures here.
Illustrious photographer Michael Edwards, who shoots for Esquire among other prominent publications, created a membership website which features hot women in their underwear posing in the comfort of their own home.  Billed as "beautiful women at home. Real girls in their own place. Not too crazy and just a pinch of naughty…" Tiffani did a shoot for Edwards and you can see some of the photos here.    About her decision to participate in the project, Tiffani said, "Sure I like dressing up, but I like hanging out at home being silly in my boxers and a tank top. He made me laugh the first time I met him too."  She may only show a pinch of naughty but that pinch is plenty.
How hot is Tiffani?  She is so hot that in 2001, she posed for the cover of FHM magazine and the cover actually created controversy.  She said, "I remember the first one they ran, that cover got banned! At that time, the airports didn't want it on the magazine stands."  Back then which isn't exactly too long ago, a picture like this was considered too sexy.  The Europeans must have had a great laugh at that one.   Tiffani recalls, "It was considered too racy. Even though I had no top on, I wasn't showing anything. Now of course that would seem very tame."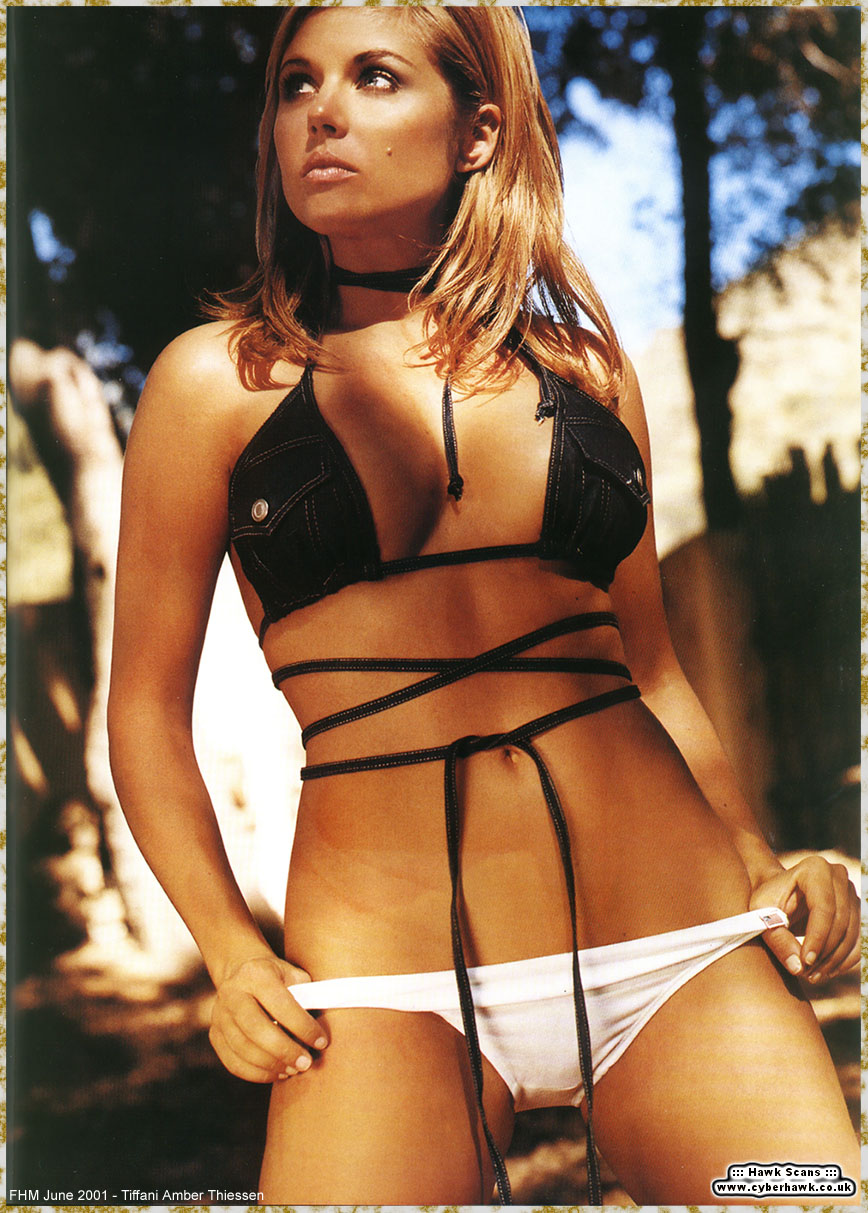 WHO IS TIFFANI THIESSEN?
Tiffani Thiessen was born on January 23, 1974 in Long Beach, California where she grew up.  Her parents are Robyn and Frank and she has an older brother Todd and a younger one, Schuyler.  She went to Cubberley Elementary and Marshall Junior High School in Long Beach.  When she was 8 years old, her actor uncle Roger Earnest suggested that she try modeling.  Tiffani  soon landed a Barbie commercial for the "Peaches and Cream Barbie Doll" although she once commented, "They never let me hold the Barbie. I only got to hold Ken. I guess I wasn't blond enough."  As a child, Tiffani competed in beauty pageants and modeled and eventually won the Miss Junior America pageant in 1987.   A year later, she won Teen Magazine's "Great Model Search" which generated wide exposure for her and in 1989, Cover Girl magazine named her "Model of the Year."
Also in 1989, Tiffani was cast as squeaky-clean valley girl Kelly Kapowski on the popular NBC teen sitcom, Saved By the Bell. She was on the show until 1993 and became a teen idol.  Tiffani said about her experience on the show, "I grew up with these kids. It was just like us at school having fun. We were best friends for years."  No dummy, in 1992, Tiffani graduated as valedictorian from Valley Professional High School.  She subsequently appeared in the Saved By the Bell spin-off movies, Saved by the Bell Hawaiian Style (1992) and Saved by the Bell: Wedding in Las Vegas (1994) in 1994. 
Also in 1994, Tiffani joined the cast of Beverly Hills, 90210 and starred as emotionally troubled Valerie Malone until 1998 but made appearances on the show until 2000.  Not only did Tiffani have a new look with short hair, her chest got a makeover as well and grew in size as Tiffani grew in popularity.  She also dated Brian Austin Green who played David Silver on the show.  She talked about what it was it was like to be seen as a sex symbol at a young age, "I think any time you are on a hit show as a young actor or actress, you feel [pressured]. Then as a woman, there's some additional pressures you feel to look a certain way and be a certain size." However, Tiffani soon got tired of being seen primarily as a sex kitten.  She said, "I was literally in underwear for the first three years of '90210'. I finally had to go to the producers and say, 'Look, I'm here to do a job, not to be naked the entire time.'"
Tiffani as Valerie
In 1998, she left 90210 to focus on working in feature films but before this, Tiffani was a sought after actress for TV movies and appeared in many including A Killer Among Friends (1992), The Stranger Beside Me (1995) and She Fought Alone (1995) and in 1996, Sweet Dreams and Buried Secrets.
WHERE HAVE I SEEN TIFFANI THIESSEN BESIDES TV?
Tiffani's first feature was the 1993 comedy, Son in Law starring Pauly Shore.  In 1999, Tiffani appeared in several feature films.  She played Wilma Price in Speedway Junky, a movie set in the world of stock car racing, appeared in the direct to video movie, From Dusk Till Dawn 2: Texas Blood Money and co-starred in the comedy, Love Stinks.  She returned to TV in 2000 an ABC series, Two Guys and a Girl  where she played Marti, a firefighter who starts dating one of the main characters, Pete played by Richard Ruccolo.  Interestingly enough, Tiffani and Ruccolo became a couple in real life and was engaged for two years before calling off the wedding.  Tiffani eventually married actor Brady Smith who was on Jennie Garth's show, "What I Like About You."   An old friend of Tiffani's, Jennie introduced the pair and they married on July 9, 2005.  Tiffani became a mom birth on June 15, 2010 with the birth of their daughter, Harper Renn Smith.
Still a hot mama
Professionally, Tiffani still worked in TV while also doing film projects.  She appeared in the feature, The Ladies Man (2000) and she also guest-starred on several TV shows including NewsRadio (1999), Two Guys and a Girl (2000), Just Shoot Me! (2001) and Good Morning, Miami (2003–04).  She starred in Shriek If You Know What I Did Last Friday the Thirteenth in 2000, a direct-to-video parody movie and Everything But the Girl, a TV movie in 2001.  In 2002, Tiffani worked with Woody Allen in his film Hollywood Ending and for a season, she starred in an action drama series Fastlane (2002–03) as Wilhelmina 'Billie' Chambers.  Tiffani founded her own production company Tit 4 Tat Productions and in 2005, she produced and directed the short film Just Pray which was well-received at several film festivals.  In addition, Tiffani and her producing partner, R. Dean Johnson wrote a children's picture book called, "Fins and Tales." Tiffani says "The stories are life lessons for the young at heart as told through the voices of my pets. We have two dogs, two cats and a fish, hence, the title of the series."  In 2007, Tiffani co-starred with Faye Dunaway and Eric Roberts on a Hallmark Channel  four-hour miniseries, Pandemic, in which she plays a doctor searching for a vaccine for the bird flu virus.  Since 2009, Tiffani has played event planner Elizabeth Burke on the USA Network crime series White Collar.