The Ultimate Guide To Sex Scandals
These days sex scandals happen so frequently that it's almost hard to shock the American public.  Sex scandals are also not just limited to VIPs like celebrities and politicians, even regular, ordinary school teachers have also gotten into the act.  However, there was a time when sex scandals still shocked people, when public sex tapes were actually a fresh idea and sexting wasn't even in the American lexicon.  Some sex scandals helped the person's career, (Bill Clinton and any young actress) while other sex scandals basically torpedo it (talk to Anthony Weiner and Eliot Spitzer).  For those born in the new millennium, let's take a look at some of the most groundbreaking, noteworthy, unbelievable or memorable political, celebrity and teacher sex scandals in recent times.
Even Elmo had his own sex scandal when Kevin Clash, his puppeteer was accused of sexually abusing underage boys.  The lawsuit was eventually tossed out but can Elmo ever recover?
WHAT ARE SOME OF THE BIGGEST POLITICAL SEX SCANDALS?
When it comes to sex scandals and politicians, it's hard to choose since there are so many! Between former South Carolina Governor Mark Sanford crying for his Argentine true love while still married and Idaho Senator Larry Craig's wandering, tapping foot in an airport bathroom to former Vice-Presidential running mate John Edwards' love child who he first tried to pawn off on an aide all the while his wife was dying from breast cancer, we have a plethora of top contenders.  These top three were chosen because they involved prostitutes, technology, resignations and impeachment, a word usually reserved for the Commander in Chief, the President of the U.S. or in other words, the Big Kahuna.
Which ironically is the name of a Honduran cigar sold by Sir Wilfred's, a coffee and cigar store in Maui, Hawaii.  It's unclear the type of cigar that was housed in the cigartube that Monica Lewinsky testified to have been inserted into her womanly private part but it is clear in her testimony that it was President Bill Clinton who did the inserting. The Clinton-Lewinsky sex scandal gets the vote for "Groundbreaking Political Sex Scandal" not only because it was the first time in history the President of the United States was impeached (which means formal charges brought against a government official for crimes committed in office) due to a sex scandal but it also made for a very interesting legal debate on the definition of "sexual relations" which formed the basis for Clinton's defense that he did not commit perjury. 
News of the Clinton-Lewinsky sex scandal first broke in January 1998 and on January 26, 1998 in a nationally televised White House news conference, Clinton stated, "I did not have sexual relations with that woman, Miss Lewinsky." During his grand jury testimony, Clinton said he did not lie about not engaging in sexual relations with Lewinsky because the definition of "sexual relations" as agreed upon by the prosecution, the defense and the judge, did not define his admitted, "inappropriate relationship" with Lewinsky because he was passive in their sexual encounters.  You say "tomato," I say tomatoe," ultimately, Clinton was acquittal on all the impeachment charges of perjury and obstruction of justice by the Senate on February 12, 1999.
And what did Hillary think? According to the private papers of her friend, Diane Blair, a political science professor whose papers were donated to the University of Arkansas Special Collections library after Blair's death in 2000, Hillary Clinton said Lewinsky was a "narcissistic loony toon."  And Bill? Everyone knows he's just fine; a Democratic rock star who might just be the first "First Man," "First Husband?" of the U.S.  Perhaps that is what makes the Clinton-Lewinsky sex scandal so extraordinary…that a politician can survive a sex scandal of this magnitude and still come out on top.
The next political sex scandal definitely fits the noteworthy category in that as the layers of the story were peeled back and the truth exposed, the reality was better than any "Law and Order" episode. 
There's a reason the preferred form of payment for hookers is cash; that's because in New York and most everywhere else in the U.S., prostitution is illegal.  When then New York governor, Eliot Spitzer attempted to transfer $10,000 to the bank account of a mysterious business called the Emperor's Club, the employees at North Fork Bank became suspicious and alerted authorities fearing that Spitzer was the victim of identity theft.  In another situation, perhaps Spitzer would be grateful to his conscientious bank, however in this scenario, it really was him and he was trying to pay his bill as Client No. 9, a customer of a high end prostitution business.  Despite having become famous for prosecuting prostitution rings as New York's tough attorney general, Spitzer's dalliances with a $1,000-an-hour call girl and wanna-be singer named Ashley Alexandra Dupré made worldwide headlines when the news broke on March 10, 2008.   Spitzer resigned as governor two days later.  Hoping the public would forgive him, Spitzer ran for New York City Comptroller in 2013 but lost in the primary.
Spitzer graciously starred in a documentary about his sex scandal, "Client 9; The Rise and Fall of Eliot Spitzer."
Ashley Alexandra Dupré:
Our vote for most memorable political sex scandal is former New York Representative Anthony Weiner whose last name was so descriptive of his sex scandal, it provided an endless supply of inspiration to headline writers.  One of the reason we can't forget Weiner is because he refuses to go away, running for Mayor of New York in 2013 but apparently still sexting to women not his wife. 
Let's review…on May 27, 2011, Weiner accidentally and publicly tweeted a picture of his penis to a 21-year-old Seattle woman.  He meant to send it to the woman directly but when he realized his mistake, Weiner told the media that his Twitter account had been hacked.  This didn't become a media firestorm until conservative writer and columnist Andrew Breitbart claimed to have sexual pictures of Weiner forcing Weiner to confess after 10 days of denial that he did indeed send the picture.  Before his admission, Weiner didn't help his own cause any by constantly dodging questions and giving inconclusive answers when questioned about the tweet.  On June 6, Weiner admitted in a press conference to not only sending the "wiener picture" but to also having online relationships with six women.  He claimed he never met any of the women and didn't think he did anything illegal.  At first, he refused to step down but ultimately, outside pressure especially from his fellow congressional representatives forced Weiner to officially resigned on June 23, 2011.
Weiner took pictures of himself to send to his "sexting partners" with personal pictures in the background like the circled one of him and Bill Clinton. Ironic.
Weiner returned to politics in April 2013 when he announced his candidacy for New York Mayor.  But on July 2013, "reality website" The Dirty published explicit sexting messages and pictures by Weiner reportedly sent to a woman in late 2012 through April 2013 under the alias "Carlos Danger."  Weiner admitted he sexted with at least three women during this time. He only got 4.9% of the votes and came in 5th in the Democratic primary.  Time for Anthony Weiner to choose another career.
How many people – especially women – are praying for this?
For some, having sex with their teacher is cool
WHAT ARE SOME OF THE BIGGEST TEACHER SEX SCANDALS?
"Hot for teacher" took on a whole other meaning when the story broke in 1996 that Mary Kay Letourneau, a married Seattle-area elementary school teacher had a sexual relationship with one of her students, then-12-year-old Vili Fualaau.  This sex scandal is groundbreaking because it was the first time a teacher sex scandal received so much nationwide media attention and public outrage.  It also was probably when teacher sex scandals first entered the public consciousness.   Mary Kay was arrested in March 1997 but was already pregnant with Fualaau's child. Their daughter, Audrey was born in May 1997 while Mary Kay was out of jail on bail.  Mary Kay pleaded guilty to child rape charges and  sentenced to six months in the county jail and three years of sex offender treatment. She agreed to avoid any further contact with Fualaau as part of her plea bargain agreement. 
However, 35 years old Mary Kay and Fualaau had sex in her car in February 1998 and   she became pregnant again.  Mary Kay was arrested for violating the terms of her probation and sentenced to seven-and-a-half years in state prison.  In October 1998, she gave birth to Georgia, her second daughter with Fualaau while still in prison.  In 1999, she gave up custody of the four children she had with ex-husband Steve Letourneau.  Mary Kay was release from prison in 2004 and married Fualaau, now 21 years-old on May 20, 2005. Today, they are still married and live near Seattle, Washington.  Fualaau works as a professional DJ and Mary Kay often attends his shows.
A happy family picture: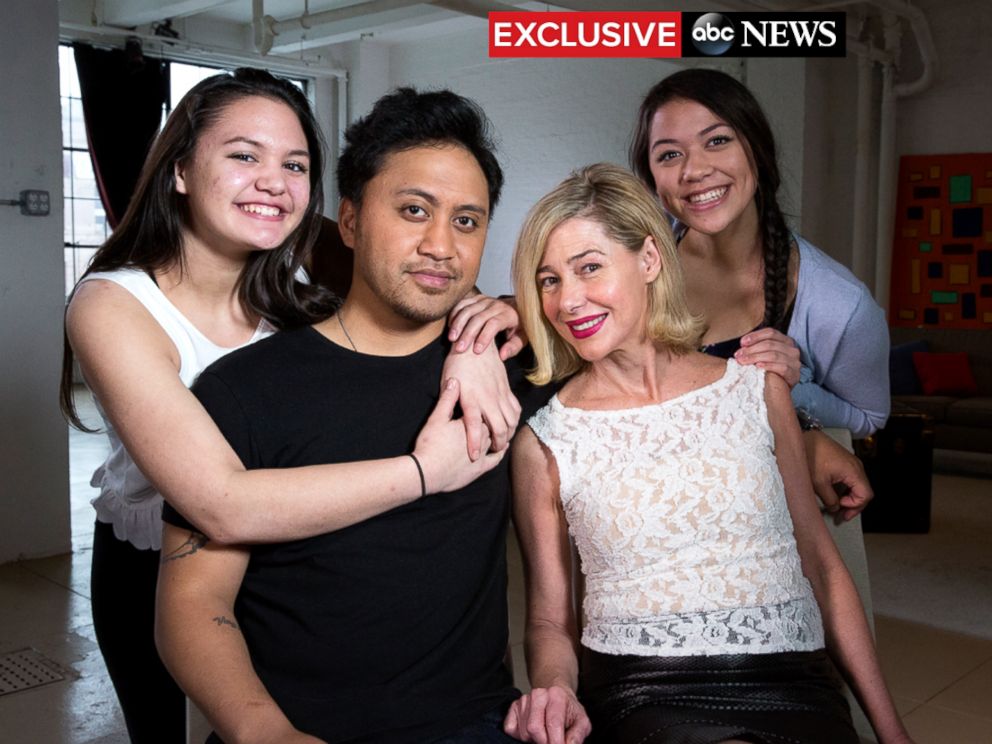 After Mary Kay set the precedent, unfortunately, there's been so many teacher sex scandals, it's hard to single out one that is noteworthy.  Sadly, an AP study found over 2,500 teachers were punished for sexual misconduct between 2001 and 2005.  However, the case of Texas teacher Brittni Colleps who was convicted of having group sex with five 18- and 19-year-old students at her house is noteworthy for its salaciousness. 
The male athletes whom she had sex with were from Kennednale High School where wife and mother, Brittni taught and coached sports.  During Brittni's trial, the students testified that they didn't feel she committed a crime and didn't think she should go to jail since they wanted to have group sex.  One of the students explained his relationship with Brittni began with an innocent text message she sent him about what time a baseball game started.  This accelerated to almost 100 explicit texts a day before they agreed to have sex. 
In April 2011, Colleps invited one of the boys to her home to watch a movie. They ended up having sex and in May, he brought three friends – all football players – to Brittni's home for dinner where they eventually had an orgy.  Her three kids were not home and her husband, Christopher, 31, was serving as an army specialist in Louisiana.  In this day of cellphones, of course somebody filmed the sexual tryst and it spread around the school like wildfire, all the way to the principal's office and eventually to the police.
 In August 2011, a jury convicted Brittni on 16 counts of having improper relationships with students and sentenced to five years in jail.   Even though the students were all older than the minimum age of consent in Texas, state law prohibits any teacher in a primary or secondary school from having sex with students of any age.  Brittni's husband vows to stand by her and it's Brittni who now feels like a victim.  She said in a "20/20″ interview regarding the sex video, "I felt like I was victimized in that video, because I did not, I never gave my consent for it."  Well, guess boys will be boys.
 Brittni Colleps during the trial:
Brittni and her husband, Chump, I mean…Christopher: 
Our third teacher sex scandal belongs in the unbelievable and bizarre category. 41 year old high school teacher James Hooker and 18-year-old Jordan Powers first received national attention in early 2012 after he quit his job at Enochs High School in Modesto, CA and left his wife and children to move in with Jordan, his former student whom he met when she was a freshmen.  They did several interviews professing their undying love and hope for a future claiming nothing happened until Jordan turned 18.  Her mother, Tammie Powers went on Facebook to denounce the relationship and called Hooker a sexual predator.  Hooker himself had a 17 year-old daughter who also attended Enochs High School.
They professed their love everywhere:
A few months later, 32 year old Michelle Miller, one of Hooker's former students came forward and told authorities that in 1998, when she was 17 years old, she and Hooker had a sexual relationship the summer after she graduated from high school until he ended it when his wife supposedly found incriminating emails.  Miller felt compelled to come forward when she learned of Hooker's relationship with Powers.  She said she didn't want to expose him earlier out of respect for his wife and kids.  Hooker was arrested for sexual assault on Miller in early April 2012 and Powers briefly broke up with him but they later reunited and she stood by his side during his trial which started in July 2013.  Hooker pleaded no contest to a misdemeanor charge in the Miller case, ordered to register as a sex offender and sentenced to four years of probation.  
Michelle Miller and her attorney, Gloria Allred.
WHAT ARE SOME OF THE BIGGEST CELEBRITY SEX SCANDALS?
Once again, so many to choose from! But the winner for groundbreaking celebrity sex scandal has to go to Rob Lowe because back in 1988 when a videotape of him having sex with two women, one of who was only 16 was leaked to the public (by those two women), celebrity sex tapes were unheard of Rob Lowe is our trailblazer.  The video was made the night before the Democratic National Convention in Atlanta, Georgia where then 22 year old Lowe was campaigning for Michael Dukakis.  It was reported that Lowe frequently filmed his sexual encounters but only for personal use.  The two women stole the videotape when Lowe wasn't in the room.  Later, Lowe said he didn't know that one of them was underage and it was confirmed they met in a bar.  Another part of the video also showed Lowe and his friend, Justin Moritt having sex with a young model named Jennifer in a hotel room in Paris.
Years later, Lowe told Oprah Winfrey that this embarrassing incident was "the best thing to happen to him" since forced him to hit rock bottom and seek help.  He became sober, is now happily married with a family and his career has rebounded in a big way with well received film roles and an Emmy nomination for "The West Wing."  In fact, his career rebounded so well, Lowe actually lampooned the videotape incident when he hosted Saturday Night Live. 
Our second celebrity sex scandal rates in the unbelievable category because when it was revealed, the collective national reaction must have been, "Really??"  Eliot Spitzer isn't the only governor who had a sex scandal, he gets to share that prize with the most famous governor in the country (for a while at least), Arnold Schwarzenegger.
Rumored to be a womanizer and known movie star, no one was surprise to learn that Schwarzenegger had an affair, or even dozens of affairs and it's not shocking he'd even mess around with the help.  The shock came when it was discovered that the maid, Mildred Baena was definitely no starlet and that the Guvernator had an illegitimate son with her.  It was a secret she kept for 13 years.  Well, Arnold certainly married into the right family for sex scandals since his wife, Maria Shriver is, as we all know, also a Kennedy.  Maria filed for divorce in July 2011 and for his part, Arnold said in a statement, "There are no excuses, and I take full responsibility for the hurt I have caused.  I have apologized to Maria, my children and my family. I am truly sorry."  Meanwhile, the Schwarzenegger divorce proceeding has had shown little court activity since Maria filed so maybe she is more forgiving than we thought.
See the resemblance?:
Tiger Woods' little 2009 Thanksgiving altercation with is then-wife Elin is our most memorable celebrity sex scandal due to public shock in founding out Tiger's squeaky clean image that he so carefully crafted was just that, an image.  In fact, Tiger turned out to be quite a player and sexual freak-a-zoid which is perfectly fine unless your playing and freaking with people other than your wife. Which he was and it was discovered that Tiger was actually playing with over a dozen different women while he was married.  On Thanksgiving 2009, Tiger crashed his Cadillac Escalade into a fire hydrant just outside his Florida home at 2:30 a.m.  It turned out the car crash that was a result of an argument he was having with Elin about his extra-marital affairs.  Tiger nor Elin have ever revealed what exactly happened that night or just what Elin did with that golf club, but they did get a divorce.  After this incident, Tiger's reputation took a dive, he lost almost all of his sponsorships and he had to take a year leave of absence from professional golf to get his life together.  Which apparently he now has and is currently back on the golf circuit and dating again although we doubt he ever stopped.
Tiger's Escalade, Thanksgiving 2009.  Only the car knows what really happened.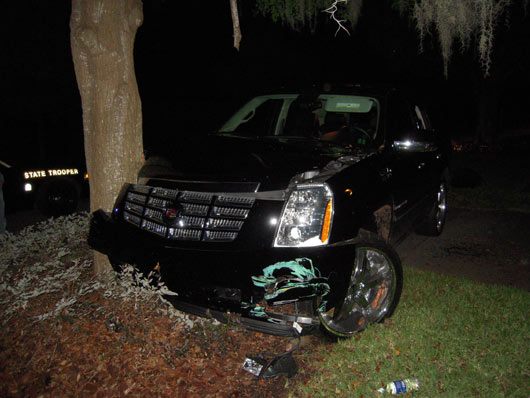 But we can probably guess: