The Top 10 Most Popular Asian Porn Stars
When it comes to porn stars, everybody's got their personal favorites so curating an Asian porn stars top 10 list is no easy feat. Most of these women have multiple talents and prove that Asian actors can appear in more than just martial arts movies.  Asians can be sexy too and these ladies have proved it with the sheer volume of adult movies they've collectively done. However, one stereotype that the below Asian porn stars have not shattered is the one of the academically gifted Asian. Whenever you ever get a bunch of Asians together, there always has to be one who has performed at Carnegie Hall as a teen or one that was a National Merit Scholar. Even on an Asian PORN star list, there's someone who went to college on a law scholarship and even one that competed in the Asian Olympics!  When will Asians finally shatter these achieving stereotypes?! Well, at least these ladies will have something to fall back on when their porn careers are over. Their proud parents must be breathing a sigh of relief.
Here's our Asian porn stars top 10 list in no particular order:
Born Jessica Steinhauser, of Japanese and German descent, Asia's screen name is inspired by Asian-American actress Tia Carrere. Her measurements are 36C-26-36. The height of her porn fame came in the 90's when she became the first Asian actress to win the 1995 AVN Female Performer of the Year. With a career that spanned 1993 to 2003, Asia is in the AVN Hall of Fame and has appeared in over 400 adult films and videos. In 2000, she won AVN Best Couples Sex Scene for her film, "Search for the Snow Leopard." No dummy, Asia has an IQ of 156 and is a Mensa member. When she was a child, she was a piano prodigy, performing twice at Carnegie Hall before she was 15 years old. She received a full academic scholarship to Rutgers University but did not graduate.   
Minka
You can't miss Minka's most famous feature which are her size 54KKK boobs. She's a centerfold star and has frequently appeared in publications like Score and Hustler's Busty Beauties.  She has won the titles of the 1998 AVN Award for "Best Big Bust Video of the Year," and Hustler Busty Beauties "Centerfold of the Year." Unofficially, she is known in the adult entertainment industry as "The World's Most Enhanced Asian Woman." Her real name is Un Hee Aptekar and before her porn career, Minka won first place in a tennis doubles event in the 1993 Asian Olympics in Chicago. When she couldn't get a license to teach tennis, she sent pictures of herself to John Graham, a British glamour photographer and adult film director and her porn career was born.
Ava's heritage is Chinese, Italian and Spanish and she's known for her willingness to perform a variety of sexual acts and pushing the boundaries including extreme gangbangs and performing with transsexuals. Ava started her career in 2003 but had to put her career on hold in October 2005 to undergo breast reduction surgery reducing her size to 36DD. She returned to work in January 2006 and is a veteran of 342 adult films.
Tera's real name is Linda Ann Hopkins and she is of Thai and English descent. Her assets are 36DD-24-34 and in a ten year career, Tera has won various awards including the 2000 Hot D'Or for "Best New Starlet", and the 2001 AVN for "Best New Starlet."  She also was the 2004, 2005 and 2007 Genesis Pornstar of The Year and was inducted into the AVN Hall of Fame in 2009. Tera posed for both Playboy and Penthouse where she was the February 2000 "Pet of the Month" and "Pet of the Year" runner-up. Born in Great Falls, Montana, Tera grew up near San Francisco and modeled as a teenager in Japan but became addicted to Valium and alcohol while spending her paychecks on shopping. She returned to the U.S., got a GED when she was 18 and briefly studied nursing at Boise State University before becoming EMT certified. Tera became a contract player for adult entertainment company Vivid in 2003 and officially retired from on camera work in 2009.
Annabel Chong is the stage name for Grace Quek who is  Singaporean-born Chinese. Annabel is best known for the adult film, The World's Biggest Gang Bang in which she had sex over a 10 hour period with 70 men. She was 22 years old when she starred in this highly controversial film which started a trend for gang bang pornography. Also no dummy, Annabel studied on a law scholarship at King's College in London and gender studies at USC. She's performed in 66 adult movies, directed two and was the subject of the documentary, Sex: The Annabel Chong Story. Annabel retired in 2003 and reportedly now works as a web developer.
Annie Cruz
Annie Cruz (for once, her real name) is from Stockton, California and of Filipino descent. She graduated from Brookside Christian High School and attended San Francisco State University and Dominican University of California but left college to start a porn career in 2004.  Annie has appeared in 447 adult films and her most prestigious awards is the 2008 Adam Film – Squirt Queen of the Year and the 2009 AVN "Most Outrageous Sex Scene" for her movie, Night of the Giving Head. Annie is a self-confessed sex addict and used to identify as bi-sexual but on her website, she now states she is pansexual and is sexually attracted all sexes and gender.
Michelle Maylene
Petite Michelle Maylene's exotic ethnicity is French, Filipino and Hawaiian. She's appeared in 116 adult films after making her film debut as a featured exotic dancer in 2006. Michelle is best known for her role as "Karen" in the softcore series, Co-Ed Confidential on Cinemax which ran for four seasons from 2007 to 2010. Michelle also appeared as a news correspondent for AVNLive.com and her other TV work includes Playboy TV's Night Calls and Canoga Park.
Kaylani Lei
 One of the more petite adult film stars, Kaylani Lei, born Ashley Spalding is only 4′ 11″ but she's made a large impact on the porn industry with her appearances in 218 films.  She was born in Singapore but grew up in Massachusetts. Kaylani began her career in 2002 and became a contract player with adult entertainment company, Wicked Pictures, appearing in many of their productions. Her other appearances include the TV series, Zane's Sex Chronicles and she's hosted her own a radio show, Me So Horny with Kaylani Lei on KSEX. Kaylani was inducted into the AVN Hall of Fame in 2015 and is the winner of several adult film awards including Best Female Performer, 2008 Night Moves Adult Entertainment and the 2010 AVN for Best Group Sex Scene.
Mika Tan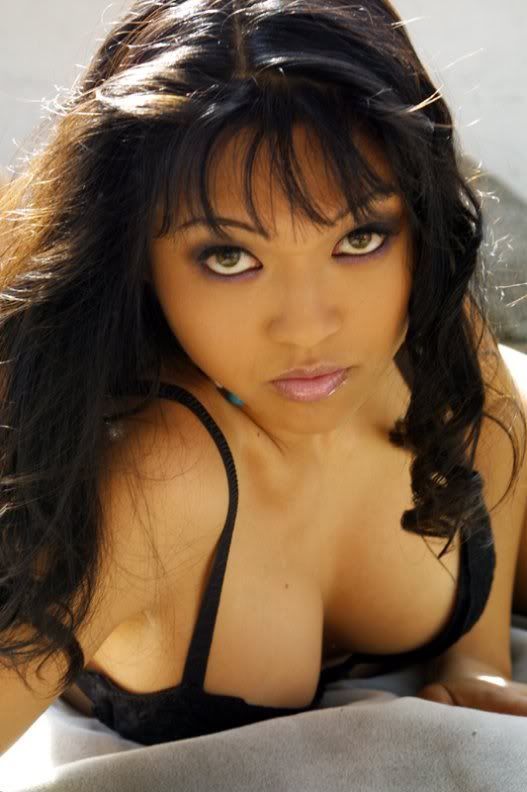 Mika is from Hawaii, born to a Japanese-Samoan father and an Okinawan-Taiwanese mother. A Navy brat, Mika also performed as a child in musical theater and commercials. She won a National Merit Scholarship and went to San Diego State University where she earned degrees in biochemistry and psychology. Clearly, the scholarship didn't pay enough since Mika had to work as a stripper in her last year of college. Mika does primarily fetish work with specialties in bondage and pantyhose fetish. She was named the 2007 AVN Underrated Starlet of the Year and is the 2006 Adam Film World "Best Asian Starlet."
Jayna Oso
Born in Brunei but raised in Hawaii, Jayna's real name is Shauna Leake and her parents are Asian and Irish. She started her porn career in 2002 when was 21 years old and quickly became known for her hardcore performances. Due to her exotic looks, she is sometimes even cast as a Latina. Jayna has been nominated for numerous AVN awards, especially peaking in 2005 when she was nominated for the AVN Award for Female Performer of the Year, Best Anal Sex Scene, Best Oral Sex Scene Video and the 2005 AVN Award for Best Three-way Sex Scene Video.