The Hottest Baywatch Girls: Worth Drowning For

Baywatch was a terrible show that we all watched because the women were so hot. That's something we all admit to over and over. They were like super, impossibly hot. And even though these ladies are now much older, they still retain their hotness…well, most of them do.
Now that we have all of that craziness out of the way, why don't we take a look back at the hottest of the hot from the show? We'll put them in no particular order, but you'll see how much hotter they get the higher up the list we go…
13. BRANDE RODERICK
Character: Leigh Dyer
Brande Roderick is best known for her role as Leigh Dyer on the show from 2000-2001. However, she did a lot of soft core porno films to pay the bills just before being cast on Baywatch. Just for fun, you can see her in action HERE. She also posed nude in Playboy a few times and dated Hugh Hefner while she was a Playmate. God, that guy is a machine…
12. BRANDY LEDFORD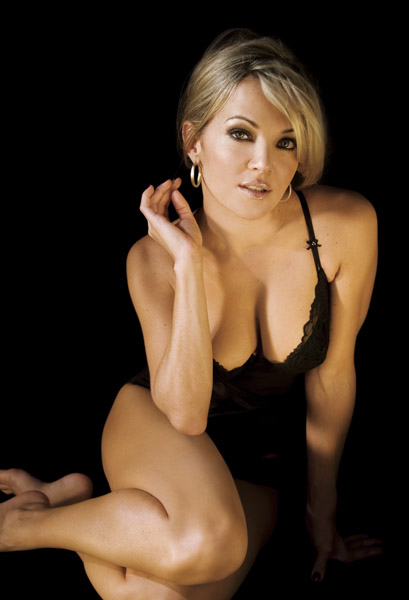 Character: Dawn Masterton
Brandy Ledford was a dancer as a child and was actually on the 1980 World Champion Drill Team. Naturally, she went into modeling in her 20's and — as models do — decided to pursue acting. She nabbed a bit part in Demolition Man, which co-starred fellow hot person, Sandra Bullock. Soon after that classic piece of celluoid, dudes everywhere were given a gift when she was offered the role of Dawn Masterton…which required her to wear a swimsuit every day on set.
11. KRISTA ALLEN
Character: Jenna Avid
Krista Allen dated George Clooney, if you care to know. She has been hot for a very long period of time, and continues to be hot. Aside from Baywatch, she was in The Final Destination and the Matt Damon & Ben Affleck produced Feast. So really quality stuff.
10. STACY KAMANO
Character: Kekoa Tanaka
Stacy Kamano is best known for her role on Baywatch: Hawaii.
She was born and raised in Honolulu and even won "Miss Tropical Pre-Teen Hawaii". So obviously, pursuing acting as a career was a no-brainer. She jumped on the Baywatch Train in 1999 and stayed around for two seasons. She's also done lots of guest spots on other shows and is a TV host.
Her mom is a mix of German, Russian and Polish. Her dad is Japanese.
9. NICOLE EGGERT
Character: Summer Quinn
Nicole Eggert is known for being in countless commercials and terrible TV shows — Baywatch being the crowing achivement of badness She did look amazing running down the beach half-dressed, though. Unfortunately, she was on Celebrity Fit Club a few years ago because she apparently enjoyed dessert a little too much at the craft service table.
8. ERIKA ELENIAK

Character: Shauni McClain
How insanely hot was Erika Eleniak as the first Baywatch chick? Pretty insanely hot. That's for sure. She played Shauni McClain and was in a swimsuit on our TV screens pretty much every day. She had a girl-next-door appeal about her, and a killer body. Perfect for the show and perfect for us.
And does anyone remember her Under Siege scene? Of course you do.
7. TRACI BINGHAM
Character: Jordan Tate
Traci Bingham was in the music video for "Good Vibrations" by Marky Mark and the Funky Bunch. Yeah, so she had that going for her. And so did Mark Wahlberg.
Aside from Baywatch, she appeared on a few other shows. But even better, she was nude in Playboy a few times. She was even in the "Babes of Baywatch" issue along with Donna D'Errico, Marliece Andrada, Pamela Anderson, Yasmine Bleeth, Carmen Electra, Gena Lee Nolin, and Erika Eleniak.
She was also on Celebrity Big Brother in the United Kingdom, but no one in America cares about that. What we do care about is how close she came to doing a porn shoot. Read all about that HERE.
6. GENA LEE NOLIN
Character: Neely Capshaw
Gena Lee Nolin is best known for spelling her first name weird…and for being on Baywatch. Before that, she won a Las Vegas beauty pageant. And she probably has a sex tape that will surface soon. She's now retired from acting and married to a retired NHL player. She also wrote a book about motherhood — which no one has read. Well, maybe moms have, but not us…because we can't actually read.
5. BROOKE BURNS
Character: Jesse Owens
Pamela Anderson has logged more time in the red Baywatch swimsuit than Brooke Burns, but she's the only one. Brooke Burns was in a ton of episodes and was also married to actor Julian McMahon for a while. You know, the Fantastic Four guy that destroyed the role of Dr. Doom. Oh and he was in Nip/Tuck. But back to the extremely hot, Brooke Burns…she also dated Bruce Willis and his bald head for a while. 
In 2005, she broke her neck diving into her swimming pool, but escaped paralysis. Aside from Baywatch she also starred in the short-lived Pepper Dennis with Rebecca Romjin and has appeared on Ally McBeal with Calista Flockhart and Lucy Liu. She also appeared in Shallow Hal with Jack Black and Gwyneth Paltrow.
4. DONNA D'ERRICO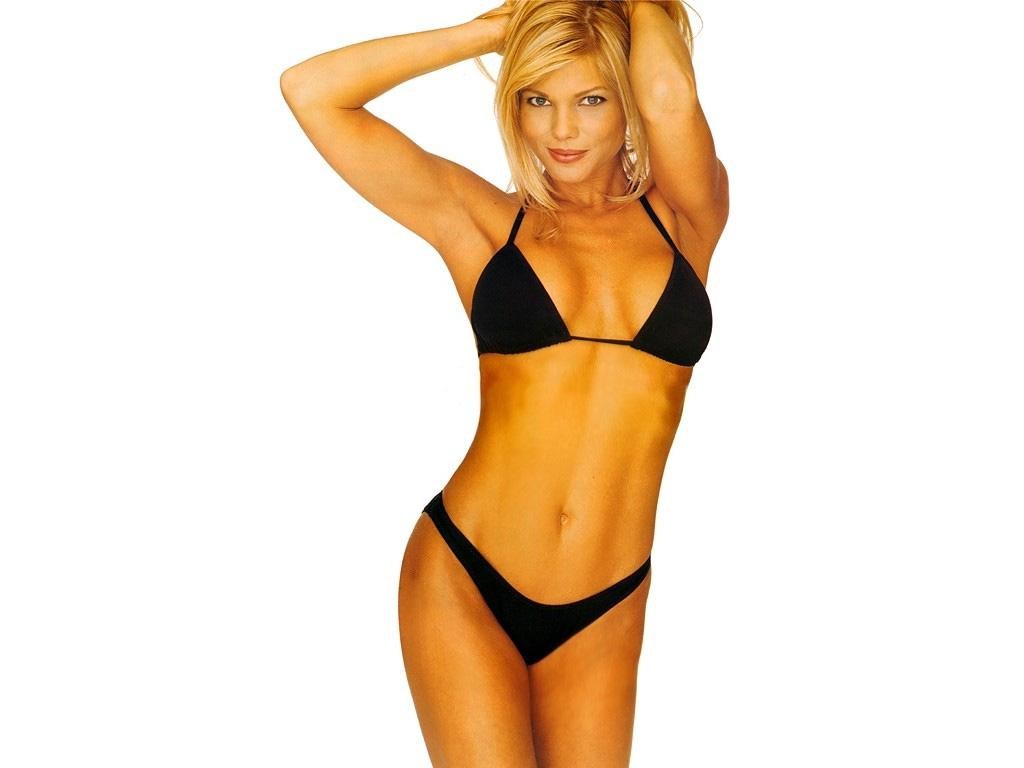 Character: Donna Marco
Donna D'Errico was on Baywatch and is hot. That's all anyone knows about her.
3. CARMEN ELECTRA
Character: Lani McKenzie
Carmen Electra's real name is Tara Leigh Patrick. Okay, fine. But she is also crazy hot and sexy. She's been on Maxim's Hot 100 Women list a few times, as well as in Playboy. She was a dancer for years, but used none of that on Baywatch, as a lifeguard dancing down the shore isn't really practical when trying to save a life — because the show was all about authenticity.
Carmen is of German, Irish and Cherokee ancestry – which adds up to perfection.
2. YASMINE BLEETH
Character: Caroline Holden
Yasmine Bleeth was in a Johnson & Johnson commercial when she was a baby, so obviously it was inevitable that she'd be on Baywatch. She did a bunch of other shows and movies as a child actor and was reportedly told by a fashion photographer when she was six that she was "going to be gorgeous." She did lots of modeling and made the transition into superstardom when she landed her role in the red swimsuit. She also was in the movie Baseketball, which earned her an Oscar nomination.
That last part is obviously a lie…
She did get herself in some drug trouble after her Baywatch days, but has since remained mostly out of the public eye. But still pretty hot.
1. PAMELA ANDERSON
Character: C.J. Parker
Pamela Anderson is definitely the most well-known of the Baywatch hot chicks and one of the most iconic blonde bombshells to come out of Hollywood. But those of us that follow her "work", know that she also likes to make sex tapes. And those sex tapes have found their way online. She and her former boyfriend — Poison lead singer, Bret Michaels — made one in the early 90's. Then she got married to Motley Crue drummer, Tommy Lee, and made more sex tapes with him. She's had a couple of kids, had her fake boobs popped in and out a few times, but still looks insanely hot.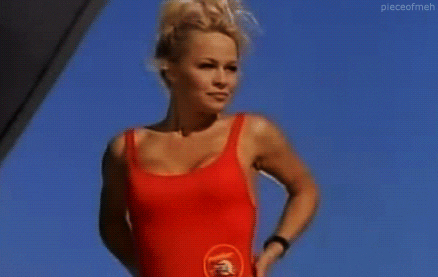 CONCLUSION
Thank you, Baywatch, for giving us the wonderful gift of all these hot actresses in swimsuits. Or should we be thanking David Hasselhoff? He was the executive producer that pushed the show into production. We never thought the Hoff would be our personal hero, but he truly is. Those Germans were on to something when they embraced him as a genius.