The 10 Hottest Actresses on Game of Thrones
"You might come for the dragons, but you'll stay for the boobs." No, that's not an alternative slogan for Game of Thrones (seriously, how long can winter be coming for?). It is though a true element of why HBO's massive hit has become a true international phenomenon. Sure Peter Dinklage is brilliant, the sets and costumes breathtaking, the theme music catchy and the story fun in a Tolkienesque way, but really, it's all about the boobs. About the boobs. No treble. Enjoy this guided tour through the 7 kingdoms as we bring you the 10 actresses on the show who can warm your hearts while winter is coming.
Emilia Clarke is currently the idol of millions in her role as Daenerys Targaryen on the HBO series. That role involves plenty of skin and onscreen sex for the actress, but not enough to keep fans from wondering if there's any more Emilia Clarke nudity to be found. Although her most important nude scene in the series was in the first Season, there's more out there.
English actress Natalie Dormer might be best known for her role as Margaery Tyrell on the HBO series Game of Thrones, but she also starred in The Tudors, Rush, Captain America: The First Avenger, and The Hunger Games:Mockingjay-Part 1. Mellow resume. (Not.)
One of the many talented and lovely actresses on the show is young Sophie Turner, who plays Sansa Stark, daughter of Ned Stark. We haven't been lucky enough to see her stark naked yet, but if the show lasts long enough, we just might.
With few exceptions, pretty much all of the characters on the show have been guilty of some egregious act (shout out to Arya Stark, who is still a "good guy"), so to stand out as a truly rotten character is tough. Lena Headey has been from the first episode on one of the major stars of the show, and the fact that she's both evil and hot makes her always fun to watch.
As Danerys faithful friend and servant, Missandei, Nathalie Emmanuel doesn't speak much if any English. Luckily for us, the gorgeous Brit is sexy in any language, even when she's speaking some crazy mumbo jumbo that was invented for the show.
Sibel Kekilli is one of the former porn stars that Game of Thrones decided to cast. Probably based 99% on the fact that they really don't care that they have to get completely nude in every scene…and the rest on their decent acting skills.To be fair, she's hot and is now a pretty damn good legitimate actress. Plus, anyone lucky enough to play most of her scenes with Peter Dinklage deserves props in our book — the little guy is the heart and soul of the show.
As Melisandre, Carice takes the cake as arguably the singularly most evil female character on the show, and that is saying a lot. Need a character who says it's a good idea to burn a child at the stake? She's your gal. The Dutch actress is quite beautiful, but damn girl, chill on the evil.
As Ygritte, she was hot enough to seduce Jon Snow, and their lovemaking scenes were among the most steamy (and believe it or not, romantic) moments in the show's history. The fiery redhead's work in the series has ended, but she'll not be forgotten.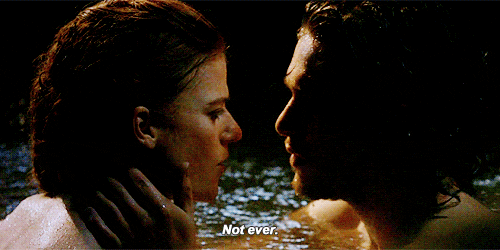 As Gilly, the love interest of the pudgy but lovable Sam, she's usually covered in dirt, dressed in rags, and basically looking pretty gnarly. Off-screen though, the British actress is damn cute. Who knew?
Ok, before you think we are a bunch of Granny chasers, feel free to chalk this one up as an honorable mention if you will. Sure, she plays an old lady on the show, but back in the day, she was a bona fide international sex symbol known for playing Emma Peel in the 60's TV series The Avengers.
Our international journey across oceans, kingdoms, dragon's nests, battlefields and Westeros has come to an end, but these 10 actresses have made it a worthwhile trip. There are several other hotties who have made appearances on the show, and likely many more to come. Which ones would you want to play a game with?