'50 Shades Of Grey" Puzzle Given To Middle Schoolers
The "50 Shades of Grey" movie will be in theaters very soon and that means we're bound (no pun intended) to see all sorts of marketing and promotions to get the word out about this BDSM-themed thriller. Here's one that no amount of publicity or marketing could ever buy. A middle school is in trouble after someone handed out a "50 Shades of Grey" themed word puzzle to some students. 
School officials for the Westmoreland County school district in Monessen, Pennsylvania said that at least five middle school students were given a word search puzzle that contained familiar phrases and words commonly associated with the "50 Shades of Grey" movie and novel. Officials didn't confirm exactly what words the students were supposed to search for but we're sure they'll show up again one day in a meeting with a court appointed counselor or a future therapy session. 
The father of one of the eighth-grade students said the word search contained some sexual terms that he felt were inappropriate for children his son's age. When he asked his son who gave him the puzzle, he said that his teacher gave it to him as an assignment. The father went to the school and a school board meeting to get an explanation but for some reason, both refused to answer his questions and would only say that "An investigation will occur." A board member later told local reporters that the word puzzle was handed out by mistake but would not confirm if any staff members or teachers had been disciplined. We're assuming that's because if there was any "discipline," it probably looked something like this.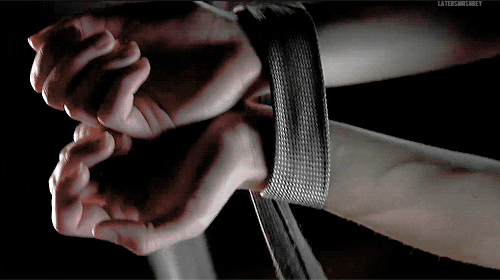 (Source)