Stana Katic: See Her Castle
Who says women from Eastern Europe are way too hairy and need to come out of their ex-Communist cocoons? Statuesque Stana Katic displays her Serbian DNA in all the right places.  With her looks, this athletic beauty is perfectly cast when playing mysterious, exotic characters but is best known as one of the hottest American cops on network television in ABC's Castle. Not only is Stana trained in Isshinryu Karate, stage combat and belly dancing, she is fluent in many languages besides English including French, Italian, Serbian, Bosnian, Croatian and Slovenian.  This smart and gorgeous actress comes to U.S. audiences via Canada and we are all the better for it.  Even though Stana is now one half of the hottest "will they get it on already" couples in TV, Stana's road to fame wasn't overnight.  She labored on various TV dramas before becoming Detective Kate Bennett on Castle in 2009.  However, once Stana entered our consciousness, she's stayed.  Entertainment website BuddyTV named Stana to its list of "TV's 100 Sexiest Women" for five consecutive years starting in 2009 and ranked her #1 in 2011.  On Maxim's prestigious Annual Hot 100 list, Stana has ranked for three consecutive years including coming in at #50 for 2014.  See here for the list. No wonder this Eastern European beauty is also on most every male's wish list of women they'd most like to see nude.
New York Post/photoshoot
WHERE CAN I SEE STANA KATIC NUDE?
Lucky for Stana fans, she has not only traipsed around in her underwear on Castle and wore a thong in 24, but on the big screen, she not only appears in underwear in The Double, Stana also has been nude in 2 of her movies.  The latest movie in which you can see Stana Katic nude is in For Lovers Only when her character, Sofia bumps into Yves, an old flame in Paris and the two lovers reconnect.  They cavort around Paris and of course, make a lot of whoopee in which Stana's breasts are exposed.  See them here.
Her first nude scene came in the movie, Feast of Love based on the novel by writer Charles Baxter and directed by Robert Benton.  Stana was 29 years old and had a small but pivotal role in which she played Jenny who has a lesbian relationship with Kathryn played by Selma Blair.  Stana showcases her breasts and butt in the love scene with Selma Blair.  Stana revealed that she and Selma practiced the lesbian sex scenes before the actual filming, "We rehearsed our love scene quite a bit in a private room together. We both looked at the bed, looked at each other and walked into the room and went at it."
Stana added, "As a kisser, I would say Selma was very titillating. It was my first time kissing a woman and I had a great time with her. But I reconfirmed to myself that I'm 100 percent heterosexual." Well, right now, hoards of Stana's male fans are breathing a huge sigh of relief.
WHO IS STANA KATIC?  
Stana Jacqueline Katic was born on April 26, 1978, in Hamilton, Ontario, Canada to Serbian parents, Petar and Rada Katic who emigrated from Croatia, Yugoslavia. She is the oldest and has four brothers and one sister. Stana explains her ethnic heritage as "My parents are Serbs from Croatia. I call us Dalmatian because that's the part of the planet that we are originally from. I have Serb, Croat and even a handful of Montenegrin family members."  In typical immigrant spirit, Stana's parents built a successful real estate and furniture business so she grew up with the privilege they didn't have as children.  Stana says, "They educated us. They inspired us. They gave us lessons. They're fabulous parents and I'm really fortunate to have them.  I feel very lucky that I've gotten to pursue a creative life."
The Katic family moved to Aurora, Illinois when she was a child and Stana attended West Aurora High School where she graduated near the top of her class in 1996.  After high school, Stana went to college at University of Toronto where she studied international law and biology.  However, that all changed when Stana discovered her love for acting after a friend asked her to star in an obscure 1999 indie short, Acid Freaks.  She subsequently studied acting for 2 years at DePaul University Goodman School of Drama in Chicago.  Stana started to audition for local productions and worked in theatre, appearing in several plays including Richard III, Romeo & Juliet and The Seagull.  In 2003, she made her feature film debut with a small role in a gangster drama, Shut-Eye.   She also did some modeling while pursuing acting jobs. 
WHAT HAS STANA KATIC DONE?
Starting in 2004, Stana started to steadily get guest star roles on high profile TV shows for several years including Alias, CSI Miami, ER, JAG, The Closer, The Shield and Heroes.  Her 4 episode arc on the Fox drama, 24 as terrorist sympathizer Collette Stenger earned her national attention.  She continued to appear in series television in addition to working on TV movies such as Dragon Dynasty (2006) and in 2008, she played Simone Renoir in The Librarian: Curse of the Judas Chalice, the third installment in TNT's The Librarian franchise.  Having gained some traction as a notable actress in television, Stana had a few starring roles in several TV pilots that didn't get picked up to series including Faceless (2006) which was directed by Smokin' Aces filmmaker Joe Carnahan and Company Man, a 2007 pilot from 24 creator Robert Cochran.  In between television work, Stana acted in feature films including Pit Fighter (2005) and Feast of Love (2007).  In 2008, Stana appeared in several features films, Stiletto, The Spirit, Truth About Kerry and played Corrine Veneau in the James Bond film, Quantum of Solace.  About being a part of the legendary franchise, Stana said, "It was a blast! I really wanted to be a part of that film and was up for the role of Strawberry Fields originally but they felt I wasn't right for it, plus I didn't want to play someone who got killed and everyone gets killed in that bloody movie!"  Also in 2008, Stana started Sine Timore (Latin for "without fear") Productions, her own production company. 
HOW DID STANA KATIC BECOME FAMOUS?
Stana finally found fame when she got the role of Detective Kate Beckett, the hard-nosed cop who is forced to partner with best-selling author Richard Castle played by fellow Canadian Nate Fillion. Their rapport and sexual tension on the show was rumored to have spilled over to their real lives and the couple reportedly dated for a few years.  About her character, Stana says that she has a Joan of Arc quality to her since Kate's backstory is that she was Manhattan society girl until a personal tragedy changed her life and driven to see justice prevail, she joined the police force.  Stana said, "She's a woman which means that she's inherently strong. There are all these other wonderful facets to her as well; hope, self-doubt and confidence." Although the show wasn't an instant hit, it's a steady ratings performer and has now reached over 100 episodes, making it a syndication favorite.  
With Nathan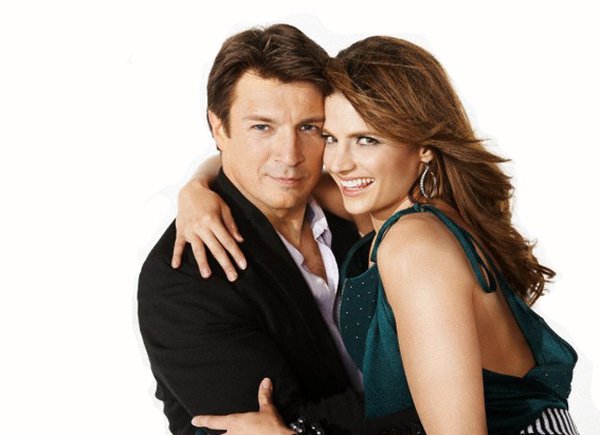 At the end of season 4, Castle and Beckett finally admitted their feelings for each other and kissed.  Apparently the intimate interactions between the pair are not only fan favorites but also Stana's as well.  In an interview she talked about her favorite moments from the show, "I liked when they kissed. That was great. I love the moment when he walks in on her in the bath and she's naked and she's like 'God, can you just not look?' you know? I love the silent smiles between the two of them when one is admiring the other and the other one is admiring that same person."  For the show, Stana was nominated for Favorite Dramatic TV Actress at the 39th People's Choice Awards and won in the same category the following year at the 40th People's Choice Awards while the show won Favorite TV Crime Drama.
Although busy with Castle, Stana still found time to work in features and in 2010, she played Sofia, a journalist and former model in For Lovers Only, a film shot in the French New Wave style with a story inspired by Claude Lelouch's A Man and a Woman.  Directed by Michael Polish starring his twin brother Mark and Stana, the film was ultra low budget and shot in black and white using the city of Paris as its location. Stana said in order to prepare for her role, she studied several François Truffaut films.  The movie premiered at the 2011 Zlín Film Festival in the Czech Republic where Stana also served as a jury member and was distributed  outside the studio system.  Instead of a theatrical release, the Polish brothers used only digital distribution channels such as iTunes where it became one of iTunes' most popular downloaded movies, earning more than $500,000.  Critics compared the film to Richard Linklater's Before Sunset.
Also in 2011, Stana appeared in The Double, a spy film starring Richard Gere and Topher Grace.  She did 3 features in 2013, Big Sur, CBGB and Superman: Unbound. Big Sur is an independent film also directed by Michael Polish and is based on the 1962 Jack Kerouac novel.  The film premiered on January 23, 2013 at the Sundance Film Festival and was critically well-received.  Stana played Genya Ravan, aka Goldie the lead singer for the group, Goldie & the Gingerbreads in CBGB, a movie about the famous former New York music venue.  In the animated movie, Superman: Unbound, an adaptation of the 2008 comic book story "Superman: Brainiac," Stana voiced Lois Lane.  Stana also lended her voice to the character Talia al Ghul for the 2011 action-adventure video game, Batman: Arkham City. Philanthropic as she is beautiful, Stana founded a non-profit called The Alternative Travel Project which encourages people to not use their car for one day.  When she has time, she also volunteers at the Childrens Hospital of Los Angeles.