Netflix Has Some Weird Secrets
Netflix has changed the game for the media delivery industry with their streaming service. In fact, part of the fun of watching a movie or a TV show on their instant video feed is just rooting around the archives and seeing what they've put in there for our visual consumption. There is one video, or rather videos, still on Netflix's streaming service that may just be the weirdest of them all and yes, we're including that Bruce Dern movie called "The Incredible 2-Headed Transplant." 
Someone at decider.com decided to waste a little time by sifting through the site by using the search engine. When they typed the word "Short" in the blank space next to the magnifying glass, a very strange series of films popped up on the screen in between movies like "Short Circuit 2," "Get Shorty" and "Strawberry Shortcake's Berry Bitty Adventures." They run between 11 and 123 minutes each and have titles such as "Example Short 23.976 Remote Control" and "Example Short 11 Min 29.97 fps Remote." They may not sound interesting next to titles like  "Scream Blacula Scream" and "Ninja Cheerleaders" but they have some kind of strange, hypnotic tone that just makes you watch it. 
[[contentId: 2816629| | style: width:75%]]
These films were shot at Netflix's headquarters in Los Gatos, California and appear to be a random series of images around the complex mixed with sped-up scenes of the clear, natural California sky. 
[[contentId: 2816630| | style: width:75%]]
A majority of the scenes feature a rather fit, unidentified man run in and out of the frame in various ways and appearing on camera doing different activities.  We're introduced to this "character" when his hand appears under a fountain located on the headquarters' campus. Then it starts to get really weird. 
[[contentId: 2816631| | style: width:75%]]
He appears on screen with some balls and he starts bouncing and juggling them. He moonwalks down the sidewalk while reading a laptop computer. He recites Murellus' speech from Act 1, Scene 1 of "Julis Caesar," which he concludes by making popping and clicking noises with his mouth while looking straight into the camera. I had no idea what would happen next. It felt like there was a possibility that the man might crawl out of my computer screen and lunge for me a la "The Ring."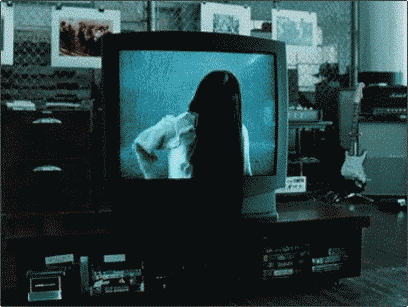 I reached out to Netflix's PR team for an explanation or even a reason for this video but they have not issued an official response. We'll post it here when they do because we're sure this video is going to show up in a dream later tonight. 
 (Source)