Is Sofia Vergara the Hottest On The Internet?
It makes sense to wonder when a female celebrity makes the Chickipedia Hot 100 List whether she also made a sex tape somewhere along her road to fame.  Considered to be one of the hottest female celebrities in the world, Sofa Vergara is not shy about showing off her assets or as you can see below, her ass. 
Clearly comfortable in front of the camera, Sofia worked as a model in Colombia and TV host for Spanish-language television network Univision before becoming known to American audiences as an actress on the ABC hit sitcom, Modern Family. 
Does Sofia Vergara have a sex tape?
This burning question is huge topic of discussion on the internet and the current answer seems to be "no" or perhaps we should say, "not yet."  If there is one out there, it hasn't hit the digital waves yet which begs the question, "Why not?"  Therefore, unless Sofia had a lover that is actually an individual with moral integrity, the conclusion is since a sex tape hasn't made it's presence known, it doesn't exist.
However, this doesn't preclude certain entrepreneurs from capitalizing on such keywords as "Sofia Vergara naked" or" Sofia Vergara sex tape."  These internet searches will take you to several members-only sites that either offer other celebrity sex tapes or play a low quality video of one of Sofia's modeling shoots while trying to entice you to subscribe.  Don't be fooled by these ads since subscribing is thoroughly unnecessary if you want to see a sexy almost naked, Sofia.
Even without a sex tape, Sofia has given her fans plenty of opportunities to admire her. Her photoshoots for posters and swimsuit calendars are well documented and as demonstrated in these videos, she is clearly comfortable showing off if not all, most of her body.  This 1998 Calendar photoshoot session alone has 13 parts!
And if you like stills, there are also plenty of pictures of Sophia showcasing her talents.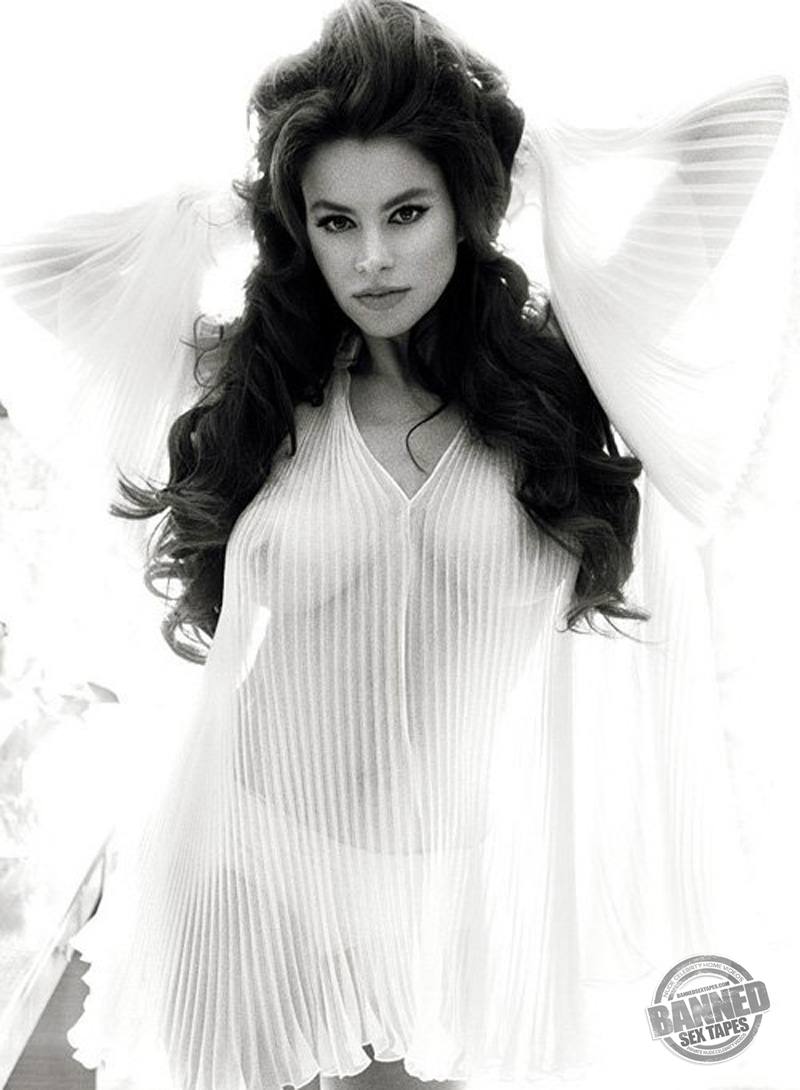 Even when she's not trying, Sofia seems to always give the public a peek at her privates.
Backstage the 2012 Emmy Awards, the seam of Sofia's Zuhair Murad gown split exposing her behind.  Luckily, Sofia is not shy since she herself tweeted out about this picture 'Yes!!!! This happend 20 min before we won!!!! Jajajajja. I luv my life!!!!' Her stylists were able to sew the dress before Sofia joined her Modern Family cast members on stage to receive the Outstanding Comedy Emmy for the third year in a row. Thankfully, the wardrobe malfunction was fixed since although it's nothing we haven't seen before, it may not have gone over so well with a primetime audience.
However, Sofia continued to have issues with the dress later that night at an Emmy after party when she was dancing with co-star Jesse Tyler Ferguson's husband, Justin Mikita.  Jesse tweeted a picture after Sofia's well-place, deep backward bend revealed a dress slip.
Then on New Years's Eve 2012 in a Miami nightclub, Sofia fell down during a shoving match that reportedly started at a nearby table, unleashing one of her breasts that was already threatening to make an appearance.
Despite the lack of evidence of a Sofia Vegara sex tape, the sexy model/actress still gives her fans plenty to see, leaving just enough for the imagination.