Sexy Survivors: The Hottest Girls On The Walking Dead
Never in a million years would the TV-watching public, nor would the executives that produce TV for a living, had predicted The Walking Dead would have turned into what it is: an entertainment juggernaut. We predicted it, but then again, we're kind of awesome at predicting things.
The show has also spawned a very popular talk show talking about what we all just watched – Talking Dead — as well as an award-winning game. And now it has a "companion" series coming out called Fear The Walking Dead. It's become an amazing whirlwind of goodness and we all love it.
Because what's not to love? It's got violence, sex, action and drama – oh yeah, and zombies that pop up from time-to-time to feast on the living.
More importantly for us dudes, though, it's got girls. Lots and lots of talented and attractive ladies. And somehow, someway, most of them are really hot, even though it's the apocalypse and there are likely no makeup supply stores around anymore. Aside from this minor plot point, we thought it'd be a great idea today to give you a rundown of The Hottest Girls of The Walking Dead. Please, it's our pleasure.
Here you go…
LAURIE HOLDEN
Character: Andrea
Laurie Holden was one of the few blondes to grace the show and she was smoking hot – don't believe us? Check out some of Laurie Holden's Pics. She is the daughter of actors Larry Holden and Adrianne Ellis, as well as the step-daughter of film director, Michael Anderson, so the business was in her blood. She was raised in Canada and won the USA "Look of the Year" modeling pageant in Toronto as a teenager. We're not sure what that is, but it sounds important.
We have to be honest… we miss the hell out of her. She wasn't the asskicking chick some other characters were – or have become – but she was awesome and tough in her own way. Maybe we can get some Andrea flashbacks in the upcoming season?
ALANNA MASTERSON
Character: Tara Chambler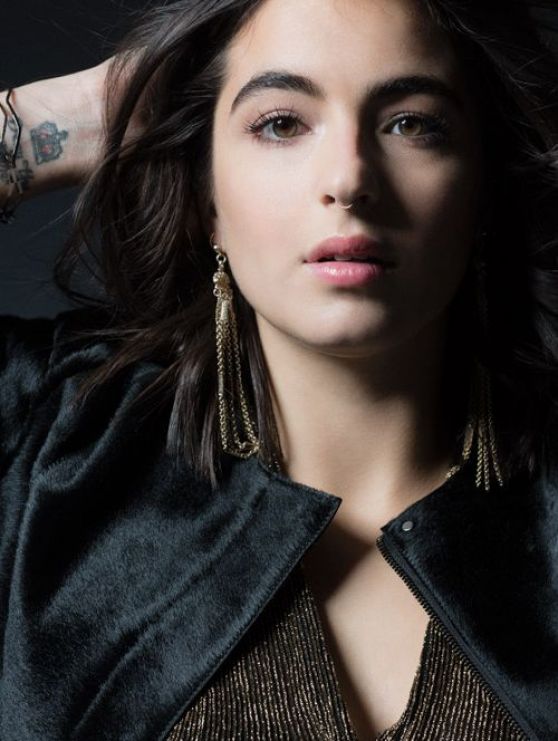 This girl is from Long Island, looks Latina, but plays a character from the South. How's that for a mashup of greatness? She has been in a few independent films — like THIS interestingly name one — as well as guest spots on other shows, but we all fell in love with her as Tara on The Walking Dead. And if you are interested in random facts, her brothers are Danny, Christopher and Jordan Masterson from shows like That 70's Show, Malcolm in the Middle, Greek and Last Man Standing. Too bad the family can't get their act together and get some TV work or something…
EMMA BELL
Character: Amy
Who is this, you ask? We'll tell you. Remember in season one when Andrea's sister got bit and then bit again? Yeah, that was Emma Bell playing the doomed sister. She was a sweetheart on the show and her heatwrenching death scene sent her sister to some dark places, which we imagine is a natural impulse after your sister dies in your arms. Emma has gone on to appear in many other projects, like Ghost Whisperer and Supernatural, but she'll always be Andrea's little sister to us.
CHRISTIAN SERRATOS
Character: Rosita Espinosa
Aside from the great side boob action in the above picture, Ms. Serratos, an L.A. native, has turned in some nice performances – and has looked hot while doing it – in the past couple of seasons on The Walking Dead as Rosita. She was in some of the Twilight movies — which we wouldn't know because we are not 13-year-old girls. But she is still great on this show and should be a good example to other girls when the apocalypse happens in real life, that you can still look good and keep your hair in pig tails. Other publications have been taking notice of her, too, as she has ranked on lists as one of the hottest by Maxim and Playboy. Agreed 100%.
Also, just because we're in a giving mood, if you want to see a super sexy pic of Christian Serratos, simply click away on that link we just gave you.
EMILY KINNEY
Character: Beth
Although her role on the show wasn't exactly akin to a sex symbol, the talented Emily Kinney is among the many fine actors who graced the future zombie apocalypse with class and charm, not to mention sexiness. Beth might have had the most shocking and sad death on the show – oh wait, should we have said SPOILER ALERT if you are behind a season or two? Sorry about that. FYI, Emily Kinney is also a very talented singer-songwriter, which was displayed a bit on the show, and you can see some of her other musical work HERE. She was also on The Flash recently as the Bug-Eyed Bandit… for all you CW nerds.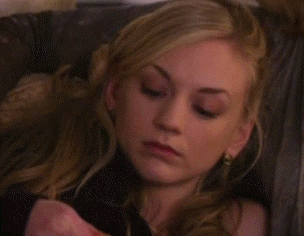 ALEXANDRA BRECKENRIDGE
Character: Jessie Anderson
Our gal, Alexandra Breckenridge, has one of the longer resumes out of The Walking Dead girls, including a sexy character on American Horror Story and a lot of voice work for Family Guy. She has done lots of film and theatre, as well, and she made us feel deeply for her character this past season as an abused wife… that Rick has his eye on. The season ended with her husband meeting an execution style death at the hands of Rick, so we'll see what happens between her and Rick coming up… we're guessing sparks will fly.
SARAH WAYNE CALLIES
Character: Lori Grimes
Sarah Wayne Callies' Lori Grimes character didn't start out on a good note with all of us. Maybe it was because she was cheating on her husband. Yes, of course, she didn't know she was, but that doesn't stop us from hating a little bit, right? She redeemed herself later and we hated to see her go, but she was still able to give Karl a sister and Rick a daughter before she went out. It would have been great had Rick kept seeing visions of her, but the producers decided not to go that way. Jerks.
DANAI GURIRA
Character: Michonne
She was introduced as a kickass, mysterious character that had two "pet" zombies, which left us wondering 'what the hell' until the next season started. Remember THOSE dudes? Anyway, Danai Gurira continues to be a kickass, mysterious character and we love the fact that she has re-embraced her sword. Because swords are all sorts of cool. She's a lean, mean, sexy fighting machine and even took Rick down this past season — which had to happen for the good of the group.
MELISSA MCBRIDE
Character: Carol Peletier
She started out as an abused wife character (what is it with abused women on this show?), her husband was Ed — played by local South Carolina actor — and everyone assumed she would disappear into nothing. But Carol has grown into one of the most feared, ruthless and beloved characters on the show. She got her big break while working as a commercial casting director in Atlanta and Frank Darabont decided to give her a role in The Mist. When it came time to cast The Walking Dead, which shoots in Atlanta, Mr. Darabont came calling again… and the rest is history.
SONEQUA MARTIN-GREEN
Character: Sasha
Sonequa Martin-Green's Shasha character was also one that many thought would disappear quickly, but she has not. She has developed into a character that has some serious inner turmoil going on, as tends to happen during a zombie apocalypse. She was born in Iowa, but grew up in Zimbabwe where her parents are from. She went rogue a bit this past season and stepped up as a character, but what many fans didn't know, is that she was pregnant while shooting the season. They had to get creative while hiding that growing belly and she talks about Sasha and hiding that pregnant belly HERE.
LAUREN COHAN
Character: Maggie
Lauren Cohan is from the East Coast but grew up in the U.K. – hence the British accent when she is being interviewed. She is drop-dead gorgeous, but has no problem 'dressing down' for the show. She had a small role in the little-seen Heath Ledger vehicle Cassanova with the amazing Sienna Miller, but made many of us take notice as the love interest in Van Wilder 2: Rise of Taj. It might have been the nuances she found in her character that made her stand-out, but it probably was the fact she got nude.
Maggie is also a regular girl, which is more than appealing. She said recently: "She's definitely still a sensitive, vulnerable person, but I feel like we're kind of all animals now." And being an animal is also kind of appealing.

BONUS: Okay, so this girl was essentially a guest starring role on a handful of episodes, but she was great and deserves to be listed as our bonus girl — because what list is complete without a bonus entry?
CHRISTINE WOODS
Character: Officer Dawn Lerner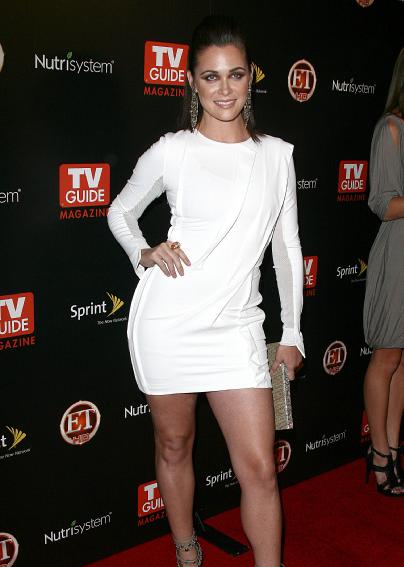 Christine Woods wasn't on the show for very long, only three episodes actually, but was a ruthless character – which is very different from some of her other roles, like in Hello, Ladies. Just because she had on a very unsexy police uniform most of the time and kept her hair in a bun a lot, did not change the fact that she was pretty smoking hot. Except when she killed Beth. That was not hot.
CONCLUSION: Not sure about all of you out there, but we can't wait until the new season brings us more of The Hottest Girls of The Walking Dead. And now with the spinoff series starting, that means double the pleasure. And the new series is set in Los Angeles, so there actually probably will be makeup stores and hair salons open during the apocalypse. Gotta' keep looking good while you run from zombies, Girls.