11 Sex Toys Of The Future That Will Blow Your Mind
This year at CES, a curious little gadget aroused some interest: a smart kegel toy.
Now if you are unaware of the term "kegel", you probably aren't super great with chicks — or know much about being an adult. Simply, they are exercises chicks do to strengthen their vajayjays so they can have better sex, especially after having kids and stuff. Yeah, it's some grownup woman stuff.
Anyway, the thing comes from OhMiBod and is accompanied by an app that makes the intimacy supposed to seem natural and not forced. It works by Bluetooth and is voice controlled – so you can now drive safely while doing your kegels, Ladies. Or whatever.
The app also stores your 'workouts' and the user can reach certain levels – like a game – and release new pleasure pattern vibrations. So the user is 'rewarded' for their 'workouts'. This $129 device is pretty advanced stuff, no doubt, and I of course starting wondering what other sex aids, sex devices and toys might have come out recently, or is coming out soon?
Turns out, quite a bit. So here you go, Peeps and Pervs, some sex toys of the future (and now)!
The Pulse II
This thing is basically a 'guybrator', because dudes get it, although it can be used with your girl, too. It is described as not felling like oral sex and also not feeling like a vagina, but is supposed to enhance masturbation for guys. It doesn't stroke or suck, so it's not like the Fleshlight, which happens to be the best-selling male sex toy out there.
The Pulse II oscillates. Round and round. More on that HERE.
Glance
Ever wanted to be having sex and watching exactly what your partner is seeing? No, not in a Hall of Mirrors, but by using Glance, a Google Glass app that will allow couples to see what the other sees. And in real time.
Seems kinda' like it'd feel like you are having sex with yourself. Sorta', right?
Autoblow 2
Yeah, pretty much what you think it is. Obviously for guys, the Autoblow's inventor is hoping to replace the Fleshlight's popularity and also make sex toys for dudes just as popular as they are with women. It's nice to have a goal.
FriXion
This still being developed device allows two users to have what used to be phone sex… and then morphed into cyber sex and sexting. Now you can use his and her gadgets to pleasure your parter while watching on a computer… so no matter where you are, you just need some internet to get busy with your girl or guy.
All those years of playing Play Station and Xbox is totally going to come in handy now…you can check out another video of this contraption HERE that isn't exactly safe for work.
SexFit
I was just looking at my FitBit the other day and thought it'd be awesome if I could wear it on my penis. Well, that's what the SexFit is. It goes at the base of the penis and tracks your sexcapades. You can check it all out on the mobile app when you are done, how many calories you lost, how it compared to the last time, etc. And it gives you an option to share it on social media. I'm sure your mom would love to see that posted on FaceBook…
Oh and since it is basically a c**k ring, too, it will make your Johnson much larger. Enjoy.
Sex Robots
I'm not going to list a specific sex robot since there are several and new and improved ones keep coming out. I can only imagine that the advancements on the sexbots will be mind-blowing in the very near future.
Twerking Robot Ass
And while we're on the topic of robots, maybe you just want part of one. Like just the ass. Well TwerkingButt is exactly that: a robot ass that will twerk – at different speeds — warm up to human body temperature, and includes a massage mode. All of this can be control by your smart phone.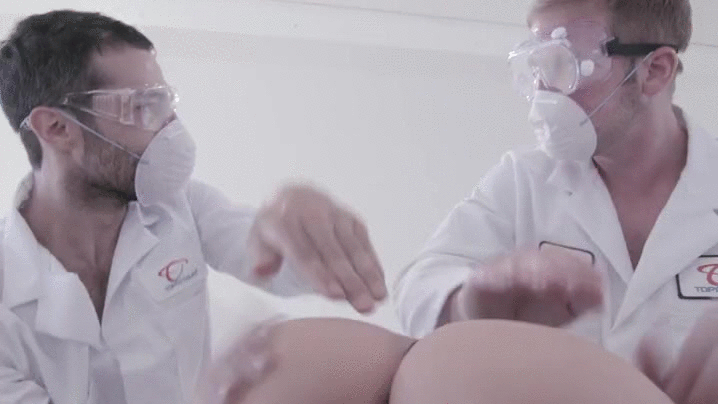 And you can do a few other things to it. If you know what I mean… but not sure if it is approved by proctologists, though.
Hello Touch X
The Hello Touch X is an upgrade over the Hello Touch. It is a fingertip massaging device – that can be used internally and externally. Yes, you read that correctly. It fits on your fingertips and vibrates so you can turn your fingers into… you see what I'm getting at.
And yes, it is waterproof.
The Womanizer
This toy is not a vibrator. Well, not completely. It uses suction to simulate some mouth action and adds some vibrations. You could also do this to your lady manually — just make sure to hum so you can give her the vibrations, too.
The Magic Ball
The genius of this sex toy is not in its high tech attributes. It is in the multi-tasking ability it gives today's woman on the go. Ladies can get their sexy time in and also get a great workout at the same time.
I always see used exercise balls being sold at garage sales and I can only hope I will one day see one of The Magic Balls there. That would be the greatest thing I could ever see.
Pony Plugs
You know those dudes called "Bronies"? The grown men that love HERE anyway.
Yeah. I know.
So who thought sex was getting so high tech and advanced? Not me. But now I do, and I am kind of afraid where some of these toy trends are headed…
(Thumbnail source)