Scarlett Johansson: A Super Hero Alien Gets Lost In Translation
Before Scarlett Johansson burst on the Hollywood scene, starlets were generally thin and angular but then soft, curvy and naturally large breasted Scarlett appeared and set a new standard for sexiness.  In addition, her big round eyes and kissable, pillow-like lips add to her natural sex appeal.  On top of her good looks, Scarlett has accomplished much in her young life including winning a Tony Award, earning 4 Golden Globe nominations, becoming Woody Allen's muse and has enduring status as one of Hollywood's modern sex symbols.  Scarlett frequently appears on lists of the sexiest or hottest women in the world and is the only woman to be named twice as Esquire magazine's "Sexiest Woman Alive" in 2006 and 2013.  Playboy magazine also named her the "Sexiest Celebrity" in 2007.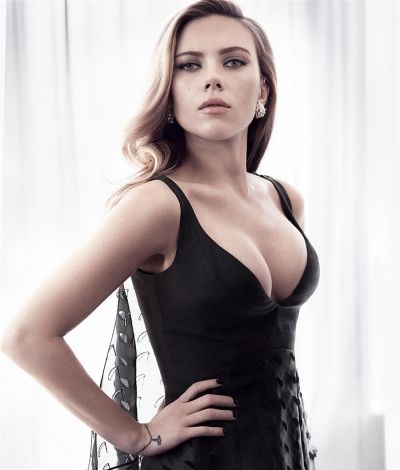 WHAT HAPPENED WITH SCARLETT JOHANSSON'S LEAKED CELL PHONE PICS?
Enough already, where can we see Scarlett Johansson nude? In most of the sex scenes in her films, the most naked Scarlett gets is that she can be seen in her underwear.  However, in the 2004 film, "A Good Woman" based on Oscar Wilde's play "Lady Windermere's Fan," Scarlett's left nipple slips out and can be seen as she crawls around on the floor.  However, Scarlett's entire breasts can be seen along with her backside in nude selfie pictures she took of herself in 2008. In September 2011, hacked nude cell phone photos of Scarlett that she took and sent to her then husband, actor Ryan Reynolds were disseminated on the web by Christopher Chaney of Jacksonville, Florida. After the pictures hit various gossip websites, Scarlett's lawyer sent them a cease-and-desist order claiming they were hacked from her private cell phone and therefore represented "stolen copyright-protected private photographs."
See the cell phone pics here.
Chaney pleaded guilty to computer hacking when he was arrested by the FBI in October 2011.  The then 35-year-old was indicted on charges of wiretapping, identity theft, accessing protected computers without authorization and damaging protected computers when it was discovered he had hacked into the accounts of more than 50 people including Scarlett.  Not only did Chaney intercept nude pictures, U.S. Attorney Andre Birotte Jr. said Chaney also allegedly "also took financial information, movie scripts and conversations that the celebrities believed to be private."  After his arrests, Chaney bragged in an interview with GQ magazine about his crime saying that hacking into celebrity emails was "a rush" and leaking their private photos to the internet was done as "part bragging and part proving who I was to someone." Chaney had even gained access to Scarlett's emails so that he even before the rest of the world knew about Scarlett and Ryan's divorce, Chaney had already read their email exchange about dividing up their assets.  He told GQ, "They were discussing, I guess, aspects of who gets what. It was weird to read stuff like that. It was almost too personal." Chaney was ultimately convicted and sentenced to 10 years in federal prison and ordered to pay $66,179 in restitution.
Scarlett finally talked about this invasion of privacy to CNN, "Just because you're an actor or make films or whatever doesn't mean you're not entitled to your own personal privacy," she said. "If that is seized in some way, it feels unjust. It feels wrong."  Scarlett worked with the FBI on their investigation to find who hacked her phone and she told CNN that she's determined to maintain her privacy, "It's an adjustment, but I think there are certain instances where you give a lot of yourself and finally you have to kind of put your foot down and say 'Oh wait, I'm taking it back.' "
WHAT ABOUT SCARLETT NAKED IN UNDER THE SKIN?
A way to see Scarlett naked with her permission is to go see "Under the Skin," a movie she did in 2014 in which she does full frontal as well as backside nudity.  Basically, you see everything you've ever wanted without having to marry her.  Based on the sci-fi novel by Dutch author Michel Faber, Scarlett plays an alien who takes the form of a woman to seduce and prey on male hitchhikers in Scotland "to eat" them.  The movie was shot mostly guerilla-style so Scarlett had to improvise her conversations with random non-actors who didn't even know they were being filmed as she tries to entice the men to get into her car.
See the movie trailer below. See the nude pictures here.
Scarlett said she chose to go fully naked for this role after being reassured by director, Jonathan Glazer that the nudity wasn't gratuitous, served the story and significant to her character's journey.  Scarlett said, "I'm not a provocative person. You assume its going to be a screenshot for someone. You kind of have to weigh the value of the risk that you're taking."  She did say she felt shy before the filming, "I'm not a nudist by nature so of course you feel self-conscious about it beforehand.  But it actually allowed me to realize and explore what kind of judgments I had about myself because I had to abandon those and really see myself as blank sort of slate and it was an interesting exercise for sure."  The nude scenes made her more aware of her body image and "how self-conscious you can be about the way you look and your own vanity." Since so much footage was shot, Scarlett didn't know what would wind up in the final edit. "The first time I saw it I was terrified, partly because of things like the nudity," Scarlett said. "I didn't know how that was going to be used. I didn't know how naked my performance would be figuratively."  Despite Scarlett's fears and hesitation, Scarlett received rave reviews for her performance (and not just for the nudity) making this an all around win-win situation since one thing is for sure, Scarlett has made many of her fans and probably the entire male population who is not gay extremely happy.
On top of everything else, is she a sports fan too?!
WHATS THE DEAL WITH SCARLETT AND WOODY ALLEN?
Director Woody Allen cast her in several of his movies and described Scarlett as "sexually overwhelming" saying that he found it "very hard to be extra witty around a sexually overwhelming, beautiful young woman who is wittier than you are." Among Scarlett's other hot list achievements are consecutive appearances on Maxim's Hot 100 Issue from 2006 to 2013 and she's consistently been on FHM's100 Sexiest Famous Women list since 2005. In addition, GQ named Scarlett as its Babe of the Year in 2010 and Men's Health ranked her at #12 on their "100 Hottest Women of All-Time" list in 2011.  So clearly, with all these hot list accolades, her fans are going to want to see Scarlett Johansson nude. And chances are so will the rest of the world.
Scarlett starred in a "banned" Super Bowl commercial that was edited because she says "Sorry, Coke and Pepsi" at the end since Pepsi sponsored the halftime show and Coke probably secretly rules the world.
WHO IS SCARLETT JOHANSSON AND WHAT HAS SHE DONE BESIDES BEING HOT?
Scarlett Johansson was born November 22, 1984 in New York City to a Danish-born architect, Karsten Johansson and her mother is Melanie Sloan, a producer. She has two older brothers, Adrian and Christian, an older sister, Vanessa and a twin brother, Hunter.  Scarlett grew up in Manhattan and graduated in 2002 from the Professional Children's School, a non-profit, college prep school for child performers.  Scarlett started her career as a child, making her film debut in 1994 at the age of 9 in "North."  She then appeared as an 11 year-old foster child in the comedy-drama "Manny & Lo" (1996) and was nominated for an Independent Spirit Award for Best Female Lead.  One critic wrote Scarlett had a "peaceful aura" and predicted that "If she can get through puberty with that aura undisturbed, she could become an important actress."  Scarlett played the teenager Robert Redford rehabilitates in the popular and well-received film, "The Horse Whisperer" (1998) and was one of the teenage leads in Ghost World (2001).  Her career started to take off when she was cast as Griet, the young 17th-century servant girl who inspired Dutch artist Johannes Vermeer in "Girl with a Pearl Earring" (2003).  But it was Scarlett's co-starring role with Bill Murray as the lonely young wife in Sofia Coppola's "Lost in Translation" in 2003 that brought her critical acclaim and international fame.  Scarlett was nominated for Golden Globe Awards for both of these films.
Scarlett began her association with Woody Allen in 2005 when she appeared in his film, "Match Point" and followed it up with "Scoop" (2006) and "Vicky Cristina Barcelona" (2008).  Allen says Scarlett is always on his list when he is casting his movies saying, "I was enchanted with her the minute I met her, and I've never stopped.  She's great-looking, sexy, funny, a good dramatic actress, she can sing. I mean, she's got it all, really. Any time I have an idea, if there's anything that she could play in it, she's always my first option. I'd love to come up with a tremendous vehicle just for her."  Scarlett received another Gold Globe Award nomination for "Match Point" after the one she earned in 2004 for "A Love Song for Bobby Long."  Her other notable films include
 "The Island" (2005), "The Black Dahlia" (2006), "The Prestige" (2006), 2007's "The Nanny Diaries," "The Other Boleyn Girl" (2008), "He's Just Not That Into You" (2009) and her performance as Samantha the voice of the computer in Spike Jonze's 2013 comedy-drama was critically praised. Scarlett's biggest mainstream role is as the Black Widow/Natasha Romanoff from the Marvel comic books. She appeared as the Black Widow in "Iron Man 2" (2010), "The Avengers" (2012) and "Captain America: The Winter Soldier" (2014) and is committed to the role for "Avengers: Age of Ultron" set for 2015.
A compilation of a few of Scarlett's love scenes:
[[contentId: 2758403| ]]
Scarlett has also worked in several independent films.  Her performance as the love interest in "Don Jon" (2013) was critically well received as was her portrayal of an alien who preys on men in "Under the Skin" (2014).  Scarlett has also appeared on Broadway and in 2010, she won a Tony Award for Best Performance by a Featured Actress in a Play in the revival of Arthur Miller's A View from the Bridge.  In 2013, she starred in another Broadway revival, "Cat on a Hot Tin Roof" and played Maggie. 
Another little known fact about Scarlett is that she's also a singer and has released two albums, "Anywhere I Lay My Head" and "Break Up."  "Anywhere I Lay My Head" was released on May 20, 2008 and consists of one original song and ten cover versions of Tom Waits songs which Scarlett recorded in Maurice, Louisiana at Dockside Studio.  Scarlett explained why she chose Louisiana to do the album, "I wanted to have space and be in a remote place where all of us could just be ourselves and not worry about anyone trying to listen in or get in."  As for why she covered Tom Wait, she said that she has been listening to him since she was 11 years old and as a vocalist she wanted to sing his songs because "his melodies are so beautiful, his voice is so distinct and I had my own way of doing Tom Waits songs." The album peaked at No.1 on the Billboard Top Heatseekers chart and ranked No. 126 on the Billboard 200 chart.  Scarlett collaborated with singer/songwriter Pete Yorn on an album, "Break Up" which was released on September 8, 2009. Scarlett said the project was, "The idea of two people vocalizing their relationship through duets.  I always thought of it as just a small project between friends. It perfectly captured where I was in my life at the time."  She also covered Jeff Buckley's "Last Goodbye" for the soundtrack of her film, "He's Just Not That Into You" in 2009.
Scarlett shows off her assets: