Sandra Bullock Sexy : From Speed To The Blind Side And Back Again
There aren't many actresses whose career quite parallels Sandra Bullock's. A true superstar and one of the only truly "bankable" actresses, she can knock it out of the park with either comic or dramatic roles. Even before emerging as a bona fide star, she was stealing scenes in small roles and smaller movies, but always seemed to have that indefinable but ever so precious "it" that studio executives dream about on their yachts while casually tossing garbage into the sea. Toss into the mix that she can also look pretty hot, at least some of the time, and there's really only one question that some of her fans need answered.
WHERE CAN I SEE SANDRA BULLOCK NUDE?
The truth is that Ms. Bullock has several times come close to nudity on film, but there is no real smoking gun of boobage awaiting fans to track it down. In one of her very first films, the utterly obscure 1989 low budget flick "Who Shot Patagango?," she does show a very fast glimpse of Bullock Butt. While the butt in question is certainly a nice one, the film is definitely not one for her lifetime achievement reel.
The most nudity Sandra has ever really done on screen was in another film she would prefer be kept in the dark, and the truth is it was only really given a release years later when she had actually become a star. 1993's "Fire on the Amazon" is a true stinker of a movie, but it does contain this NSFW clip. The scene involves Sandra's character and her partner taking peyote and having sex, complete with some cheesy pan flute music. Years later, it was revealed that she wore duct tape over her nipples while shooting the scene, but the clip has no duct tape or ducks for that matter. Just that cheesy pan flute music and some silly grunting.
Also from 1993 but with a far higher profile was "Demolition Man," which featured Sandra opposite Sylvester Stallone. There is a brief nude scene where you can see some boobs, but it is pretty clearly a body double as you never see her face in the shot. Plus, the idea of anyone actually getting naked with Sylvester Stallone is probably something that no one would ever want to see. The film does though have Wesley Snipes with blonde hair, fully clothed thankfully, so it does have that going for it.
For 2009's "The Proposal," Bullock and co-star Ryan Reynolds share a very funny nude scene, but upon closer inspection, one can see that not much is revealed. Strategic camera angles and artfully placed hands conceal the nudity, but it is still a winning clip for her fans. At a press conference discussing the film's most famous scene, she said that "Sadly, my first and last nude scene got laughs. I had to be very secure with that. It was all about choreography. I mean, literally when you read it on the page you saw it and then you realized, 'Okay, there's no way to shoot this unless you're buck naked.' Then I went, 'Go to the gym. Cut out the carbs.' When it's funny though, if it turned out funny it was worth it."
But while we were shooting it, it was supposed to be Betty [White] and I naked. She has in her contract that she only does nude scenes with like Ryan. I'm glad that it made people laugh, but shooting it was odd. There are things stuck to it and generally you don't have things stuck to it. I mean, there are things covered, but not stuck to it. Then you got unstuck and oddly we didn't care because we were so tired. Anne [Fletcher] was like, 'Your vagina is hanging out. Cover it up.' I go, 'Sorry, sorry.' I said the word." "
I WANT TO SEE SANDRA BULLOCK IN THE SHOWER WITH A BLONDE. WHAT SHOULD I DO?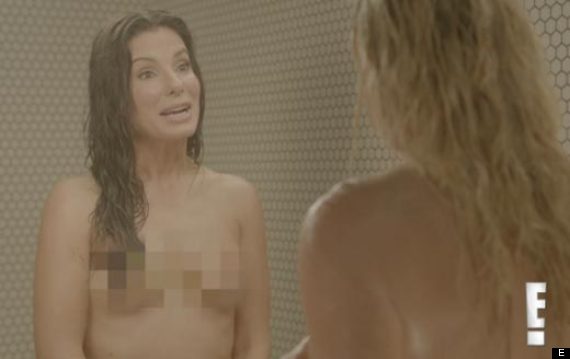 Although much is blurred out, Sandra shared a pretty funny scene with Chelsea Handler in an episode of "Chelsea Lately." It's played for laughs rather than titillation, but it is definitely a gem for fans of Ms. Bullock.
WOULD SANDRA BULLOCK NAKED BE HOT?
The answer to that is dependent on if you think she's hot with clothes on, but assuming you do, that would be a yes. At the very least she brings "The Heat" in the comedy smash of the same name. By comparison to her co-star, Melissa McCarthy, she definitely has the sexier body unless you are into truly big woman. Although McCarthy scores most of the film's biggest laughs, Bullock definitely held her own and again demonstrated the comedic chops that have made her one of the industry's biggest stars.
HOW IS SANDRA BULLOCK IN BED?
Whoa boy, you do ask personal questions. Truly, this one is in the eye of the beholder, and the sad fact is you almost certainly aren't going to be in that eye. To answer this question, we can seek guidance from Jesse James, the motorcycle customizer turned reality star, who married Sandra but then spent time with Kat Von D, the tattoo artist. James appeared on Howard Stern's radio show and was asked "Who's more fun in bed - Sandra Bullock or Kat Von D?"  James answered that it was Kat.  "That one's an easy no-brainer. 100 percent! She's a vixen, man. I love her. The way she gets in my head and makes me feel. It's a mental thing — just connected on a whole different level. I'm devoting my life to this chick and she's rad."
Of course, his relationship with Kat also didn't last because the guy is clearly a pig, and dissing one of America's most beloved stars' skills in the sack is hardly the coolest thing to do.
WHAT DO YOU KNOW ABOUT THE NIGHT SANDRA BULLOCK LOST HER VIRGINITY?
According to an article in the Globe in 1997, "I was still a virgin at 19. I was afraid of how much trouble I could get into if I unleashed the little lioness in me.  I had to wait for my brain to catch up with my body. It happened, and then we went to a basketball game. Real symbolic - scoring points and losing my virginity!"
HOW HAS GRAVITY TREATED SANDRA'S BODY AS SHE APPROACHES 50?
Healthy living, lots of exercise and the finest treatments money can buy have kept Sandra Bullock looking pretty damn good, but it is the movie "Gravity" that once again proved that she is one of cinema's most beloved actresses. She is virtually alone for much of the film, and though it isn't sexy by most definitions, she definitely brings a lot of solid emotion to the blockbuster hit.
Although she is alone for much of the film, there are scenes between her and George Clooney in the film. She joked around with Access Hollywood that "Oh my gosh, there's so much space sex in this film. People don't understand how we did it. It's a lot slower than in real life because of the whole zero gravity thing. Imagine how difficult those suits were to take off. Yeah, it's awesome."
HAS SANDRA BULLOCK HAD A BOOB JOB?
One of her charms is that she is so funny and is often known for saying risque quotes that others take seriously. Although there have been rumors that she has had her breasts done, it seems likely that she hasn't. She did though joke to the BBC that  "I need surgery. I'm getting some boobs. I think that's my problem. All my brains are in my butt, they're not in my chest. I want to be the bimbo, I want to be looked at as the bimbo, purely as a sexual object. I've been working for that for a very long time."
IS THERE A SANDRA BULLOCK SEX TAPE?
If you mean "Did Sandra Bullock ride on a bus in a movie with Keanu Reeves," the answer is yes. If you mean did she actually appear in a sex tape that has been leaked to the world, that's a big negative. Of course though, there are tantalizing links out there stating that she did, but they are as big of a lie as the one about Keanu Reeves winning an Oscar for "Bill and Ted's Excellent Adventure."
WHO WAS SEEN SANDRA BULLOCK NAKED?
Besides her ill fated marriage to motorcycle jerk Jesse James, as mentioned prior, she has had her share of high profile relationships. She dated celebrities including Troy Aikman, Matthew McConaughey, Tate Donovan (who she was engaged to) and even everyone's favorite former Disney star, Ryan Gosling.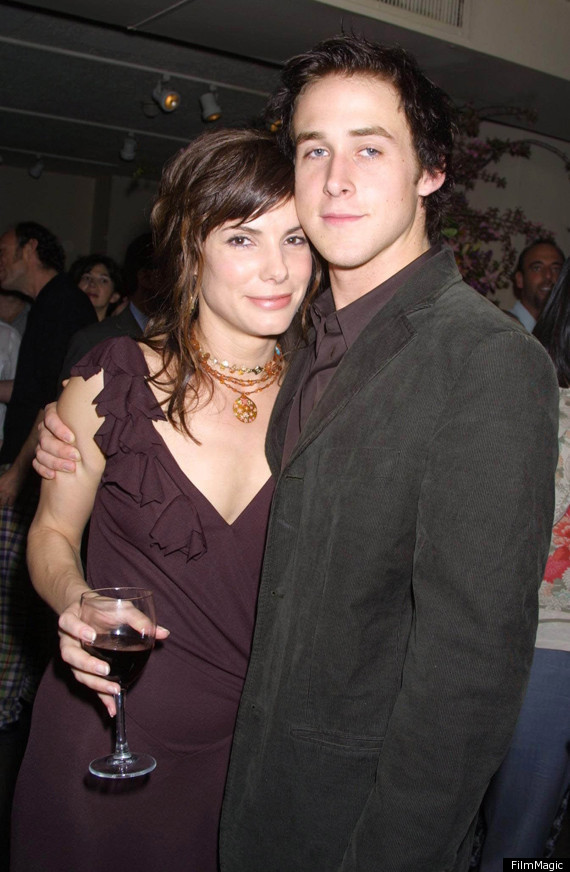 Although it is likely just a long term platonic friendship, good old George Clooney might be on the list as well. She joked with Entertainment Weekly about their late night drunken calls. "You know what? I'm so embarrassed for him because I think he's showing his vulnerable side. It's a booty call. But then he wants the commitment and the marriage and I'm like 'Dude, I don't have the time.' And then he's all 'But I'm not a one night stand kind of guy.' Well, then, I can't. Drunk dialling is what it is, George. I just need an hour of your time."