Rumor Has It: Jennifer Aniston is Sexy on Film
Since Jennifer Aniston's break-out role as Rachel in the NBC series Friends, she has been a regular fixture in magazines and a topic of interest for celebrity gossip outlets.  Her evolution from girl next door to sex symbol has landed her on various hot and beautiful lists.  She topped People Magazine's annual list of The Most Beautiful in 2004, was ranked #1 on their Best Dressed List in 2006 and was the first ever GQ's Woman of the Year in 2005.  Jennifer also has frequented FHM's 100 Sexiest Women list since 1996 and in a survey of their patients by two Hollywood plastic surgeons regarding the picture of what the perfect woman would look like, Jennifer (34C-23-35) was voted in the top three alongside Penélope Cruz and Gisele Bündchen.  It obviously makes sense that Jennifer's fans would be interested in seeing her nude especially in a sex tape.
Jennifer as GQ's Woman of the Year in 2005:
HAS JENNIFER ANISTON BEEN NUDE IN MOVIES OR PICTURES?
Although there have been many reports that Jennifer can be seen nude, the reality is that Jennifer can be seen nearly nude.  She is probably naked in the sex scenes of various films and photo shoots she's done over the years but her nipples and private lady parts are not revealed in the final products.  Jennifer was once labeled "Queen of the side boob" due to her willingness to pose for implied nude shots without showing anything X-rated.  Playboy offered her $4 million dollars to pose naked but with an estimated net worth of about $110 million, she hardly needs the money or the exposure. 
Queen of the side boob: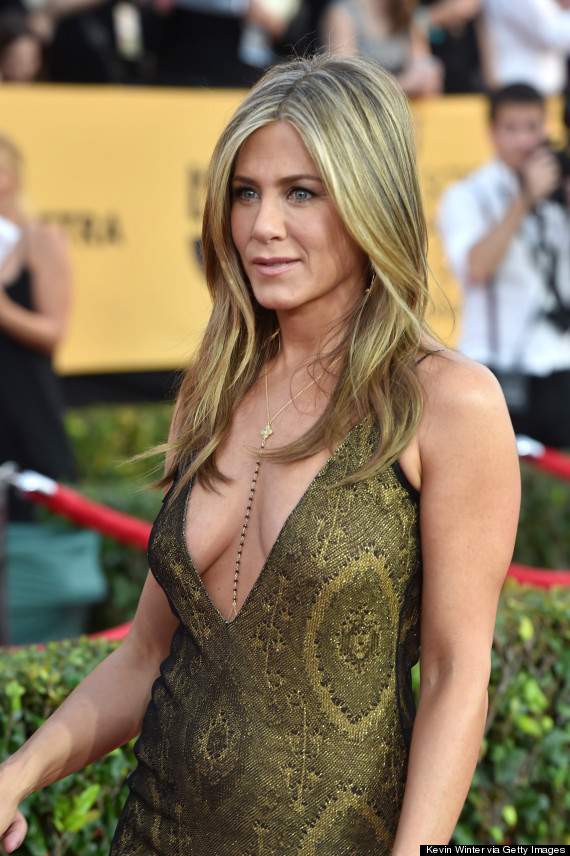 Jennifer has starred in a few dramatic roles and a plethora of romantic comedies which have required her participation in sex scenes so her movies are a good source of seeing her nearly naked.  In the marketing campaign of several of her films, it's implied that Jennifer can actually be seen naked.  Here's a list of some of her movies and the marketing hype of how Jennifer can be seen naked:
The Good Girl (2002)
Hype: Billed as Jennifer Aniston's first sex-scene where she'll be "semi-nude."
Reality: There is a semi-nude sex-scene but it's too dark to see anything.
Rumor Has It (2005)
Hype: Jennifer is topless in a scene.
Reality: She's topless but it's shot from the back.  There's a scene where a naked Jennifer gets out of bed but the shot is so fast it's hard to see anything unless you stop the frame:
Derailed (2005)
Hype: Jennifer has a "steamy, passionate sex scene" with Gerard Butler which was so "rough and physical" she got bruises on her legs which Jennifer often talked about in interviews when promoting the movie.
Reality: The "steamy sex-scene" is short and there's no visible nudity.
The Break Up (2006)
Hype: Jennifer Aniston is completely naked in scenes where she walks around totally nude. Various headlines in interviews and stories promoting the movie said, "Jennifer Aniston Bares All For The Break Up," "Jen Enjoyed Naked Scenes," "Jennifer Aniston Gets Naked and Hairless for Film Scene."  Jennifer herself said, "It's one of those scenes that you sort of forget about because you love the movie and the script so much." I just knew that it would be shot tastefully and it was such a funny joke in my mind that I just figured well, just grin and bare it.  I just got crazy, ripped off my skirt and went, 'Woo! Woo!'  I guess there's something liberating about walking around completely nude. I am comfortable being naked."
Reality: Jennifer does walk around naked as her character tries to entice her ex-boyfriend and you can see her naked behind. In the final cut, any frontal nudity was cut HOWEVER, there is a leaked picture of a shot cut from movie that has been circulating on the internet. Jen's lawyers had most of them removed.
Scene from the movie:
Marley & Me (2008)
Hype: Jennifer is naked in a skinny-dipping scene.
The headlines from news stories read, "Jennifer Aniston Gets Naked in Marley & Me," "Owen Wilson: I Loved Getting Naked With Jennifer Aniston."
Reality:  The skinny-dipping scene in which Jennifer is naked is too dark to see anything.
Horrible Bosses (2011)
Hype: Jennifer is in a topless scene playing a raunchy nymphomaniac.
The magazine headlines were "Jen to Go Topless," "Aniston: Stripping Away the Girl Next Door," "Jennifer Aniston Secret Nude Scene."  Production sources said, "She shot a topless scene but produces aren't sure if they'll use it."  Another quote from the production was, "You see Jen's face and boobs in same shot" and "It was something that had to be worked out before she even signed her contract so she's committed."
Reality: Jennifer was "topless" but was wearing a coat.
Wanderlust (2012)
Hype: Jennifer Aniston FINALLY does a topless scene and multiple sex-scenes including a threesome with 2 women!  
Headlines: "Jennifer Aniston to go Topless in Next Movie Role," "Jennifer Aniston Goes Topless, Smokes Pot and Has Orgies."  
In interviews, Jennifer said the nude scenes fit "the spirit of the movie," which is about a couple transitioning from living in Manhattan to a rural commune.  She added, "Yeah, there was a lot of [nudity]. Bottomless, topless. Yeah, there is. It's happening."  When Jen appeared on her friend Chelsea Handler's show, Chelsea said, "I've been lucky enough to see you topless in our private life but now America, when they go to see the movie, will get to see her topless running!" To which Jennifer agreed, "There's a lot of nudity. And a lot of slow motion action nudity!"
Reality:  Jen's character appears topless in a scene when she's participating in a protest but her breasts were blurred out and there is no visible nudity yet in interviews, Jennifer kept promoting the topless scene and nudity.
 We're the Millers (2013)
Jennifer plays a stripper recruited by Jason Sudeikis's drug dealer character to pose as his wife in a Mexican drug run disguised as a family vacation.  You would think in this role, Jennifer would finally show some nudity but she doesn't.  However she does wear a lot of lingerie and pole dances. And you can see her nipples in the promotional pictures.
Outtakes from the movie:
One anonymous Jennifer Aniston fan is so outraged over the false advertising of nudity in  her films that in July 2013, he created a petition in addition to a Facebook page and Twitter account lobbying for Jennifer fans to boycott her movies until she actually shows the nudity her films promote in their marketing campaigns.  In the petition, the fan exclaims:
"We are boycotting Jennifer Aniston, her new movie "We're the Millers", and ALL her future movies, TV shows and product endorsements! For over a decade, Jennifer Aniston and her PR-team have been continually and intentionally deceiving us about the inclusion of nudity by her in her movies!  Jennifer and her PR-team are aware that she's considered one of the "hottest" celebs around (evidenced by her frequent appearances in "sexiest women in world" lists) and that she has a large male "following."  So they know any suggestion that she may have a nude scene in one of her upcoming movies will cause a lot of excitement and buzz, get lots of press coverage and result in more ticket sales. Which is what happens, but there's one big problem: THERE IS NEVER ANY VISIBLE NUDITY IN ANY OF HER MOVIES!! The hyped-up "nude scenes" are always either blurred, obscured or cut out completely!"
He goes on to state emphatically:
"What Aniston and her PR team have been doing for over a decade is blatant false advertising. A marketing ploy used just to get buzz and press coverage and sell tickets. It's a form of fraud, like an entertainment industry version of "bait and switch"  which is an ILLEGAL practice in other industries! And clearly it is intentional DECEPTION! We're not going to accept it any more!
Especially now that she's out with her PR team again, hyping her new movie "We're the Millers" where despite hype we've read about Jennifer stripping in it and showing off lots of skin, the truth is she plays a stripper who DOESN'T STRIP! and uses body-doubles! If you're against people making money through continual false-advertising and deception, then join us, starting with "We're the Millers," in boycotting ALL Jennifer Aniston's movies, TV shows and product endorsements  until she finally does what she and her PR team have been falsely claiming she would do in her movies for the last decade: a nude scene (either new or released from above movies) WITHOUT the use of body-doubles, bad lighting, prosthetics, blurring, obscuring objects or CGI!"
Some people take their advertising really seriously. 
So far, this fan isn't doing such a great job of promoting his campaign since he only has 7 likes on Facebook and and 7 followers on Twitter.
Jen, don't be such a tease:
IS THERE JENNIFER ANISTON SEX TAPE?
Yes, if you mean is there a video named "Jen Aniston's Sex Tape" aka "Jennifer Aniston Goes Viral," which is a viral ad by Glacéau, promoting their Smartwater bottled water. The nearly three minut elong video stars Jennifer and teenage internet personality Keenan Cahill.  It was uploaded to YouTube on March 7, 2011 and by July 1, 2011 it had nine and a half million views.  The ad ends with someone suggesting the title "Jen Aniston sex tape" for the video and Jennifer replies "I love it!"  Thus the name of the video and the obvious joke about the marketing value of the title.
See the video here:
But if you're referring to another kind of sex tape, there was a rumor (as there always is) of Jennifer and former husband, Brad Pitt showcasing the couple having sex at a local LA hotel balcony in 2004.  The low quality video reportedly shows Pitt grabbing Jennifer from behind and pulling up her dress in addition to Jen performing oral sex on a naked Brad while he smokes a joint.  Then when Jen was dating singer John Mayer, another rumor started that they too made a sex video and that Mayer was showing the video to some friends and inadvertently texted the video to a list of people.  Since none of these videos have surfaced, clearly a Jennifer Aniston sex tape does not exist but the rumors of one does and probably will continue to exist as long as Jen's career blossoms.
WHAT ABOUT WEBSITES ADVERTISING JENNIFER ANISTON NUDE?
Don't be fooled by websites advertising that they have pictures of Jennifer Aniston nude.  These are fakes and Photoshopped composites of Jennifer's head on another woman's body.  Same thing with websites advertising a Jennifer Aniston sex tape; when you click on them, they generally will redirect you to a paid adult entertainment site.
Is this really Jennifer or as shown below, another model?
Real or not?
Best to stick with pictorial compilations of Jennifer's legitimate work:
Or pictures of her on vacation with her new husband, Justin Theroux: