Ronda Rousey: Ultimate Fine Chick
Remember a few short years ago when women's mixed martial arts started to gain some traction and rise in poularity? Remember it was all about Gina Carano, Cyborg Santos and Miesha Tate. Yeah, we had forgotten about them, too, because no one has dominated women's mixed martial arts like current UFC champion Ronda Rousey has.
The woman has made short work of most of her opponents, and even when the execs think they have found a good match for her, she still finishes it in dominating fashion, most recently demolishing Cat Zingano in 14 seconds.
Rousey has said recently that she can beat, "100 percent of the men in my weight class." And she's probably right. But that's not what we're here to debate. We're here for a much more important reason…
WHERE CAN I SEE RONDA ROUSEY NUDE?
We wouldn't suggest just asking Ronda Rousey to show you some flesh unless you enjoy having one of your limbs broken, but we did some snooping for you. Most of her photo shoots have been topless ones where she covers her boobs with her hands or gloves.
Like this recent one for a Buffalo Jeans ad:
And this:
And this fantastic one from a Maxim shoot.
But there are also a couple of pictures online that claim to be her, and they're not, the 'makers' of the pics found a pretty good match for her and should get a gold star in Photoshop class. Check one of them out HERE.
To compare, here's the original before the bikini allegedly came off (we can dream, right?):
I REMEMBER HER DOING THAT BODY ISSUE PHOTO SHOOT FOR ESPN THE MAGAZINE. ARE THERE SOME PICS I CAN SEE OF THAT?
There are several pics you can see from Ronda Rousey's nude body issue, including these kinda' NSFW ones HERE and HERE. 
Sports Illustrated released a video of Ronda Rousey shooting pics for the SI swimsuit issue. She wears all sorts of tiny swimsuits in the video, including some nude (topless) stuff again. And she also throws some punches and kicks while in a tiny black bikini. That alone is worth checking out in the video below:
And for lots more pics of that shoot, go HERE. Like, lots more pics…
SO RONDA ROUSEY LOOKS SMOKIN' IN A BIKINI?
Um, yeah, that should seem obvious by now. But while we're at it, let's check out some of those bikini pictures… you know, just to be perfectly sure. We're not meterologists, but must've been chilly that day at the beach.
DOES SHE ALSO LIKE TO STRUT AROUND ON THE BEACH IN A BIKINI WHILE HOLDING A SURFBOARD?
Funny you should ask, because she looks very serious about her surfboard… or at least serious about getting that surfboard moved from one part of the beach to another.  And yes, that is a nice outfit.
I LIKE CHICKS THAT WORK OUT. HOW ABOUT A SEXY VIDEO OF HER TRAINING THAT I CAN SEE?
[[contentId: 2830246| ]]
She does a ton of training – obviously – and some of those sessions have been caught on camera for your convenience. While she isn't trying to be sexy while training in this video, she certainly is sexy while doing things 95% of us can't.
And next time your girlfriend complains about your soft abs (or you complain about hers for that matter), take a look at this:
[[contentId: 2830247| ]]
And then cry yourself to sleep tonight.
WHAT DOES RONDA ROUSEY THINK ABOUT BALLS?
We'd say she clearly enjoys rolling around on balls. Sitting on them. And also likes them near and around her face.
Yes, we are really that immature…
DOES RONDA ROUSEY LIKE TAKING NUDE SELFIES?
Let's be honest, most chicks do take nude selfies, but if Ronda Rousey has some, we couldn't find them because she killed the people who hacked her phone. We're assuming that, of course. She does like taking hot selfies, though, like the one above, but no nude selfies have surfaced.
And we're wondering if she ever completed her Match.com profile she took this picture for:
AT THE WEIGH-INS, FIGHTERS USALLY STRIP DOWN TO THEIR UNDERWEAR. DOES RONDA ROUSEY DO THIS?
We could go on and on now about how she has to do it because she has to have an accurate record of her weight and how women should be treated equally in the fight game, but instead we're just going to show you a photo of Ronda Rousey in her underwear during a weigh-in.
Note that grin on Joe Rogan's face in the background.
DOES RONDA ROUSEY LIKE TO SHOW OFF HER BARE ABS?
Wouldn't you if you had her abs? We'd totally be shirtless 24/7 if we had those washboards.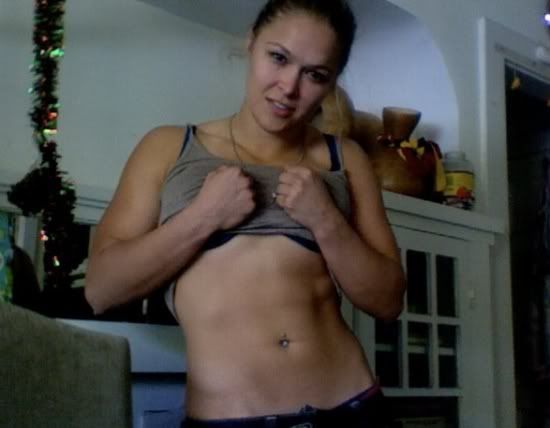 DOES RONDA ROUSEY LIKE TO PARTY?
She recently said in an interview, "When I turned 21, I was a bartender. I pretty much drank and partied for one year straight and then I was over it forever. I never wanted to be that person on the other side of the bar by the time I was done. I just have no patience for partying or anything like that. That's how I am able to get so much done."
There are claims online that the photo above is her during those party days. Now if we can just see some selfies from that night…
P.S. Sorry, Ronda. Please don't hurt us.