Reese Witherspoon: Legally Sexy
There is an old cliché that states that "good things come in small packages," and though it might be overused by guys with small penises, it does seem to sometimes ring true. Maybe it was from this notion that the people who gave the world Reese's Peanut Butter Cups decided to bring Reese's Pieces to the hungry consumer. Either way, we do seem to enjoy what Reese brings us in the candy world, and years later, those candy makers have an even sweeter Reese to compete against.  The 5'1" dynamo known to all the world as Reese Witherspoon might not be statuesque, but that hasn't stopped her from becoming among the most respected and adored actresses of her generation. She's adorable, talented, versatile, very bright, rich and beloved by millions. She's won an Oscar, a Golden Globe, a SAG award, a BAFTA award and a Critic's Choice Movie award. She's got cute kids, multiple homes and charisma to burn. All of those things are terrific, but none of them can lead a seeker in search of today's question along the right path. For that, we must dig a bit further in search of discovering...
WHERE CAN I SEE REESE WITHERSPOON NUDE?
Reese's only true nude scene in film was in 1998's "Twilight." Needless this to say, this was not from the vampire series you may have heard of, and features no werewolves and little to no teenage angst. It does though have an incredible cast of actors, including Paul Newman, Susan Sarandon, James Garner, Liev Schreiber, Margo Martindale, Giancarlo Esposito and Stockard Channing. Despite the impressive pedigree which also included an A-list writer and director, the film was beloved by neither critics nor audiences. For those in search of Reese's topless pieces though, it is the Holy Grail. Check out her topless scene here.
ARE THERE OTHER SEXY SCENES WITH REESE OUT THERE?
There are indeed several others. In 1996's "Fear," she definitely got more than a bit wild in some key clips from the film. Always wanted to see Mark Wahlberg get her off with his fingers while on a rollercoaster? Well, he might not yet have been known for his giant penis from "Boogie Nights," but he clearly knew how to take care of Ms. Witherspoon. Take a peek at this erotic ride here.
If just seeing her and the one-time Marky Mark messing around in something as conventional as a bed is enough for you, this much safer for work clip should do the trick:
In 1999, Reese burned up the screen in "Cruel Intentions," a modern update on the classic 18th century French tale known as "Les liaisons dangereuses." In it, she got to show her truly nasty side, with plenty of sexy to boot. She also got to get wild with soon to be husband, Ryan Phillippe. Although there is no explicit nudity, the steamy scenes leave very little to the imagination. This fan-made video compilation showcases some key moments between the couple:
Besides first bringing the world Reese and Ryan together, the film is probably best known for a pretty sexy lesbian kiss between Sarah Michelle Gellar and Selma Blair. Although this scene doesn't have Reese in it, somehow we don't think you'll mind...
I'M INTO THAT WHOLE CATHOLIC SCHOOL GIRL GONE BAD LOOK, AND I'M INTO REESE WITHERSPOON. ANYWAY I CAN COMBINE MY INTERESTS?
Reese was raised Episcopalian, but hey, she's an actress so quite good at changing guises. In 1998's "Overnight Delivery" she does indeed don the outfit you mention, but not for too long before she rips it off to reveal a sexy black leather bra and fishnet stockings underneath. That's what we call a pretty good trade.
The movie also contains a funny and sexy scene with her flashing her bra in a car. That's what we call the good kind of road rage.
SPEAKING OF ROAD RAGE, WHAT WAS THE DEAL WITH DRUNK REESE AND HER DRUNK HUSBAND GETTING PULLED OVER AND ARRESTED?
Reese's stay as a celebrity has been virtually scandal free, which has allowed her to be desired by male fans and respected by female fans. Not too long ago though, there was a very high profile arrest she was involved with that did add some tarnish to her reputation. When her husband, high powered CAA agent, Jim Toth, was pulled over to take a sobriety test, Reese went bonkers. She was told five times by the police to stay in the car and not interfere, but her ego coupled with her alcohol content got the better of her. She later apologized for her behavior, and her husband ended up serving no time, but Reese screamed things like "Do you know my name, Sir?" The officer says he doesn't need to, to which Reese replied "You don't need to know my name?" The officer then said "Not quite yet," and Reese offered "Oh really. OK, you're about to find out who I am." She was charged with disorderly conduct, and now has a mug shot to add to her head shot.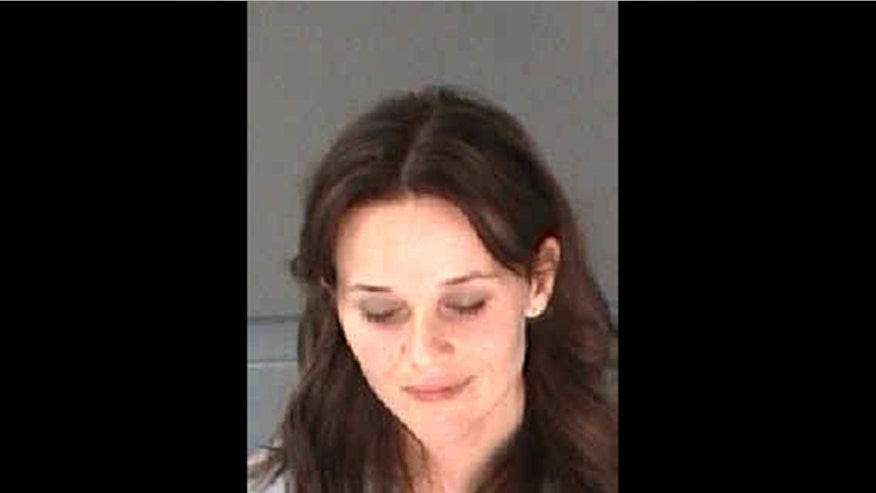 Soon enough, most of the world knew exactly not only who she was but exactly how nuts she sounded on that night. Legally blonde or legally drunk and full of herself? You be the judge.
When she did appear on "Good Morning America" in an act of both contrition and high powered PR spin to salvage her all-American girl reputation, she had this to say. "It's just completely unacceptable and we are so sorry and embarrassed. I think we made a mistake and it was something that will absolutely never happen again." She continued by saying "We went out to dinner in Atlanta and we had one too many glasses of wine. We thought we were fine to drive and we absolutely were not. We know better and we shouldn't have done that." As to the nasty things she said to the police officer, her spin was "I was so disrespectful to him. I have police officers in my family.  I work with police officers every day.  I know better.  It's just unacceptable."
SINCE WINNING HER OSCAR, IT SEEMS THAT REESE HAS TONED DOWN ON THE SEXY SCENES IN MOVIES. AREN'T THERE ANY MORE RECENT SHOTS OF HER GETTING DOWN WITH DUDES IN MOVIES?
There is something to the notion that once an actor receives the kind of acclaim that Oscar can give, as Reese did as June Carter Cash in "Walk the Line," their days of getting fingered by Marky Mark on a rollercoaster are probably deep in the past. She did however have some fun in little more than a bra with Chris Pine in 2012's "This Means War." While the film was an absolute bust with fans and critics, her bust still looks rather nice.
HOW DOES REESE FEEL ABOUT AGING AND SEXUALITY?
Time has been rather kind to Reese thus far, and she has a rather healthy attitude about what may lie ahead. She told Glamour Magazine that "I think as a woman, you get older, you feel more confident in your sexuality. You're not as intimidated by it, not as embarrassed by it. Sexuality and femininity is an accumulation of age and wisdom and comfort in your own skin. I feel better—so much better now than I ever did in my twenties. I am calmer; I know who I am. And as a result, I feel much sexier."
She continued with "It's more like, 'This is what I've got. And I'm going to make the best of it.' There's always going to be somebody younger or sexier. That's why I like to say, and it's become my famous line, 'Funny doesn't sag.' When somebody comes up to me and says, 'You look hot in that movie,' I always respond, 'But was I funny?'"
DOES THE CARPET MATCH THE DRAPES WITH REESE?
This is another in a series of questions that may never be properly resolved, but considering she hit superstar status with "Legally Blonde," it is a question that is worth pondering.  Which look do you prefer?
HOW WOULD REESE WITHERSPOON LOOK COVERED IN MUD?
To the best of our knowledge and research, we honestly have no clue. Probably kind of cute, if that's your thing. We do know though that even in a supporting role in the movie "Mud," she was able to make a big impression as a girl who truly was nothing but trouble. The 2013 gem slipped under many people's radar despite a fabulous turn from Matthew McConaughey, and Reese's brief but memorable scenes added to the film's power. Track it down – you'll thank us.
WHAT WOULD IT BE LIKE GOING ON A BLIND DATE WITH REESE?
It probably would be fun, but she herself has had some bad ones. She said that "I had someone correct my grammar once on a blind date, and within the first 10 minutes the date was over. You just don't correct somebody's grammar. That's just not okay. I'm from Tennessee, so I probably say everything wrong. I might have said ain't, or something like that."