Penelope Cruz is Making Sexy Moves
Penelope Cruz is arguably one of the biggest movie stars around. The Spanish actress landed her first role at the age of 16 and she's been consistently killing it ever since. She's landed roles in pretty much every genre from Oscar winning films to Christmas movies, and was the first Spanish actress in history to receive an Academy Award and the first Spanish actress to receive a star on the Hollywood Walk of Fame. She also has an equally hot sister which is pretty remarkable if you think about it.
Where Can I See Penelope Cruz Naked?
Where should we start. Honestly there are so many naked photos of Penelepe Cruz it's almost overkill. Just kidding, she's super hot so here goes. The most recent naked shots of Penelope were actually snapped by the paparazzi, while she was swimming topless with her husband and child in Corsica like your average new mom.
That wasn't the first time that she was snapped topless on the beach either, she seems to be a pretty big fan of letting the girls out for some sunshine.
In 2002 she was caught catching some rays and strutting around the beach wearing only some black bikini bottoms, and in 1999 she was snapped doing some serious sunbathing letting it all hang out. Bless her.
How About Penelope Naked On Film.
Yep, plenty of that as well. In 2012 she went topless for the film Venuto al Mondo, in 2009 for Los Abrazos Rotos, and in 2008 in Elegy. Here's a shot from Venuto al Mondo where Penelope gets down in the bathtub. You can watch a clip from the film here.
In 2004 she went topless for Non ti Muovere, for Vanilla Sky and Captain Corelli's Mandolin in 2001, Woman on Top in 2000, Volaverunt in 1999, La Nina de Tus Ojos in 1998, Jamon, Jamon in 1992, and Serie Rose. This girl is not shy. And if that seems like a lot of movies (naked or not) it is, Penelope has been an incredibly dedicated actress. Sometimes maybe too much so.
"There was a point where I was making four movies a year. I was always on a set. I had no stories to tell. I was feeling empty. My life was just luggage and hotels and from set to set, from character to character. And one day, I said, 'And where is mine?' You know? And the moment I started to feel that fear, I stopped and I slowed down."
She first stripped down at the age of 18 for the film Jamon, Jamon, and said about the decision:
"…it was a great part, but…I wasn't really ready for the nudity. […] But I have no regrets because I wanted to start working and it changed my life."
Here's a clip of the lovebirds meeting in the club. It's not in English, but you can see where this is going.
The erotic psychological thriller Vanilla Sky is one of the more popular American films Penelope has done, and the movie is a remake of Alejandro Amenábar's 1997 Spanish film Open Your Eyes. Not that the critics loved her in it, she actually won a Razzie award for Worst Actress. Meanwhile fellow actress Cameran Diaz cleaned up with nominations for a Golden Globe Award, Screen Actors Guild Award, Critics' Choice Movie Award, Saturn Award, and AFI Award.
Perhaps the weirdest thing to note her is that Penelope Cruz and Tom Cruise dated after this movie came out. That's almost as confusing as how much on screen sex Cruise gets.
"The most difficult thing in the world is to start a career known only for your looks, and then to try to become a serious actress. No one will take you seriously once you are known as the pretty woman."
 
Is Penelope a Sexy Dancer?
Sure is. In the film Nine we got to see her writhing all over the place.
And singing as well, since the film is a musical. Sounds like a natural progression from the way she was raised.
"In my house every Sunday, everybody was cleaning the house. There was always music, and everybody was dancing, sometimes naked, around the house. Not hippie, but very free."
 
How About Sexy Photo Shoots?
Do you even have to ask? We don't know if it's possible for Penelope to ever not look sexy, but we rounded up a few particualrly good shots to help you out.
She sort of owns the whole sexy bedroom thing.
And of course someone out there made a sexy compilation video for you to enjoy. Thanks computer people.
[[contentId: 2963041| ]]
So What About that Sexy Sister of Hers?
Oh yes, Penelope's equally sexy sister is an Monica Cruz is also an actress and a dancer. She's actually doubled for Penelope in Pirates of the Caribbean: On Stranger Tides, because of course! The two also do other sexy stuff together besides just being sexy, inlcuding designing lingerie. The duo teamed up with  Agent Provocateur for L'Agent on a five year deal. For the ad campaign Penelope wrote and directed the shoot, while Monica is one of the models in it. It's a little weird, but you know, sexy.
And here are the sisters paying video games together with their adorable accents, just as an added bonus.
Soo, Penelope is Taken Right?
Yes, by manly man Javier Bardem. Rember that first naked role in Jamon, Jamon? Bardem was one of the other stars in the film who played a charcter who was paid to seduce her by an angry mom…so the two have a bit of history.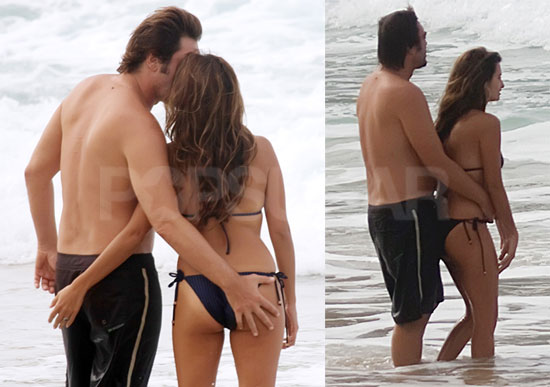 They also starred together in Vicky Cristina Barcelona and The Counselor. They started dating in 2007, married in 2010, and have two children together.
"I am amazed about how everyone wants to know about my love life. They whisper to me, 'Tell me the truth? Is it true?' Who cares? Because we have this job, we are to say to everybody what we do, or with whom we sleep? It's a bit absurd, but that's why everybody lies so much."