Pamela Anderson: Baywatch star offers the hottest day at the beach
Pamela Anderson is probably one of the most iconic blonde bombshells to come out of Hollywood in recent history.  Perhaps more famous and notorious than her acting work is her personal life due to a couple of sex tapes made with former boyfriend and Poison lead singer, Bret Michaels and former husband and Motley Crue drummer, Tommy Lee.  This camcorder-friendly actress has been the subject of two of the most popular celebrity sex tapes in sex tape history.  When it comes to celebrity sex tape rankings, either one of Pam's sex tapes is always on the list.  Although today celebrity sex tapes seem to be a dime a dozen, when Pam made her sex tapes, getting access to seeing them was still considered a score.  The Pam and Tommy sex video made on their honeymoon in 1995 was the first tape to be leaked to the public in 1997.  It was followed by video clips from the Pam and Bret Michaels sex video which was filmed in 1993 before Pam met Tommy.  Michaels was able to legally block the release of their tape but a four-minute version still floated around the internet.  The full 47 minute Pam and Bret video wasn't released until 2005 before once again being legally blocked from distribution.  However you can now legally buy the Pam and Tommy sex video online from Vivid Entertainment but there are also many copies floating around the web.
WHAT IS IN THE PAM ANDERSON SEX TAPE WITH BRET MICHAELS? 
Pam dated Bret Michaels from 1993 to 1994 when she was 25 years-old so the tape was made during that time period. It's rumored to have been shot at Michaels' Malibu ranch and the tape shows Pam and Bret having sex at two different times, once in a bedroom and the other time was during the day. The first part of the video is dark and grainy and starts with a solo striptease by Pam before Bret joins her. The scene that is shot during the day is much clearer.  Clips were first leaked in 1998 and frames of the video appeared in the March 1998 issue of Penthouse magazine.  Both Michaels and Pam sued to stop the entire video from being released and a federal judge granted the order.  In 1999 they each filed $90 million lawsuits against adult site Internet Entertainment Group (IEG), a Seattle-based company to prevent the online site from publishing the entire 47 minute video. 
The lawsuit stated the two were suing due to the misappropriation of likeness, invasion of privacy and copyright infringement.  Michaels who is diabetic claimed the ridicule he received on IEG's website exacerbated his diabetes and caused an increase in his blood-sugar level that was "drastic and potentially deadly."  The rocker said the video was made for his and Pam's personal use and claims he turned down a big money offer for the rights to distribute the tape.  Pam and Michaels eventually reached a settlement deal with IEG. The terms weren't disclosed but lawyers for the former couple revealed that IEG agree to give the pair a seven-figure payment and destroy all copies of the video.  IEG's president Seth Warshavsky also apologized to Michaels for saying Michaels gave IEG the video although Warshavsky didn't explain exactly how he did obtain the video. 
IEG must not have destroyed every copy because on September 7, 2005 the sex tape was released on DVD by Metro Interactive Studios.  Lawyers for Pam and Michaels sent Metro a cease-and-desist order to stop the company from selling "Pamela Anderson Uncensored," claiming copyright infringement.  They said Pam never consented to the use of her image or name for advertising purposes or commercial use and demanded Metro hand over all remaining copies of the tape.  Michaels said, "These websites have been popping up since the day the tape went public but since our settlement, we usually do a cease and desist and most of them go away."  But Metro used the controversy over the lawsuit to promote the video and advertised on their website, "This movie was the subject of a massive $90 million lawsuit where Pam and Brett tried to get this movie destroyed. Fortunately, a few copies escaped the destruction order and we are able to finally bring you the incredible uncut action." Ultimately, Pam and Michaels was able to again block distribution but after many copies were already sold. Various formats of the footage including a one-minute teaser, a four-minute clip, and the entire video still circulates around the internet.
But you don't have to search for the Pam and Bret show because you can see it right here.
WHAT IS IN THE PAM ANDERSON SEX TAPE WITH TOMMY LEE?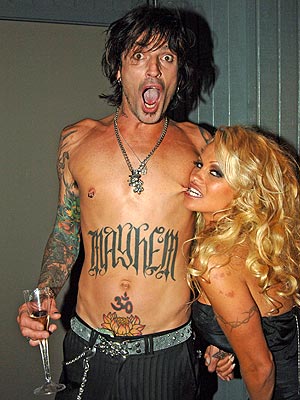 Pam and Tommy Lee recorded their sex tape on their honeymoon during several sex sessions after they got married February 19,1995 having known each other for 4 days. They got married on a beach with Pam dressed in a bikini.  In the video, both Pam and Tommy display full frontal nudity and the video shows the couple having sex in various locations including a truck and a boat.  Throughout the video, the couple continuously profess their "f---ing love for each other."  The video was allegedly stolen from their home and became a hot commodity.  It was distributed through the internet and in videotape copies.  There were rumors that Pam and Tommy purposefully leaked it as a publicity stunt to jumpstart their careers.  Regardless, Pam and Tommy sued Internet Entertainment Group who was distributing the sex tape and eventually reached an agreement in addition to a percentage of profits. In 1998, IEG entered into a deal with adult company Vivid Entertainment to distribute the tape and it's now available on Vivid's website.  
The worst thing about the video is it's not in HD but you can see it right here.
As for Pam and Tommy's love story, they had two sons, Brandon Thomas Lee (born  June 6, 1996) and Dylan Jagger Lee (born December 29, 1997).  On February 25, 1998, Tommy was arrested for abusing Pam and on February 27, 1998, she filed spousal and child abuse charges against him. On May 20, 1998, Tommy was sentenced to 6 months in jail for a parole violation after the D.A. dropped the spousal/child abuse charges. He was also order to attend anger management therapy.  Pam and Tommy divorced in 1998, briefly reconciled in 1999 before splitting again in 2001.  In 2008, they reconciled and split again and now share joint custody agreement of their children.  In March 2002, Pam announced that she had contracted Hepatitis C from Tommy reportedly through sharing tattoo needles.
HOW DOES PAMELA ANDERSON FEEL ABOUT HER SEX TAPE?
Dylan and Brandon Lee – posted to Instagram by proud papa Tommy Lee in 2012:
Pam has maintained a good humor about the sex tape she did with Tommy Lee especially since it became a plot point in the 2006 comedy, "Borat."  In the movie, the lead character, Borat who is a talk show host in Kazakhstan, comes to America and falls in love with Pam after seeing an episode of "Baywatch."  He travels to California to make her his wife and while hitchhiking with some frat boys, he learns about the Pam and Tommy sex video.  Pam plays herself in the film and said in interviews that right then she knew she had to talk to her sons about the infamous video.  She said, "I knew the kids were going to watch the film and there was a reference to the tape in the movie and they're at that age and you know, people are going start saying things. I just said, 'Look, Mommy and Daddy were massively in love, we videotaped everything, everything was videotaped, and you're probably going hear about something at school."
Pam the mom, on everybody's MILF list:
As the first woman to be honored on a Comedy Central Roast in 2005, Pam was a good sport through all the references to the Tommy sex tape even though there was too much time discussing Tommy's large manhood. Tommy appeared on the roast and later said, "I got tired of all the jokes being about me. You know, it's for her, it's like...here she is, focus on her." 
Here's Tommy's bit from that Roast:
Although Pam and Tommy are on good terms, it seems like their "f---ing" love story is over.  After relationships with model Marcus Schenkenberg (2000- 2001), rocker Kid Rock (2003-2006), Pam married Rick Salomon, (Paris Hilton's sex partner in her sex video) on October 6, 2007.  They separated on December 13th and on February 22, 2008, Pam requested an annulment.  However, in January 2014, Pam announced that she and Salomon got remarried.  As veterans of two of the best selling sex tapes in history, who knows what this couple could produce.
Pam and Rick Salomon in 2007:
Pam and Rick Salomon again: