Things Get Weird In The Octomom Tape
Nadya Suleman also known as "Octomom" became a media sensation when she gave birth to octuplets in January 2009.  The babies were conceived by in vitro fertilization (IVF) and set a record for the highest survival rate for a complete set of octuplets.  Positive public reception turned controversial when it was revealed that Nadya already had six other young children that she had also conceived through IVF. She was heavily criticized for having more children since at the time she was unemployed and on public assistance programs.  
Nadya and her brood:
Clearly needing income to support her 14 kids, in May 2012, Nadya starred in an adult video named "Octomom Home Alone" produced by adult entertainment company Wicked Pictures.  Directed by porn star Brad Armstrong, the 30 minute movie features Nadya in solo scenes masturbating with the aid of sex toys.  The film was released on June 20, 2012 and the DVD sold for $21.99 and is available for downloading from the Wicked site.  Special features include a 22 minute interview with Nadya, an 8 minutes behind the scenes look, 6 full length "bonus scenes" and a photo gallery. 
In interviews, Nadya said she hopes her 14 children will never see the video.  "I'm scared that my parents will see the video and of course my children can't watch it, but eventually I will talk with them about it. I'm not ashamed of my body," Nadya said. "Maybe this will open the door to more opportunities.  This has changed my perspective of myself. For me, doing this means I no longer have to hide the sexual part of myself."  Nadya admitted she was first taken aback when she saw the final edit but says the experience was so much fun, she might make another video. "It was shocking watching it for the first time, but it's very tasteful," she observes. "Before doing it, I was terrified. But doing it, I conquered my fears and would do it again. It was fun filming it," saidNadya, "It was the most amazing experience ever." 
Nadya on the set of "Home Alone":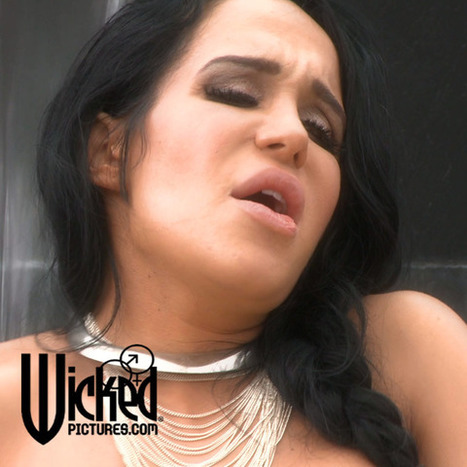 Regarding her sexuality in the video Nadya says "I denied it for so long and wasn't that comfortable or that confident in myself but now I have faced that fear. It is very empowering. The most difficult part of taping was touching my bottom part. I didn't really know what I was doing but I tried my best." She doesn't mind people watching her masturbating but when it comes to sex with another person, she's not ready to take the leap.  Nadya explains, "I'm still very much celibate because I keep that sacred for one person that [I] love. I was last with someone 13 and a half years ago. I don't even remember what sex is like. I will have to start all over again." She adds, "The world revolves around relationship, and I have been denying myself that. It has also validated my belief that what you do with another person is sacred."  Nadya once said she would never work in porn but then changed her mind saying, "If it's a job and it's a well-paying job and it's going to allow me to move in a very safe, huge home that (the kids) deserve, I'm going to do it."  For the sex video, Nadya was paid a five-figure amount in addition to royalties.
Photo still from "Home Alone" sex tape:
In December 2012, "Home Alone" received four AVN or Adult Video News (the Oscars of porn) nominations and Awards and won for Best Celebrity Video.  Regarding her win, Nadya told E! News, "Seriously it has not sunken in yet. I'm proud I did this movie, it helped me grow into a woman. 'Octomom Home Alone' is a true reflection of my intimate side. I am excited to have the award, I am trying to figure out where I will put it."
Hopefully she will put the award somewhere the kids won't see it:
"Home Alone" is not Nadya's first appearance in a video with sexual overtones.  In January 2011, she made a fetish video with L.A. radio personality Tattoo a.k.a. David Gonzalez dressed as baby and wearing a baby bonnet and droopy adult diaper.  Wearing a tight black corset, Nadya whips Tattoo's backside as he whines and cries.  
WHAT IS ON THE OCTOMOM SEX TAPE?
In an interview with The Huffington Post, Nadya said the shoot was "such a learning experience for me in so many ways. I don't think I could have asked for a better crew to work with. They were so patient and willing to teach me," she explained. "I owe a lot to Wicked Pictures contract star Jessica Drake; she opened my eyes to a whole different world of self-pleasure that I could have never imagined. They made me look so glamorous and for the first time in my life, I felt beautiful and sexy. I'm very excited for it to come out!"  The video was filmed in a San Fernando Valley mansion and Nadya was reportedly nervous but calmed down after producers gave her advice and showed her adult films to prepare her for the performance.
Nadya talks about making the sex video on talk show "Dr. Drew":
Using a homemaker theme which is obviously appropriate for a mother of 14 children, the video opens with Nadya doing a sensual tease against the backdrop of a waterfall. She starts off topless before getting fully nude and masturbates.  Some reviews felt the action is a bit awkward and Nadya has publicly stated she had never masturbated before doing the movie.  The next scene is of Nadya in sexy lingerie gyrating and doing a seduction dance as she's ironing, cooking and doing laundry. She masturbates and touches herself throughout the scene.  There's a part in which Nadya is seated at the head of a long table while her body is covered with SpaghettiOs.  The Huffington Post interview reported that in a photo shoot from the video, Nadya was topless wearing a red choker with a big red heart in front and red and white polka dot panties in a 1950s style.  The SpaghettiOs were all over her body and she was throwing them at the camera so they changed the label on the can from SpaghettiOs to Saucy Octos. Other scenes include Nadya lying on a leopard-print sheet wearing short shorts and a low-cut tank top which she pulls down to reveal her 34DD breasts. She strips out of her clothes and masturbates using sex toys. There is also a bathtub scene in which Nadya sits in a bubble bath, plays with her breasts and masturbates with a sex toy.
Reviews on the sex tape have been mixed; some feel Nadya's performance is forced and has little erotic action while others feel that for a woman who gave birth to 14 children, her body looks pretty good and she does a good job with the self-pleasure acts.  However, everyone agrees that the commercial appeal of the video rests largely on people's curiosity and the familiarity of the Octomom name and story.  For hardcore sex fans, the video will not be satisfying but for those who enjoy masturbatory footage, the video along with the D-list celebrity value may be enough to take a look.  Critics have suggested renting the video instead of purchasing it although they give Wicked Pictures credit for including the bonus features and a lengthy interview with Nadya.   
IS THERE ANOTHER OCTOMOM SEX TAPE?
There are rumors that Nadya made a sex tape with ex-boyfriend and bodybuilder Frankie G who is notorious for dating people for publicity.  This video is not the same as "Home Alone" and is supposedly filmed on Frankie G's cell phone that was "stolen." Sextape.com reports that the video seems like a complete set up since while the ex-couple is having sex, Frankie also talks during the entire sex tape. The 45 minute video appears to be filmed in Frankie's house and shows Nadya and Frankie drinking before proceeding to have hardcore sex while the entire act is filmed.  Sextape.com suspect the video is a set up because the conversation is unrealistic and they feel this sex tape was made to
further careers. Calls to the ex-couple's reps were unreturned and although the website reported on the sex tape, they also noted that "Not every sex tape scandal that makes the news becomes a released tape. Just because we have an article on the latest celeb scandal does not mean that the tape is available."  That is probably because nobody paid any money to purchase the video for distribution. 
Nadya and ex-boyfriend Frankie G:
Meanwhile in order to earn money to support her children, in July 2012 Nadya made her debut as a stripper at the Playhouse South gentlemen's club in Hallandale, Florida.  She wore a naughty schoolgirl outfit and then changed into a black dominatrix outfit for her show.  A source at the club told the Miami Herald that Nadia was paid $5,000 for two 12-minute sets in addition to tips.  She also sold autographed photos for $10 and people could pose for a photo with Nadya for $25.  T-shirts that read, "I saw Octomom naked at the Playhouse South" were also for sale for $25.  According to the Herald, the club attracted around 400 people and Nadya had trouble at times taking her clothes off and a fellow stripper had to help her remove her gloves.  Another stripper commented about Nadya's performance, "She's really stiff.  Oh my God, she can't dance. But it's good for the rest of us girls because she made it a busy Friday night." 
Nadya's stripping debut:
Well, at least some good came from it.  Nadya is kind of like that old lady in the nursery rhyme, "The old woman in the shoe who had so many children she didn't know what to do."  But at least she's trying.  Which is more than what you can say about the old woman.