Nicole Kidman Isn't Kidding Around
She's won an Oscar. She's been married to the world's biggest movie star. She's currently married to one of the world's biggest country stars. She can act up a storm, sing quite nicely and is stunningly beautiful. Who are we talking about?
If you guessed Barbara Walters, it's really time for you to start rethinking your choices in life. Duh, of course, it's Nicole Kidman, the finest thing to come out of Australia since a kangaroo covered in vegemite. We here of course admire her talent, but what we really want to know is:
WHERE CAN I SEE NICOLE KIDMAN NUDE?
It's not surprising that in "Paddington," based on the children's novel about a traveling bear, Nicole Kidman didn't get bare naked. She has however shown quite a bit of skin in many films. Her first nude exposure on screen came in 1986's "Windrider," made when she was barely out of her teens and when she was still calling Australia home. While it isn't one of her most memorable films, even towards the beginning of her career she captured the imagination of those who saw it. Plus she was already hot, although the '80s haircut did her no favors.
The first film that she really let it all go for was 1991's "Billy Bathgate," which featured three of most adored words in the English language (at least for those who like checking out naked women) : "full frontal nudity." Yep, that's right, Nicole bared it all in this film, which co-starred Dustin Hoffman. For her work, she received a Golden Globe nomination, the first of nine she has gotten in her career.
Certainly the most famous nude scenes Nicole has done on film were for Stanley Kubrick's final film, 1999's "Eyes Wide Shut." Although the film was widely polarizing, with some calling it a masterpiece and others thinking Kubrick had failed, it was certainly full of provocative sexuality and nudity.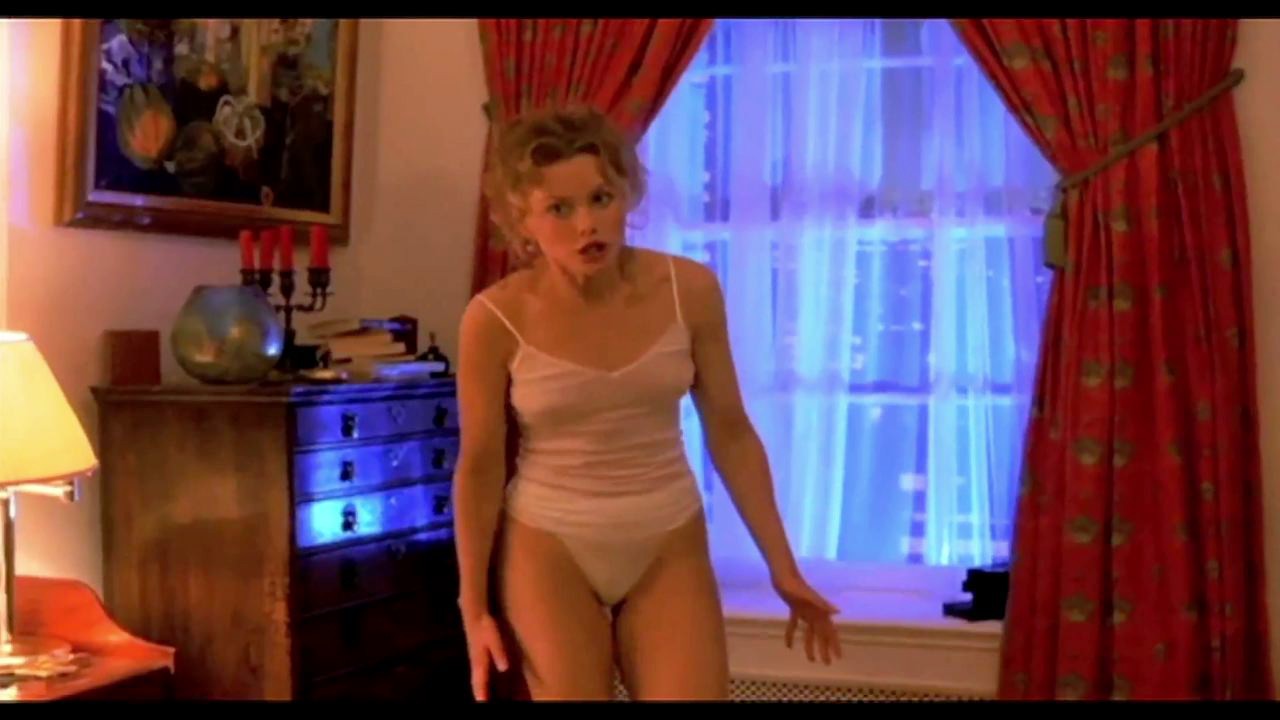 One of the key questions surrounding the film was how closely the couple on screen were like the actors playing them, who were of course the then-married Tom Cruise and Nicole. Ms. Kidman answered the questions herself many years later in an article she wrote for The Hollywood Reporter. "People thought that making the film was the beginning of the end of my marriage, but I don't really think it was. Tom and I were close then, and it was very much the three of us. Onscreen, the husband and wife are at odds, and Stanley wanted to use our marriage as a supposed reality. That was Stanley: He used the movie as provocation, pretending it was our sex life -- which we weren't oblivious to, but obviously it wasn't us. We both decided to dedicate ourselves to a great filmmaker and artist."
"Stanley had to coax me into some of the sexuality in the film in the beginning, but we shot things that were a lot more extreme that didn't end up in the movie. I did feel safe -- I never felt it was exploitive or unintelligent. He was very different with women than he was with men. He has daughters, so he was very paternal with me."
The film itself was absolutely loaded with sexual imagery and ideas, as well as lots of Nicole being sexy and naked. That's what we call a "Win Win."
I WANT TO SEE NICOLE KIDMAN NUDE BUT ALSO WANT TO SEE ROBERT DOWNEY JR. COVERED IN FUR? WHAT SHOULD I DO?
First of all, we commend you on your good taste in women. However, wanting to see Robert Downey Jr. covered in fur is something you might want to see a therapist about. If you really insist on it though, the closest you'll come is in the 2004 film "Fur: An Imaginary Portrait of Diane Arbus." It's actually a really good film, and does indeed have both of the characteristics desired in the very strange question above.
WOULD NICOLE KIDMAN STILL BE HOT NUDE IF SHE HAD A WEIRD LOOKING NOSE?
The tradition of attractive actors or actresses making themselves as ugly as possible for a role goes way back, with Oscar wins rewarding people like Robert DeNiro for "Raging Bull," Charlize Theron for "Monster" or Hilary Swank for "Boys Don't Cry." Nicole also took a dose of the ugly pill for "The Hours," and was rewarded for her work by also taking home an Oscar. She went the full Cyrano in the film, donning a big ol' shnozz in portraying the doomed Virginia Woolf. Hot or not hot? You decide.
WOULD A NUDE NICOLE KIDMAN SHOP AT URBAN OUTFITTERS?
It doesn't seem likely that Nicole would shop at Urban Outfitters in a burka, turban,  or unitard let alone without any clothes on. However, she does put on and take off a lot of outfits for Keith Urban, her country music star husband and fellow Aussie.
The glamorous couple now call Nashville home, which is definitely a step up for the city where power couples of days gone by would drink a few extra bottles of whiskey before they beat each other up. Keith keeps his woman happy by writing her a love letter each day that they are apart, which is very romantic but might lead to writer's cramp and make him unable to write any more songs that no EDM fan would ever want to hear in a zillion years.
WHO HAS SEEN NICOLE KIDMAN NUDE IN PERSON?
Nicole has dated several other celebrities through the years, including Lenny Kravitz and the rapper Q-Tip. Clearly she digs musicians.
She also supposedly had a fling with British superstar Robbie Williams, who could sell out any venue in England but would have a hard time being arrested at a Taco Bell in the United States. The two of them recorded a song together, with an appropriately cute video to accompany it. Williams claims that the two of them got busy on her yacht, so a word of advice: the next time you are on Nicole Kidman's yacht, make sure she has changed the sheets since then.
WHAT'S THE WEIRDEST NUDE SCENE NICOLE KIDMAN HAS DONE?
Nicole has not been shy about on-screen nudity, and has been very adventurous in the roles she has chosen. For pure "what the hell was that?" effect though, nothing can top her work in 2012's "The Paperboy." The movie itself is chockfull of strange moments, but for sheer craziness, the moment where she pees on Zac Efron is impossible to beat. It's hardly a sex scene, as it's being done to remove the sting of Efron being bitten by jellyfish. It is though one of those things that once you've witnessed it, you'll never be able to think of Efron the same way.