MOTORCYCLE ACCIDENTS: TWO WHEELS TO THE HOSPITAL
Chicks dig them. Boys grow up wanting one. We're talking about motorcycles, of course. They're cool, relatively inexpensive, and as you get older, you'll also realize they're economical. If you're into the saving a buck at the gas tanks sort of thing.
But there is a downside to the motorcycle. The epic accidents. Statistics show that you are 35 times more likely to be in a fatal accident on a motorcycle than in a car. We no lik'um them odds, but that's not stopping us from exploring these motorcycle accidents a little further…
WHAT CAUSES MOTORCYCLE ACCIDENTS?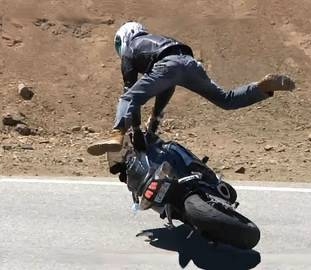 The reasons are many, ranging from bike malfunction, weather conditions, driver inexperience, texting, narcolepsy, and the fact that God hates motorcyclists (could be true). Studies show that there are situations more prone to cause these crashes. Cars turning left, lane splitting (where motorcycles can ride the yellow line) and high speeds, are three of the top scenarios where one might expect to find a motorcycle accident as the end result.
Just kidding about the texting thing, though. That seems very safe.
WHO HAS HAD THE MOST MOTORCYCLE ACCIDENTS?
Owning and riding motorcycles is predominately a male thing, so the vast majority of motorcycle accidents will involve males. Of the males having accidents, men in their 20's that own super sports bikes are four times likely to be in a fatal motorcycle accident than someone in their 50's that rides a cruiser or tour bike.
Maturity is certainly a factor, but the make and model of bike has much to do with the end result as well. Super sports bikes and even regular sports bikes, are designed for racing and speed. Combine that speed power with a less-experienced rider…guess the statistics speak for themselves.
Although sometimes a rider gets lucky:
Cruisers are usually owned and ridden by experienced riders and designed to be ridden at a reasonable speed, providing comfort and smoothness for the rider.
While there is no specfic record keeping for a single person's accident record, this distinction probably belongs to legendary daredevil, Evel Knievel. Through the 60's and 70's, he turned his ability to survive motorcycle accidents — after failed attempts to jump buses, canyons and giant water fountains — into a multi-million dollar empire.
The man broke his fair share of bones while amassing a small fortune. How many bones? Check out how many HERE. And although Knievel retired from crashing jumping in the 80's, his son Robbie has continued the family business.
WHAT WAS EVEL KNIEVEL'S MOST EPIC ACCIDENT?
The Caesar's Palace jump, and subsequent accident, landed Evel Knievel in the hospital for almost a month and made him household name famous. It wasn't televised live, but his most epic crash was. His attempt to jump Snake River, after not receiving permission to jump The Grand Canyon. It was televised live and he was driving a rocket like thing designed to propel him over the river and landing softly on the other side.
Unfortunately, the chute deployed too quickly and the rocket crash landed beside the water shortly after takeoff. It has been reported that had Knievel landed in the water, he would have likely drowned due to a harness malfunction that wouldn't have allowed him to free himself from the rocket.
It was just one in many crashes during Knievel's career that made him very, very famous.
DO NOT TRY THIS AT HOME.
Even though the above disclaimer is plastered on screen before every televised stunt show, or even commercials featuring motorcycles, it doesn't stop people – usually not smart people – from trying to emulate the cool things they see on the telly.
[[contentId: 2960736| allowfullscreen: | frameborder: 0| height: 360| width: 640]]
Generally the people attempting these stunts are kids trying to impress their friends or record it to put online. More often than not, these attempts end in an accident and the footage does go up online, but not for the reason they had intended. 
WHAT MOVIES FEATURE MOTORCYCLE ACCIDENTS?
Biker Boyz was a 2003 flick about biker…boys(z). If you're interested, a full trailer for that gem can be found HERE. As you can probably guess, it contains a lot of motorcycles going fast, and yes, there are some accidents along the way.But this is certainly not the only film with some good old fashioned motorcycle accidents in it. According to iMDB, there are around 150 films and TV episodes that are attached to the search terms "motorcycle accident". Ghost Rider is one of the most recent to feature some crashes, but who can forget the Mission Impossible II motorcycle ballet?
WHAT TV SHOW HAS THE MOST MOTORCYCLE ACCIDENTS?
While there again are no hard statistics to report here, just from watching, we'd wager "Sons of Anarchy" would be the king of motorcycle accidents just from the sheer volume of bike activity in each episode. Although we do hold a special place in our hearts for "Street Hawk", we can't imagine that show had more accidents than "Sons".
WHO SHOULD'VE HAD A MOTORCYCLE ACCIDENT, BUT SOMEHOW DIDN'T?
One could likely go on and on about riders that should have had an accident on their motorcycle. But somehow, there are a select group that chose to pee in the face of fate and lived to tell about it without a scratch.
One example is the lovely lady below. Desite this being really cool and she is wearing a bikini — which is awesome — the girl in the video below should have had an accident, but somehow didn't. Guess it pays to strengthen your core.
DO HOT CHICKS HAVE MOTORCYCLE ACCIDENTS, TOO?
You betcha', they do. Just because a motorcycle was purposefully designed to accentuate a woman's figure while she straddles a thrusting, throbbing engine, doesn't mean they were also designed to be crash-proof for the ladies.
ARE THERE MOTORCYCLE ACCIDENT VIDEOS RESULTING FROM POLICE CHASES?
Police chases have produced many accidents over the years and those involving motorcycles are always prerry epic. While a motorcycle is probably the best vehicle to use if you are trying to evade the police, the high speeds and devil-may-care spirit of the rider that is fleeing can result in some serious road rash.
WHAT ARE SOME OF THE MORE FAMOUS MOTORCYCLE ACCIDENTS CAUGHT ON CAMERA?
Disregarding the stunt show videos, there have been a few motorcycle accidents caught on camera of late that grabbed tons of hits online and were headline stories during newscasts. One recent example was the story of an Iraq War veteran that had just returned home and was riding his motorcycle early one morning. Then this happened:
There was also the awesome red carpet motorcycle accident featuring Kimberly Stewart with pal Paris Hilton by her side. This is an accident we wouldn't mind watching over and over again. In slow motion.
There was also the one that almost wiped out Jay Leno:
This caught-on-tape motorcycle accident turned even more ugly after the motorcycle gang chased the driver down and bashed in his window in order to 'have a chat' with him. It was reported that the bikers had been harrassing the SUV and driver for several miles, until he finally had enough and drove over one of the motorcycles.
WHEELIES SEEM TO BE A QUICK WAY TO AN ACCIDENT. YET PEOPLE KEEP DOING THEM.
"Popping a wheelie" is the motorcycle version of a 'fly by'. And while doing this increases one's chances of being in an accident, people keep riding on one wheel. While it is not the hardest trick to execute, many people try to ride the wheelie longer than they should, which results in them tipping backwards, or losing control of the throttle and sending their bike forward way quicker tham they intended.
It makes for a good time for all involved.
I LOVE RIDING MY BICYCLE. WHICH WOULD WIN IN A FIGHT, A MOTORCYCLE OR BICYCLE?
Obviously, the motorcycle. It has the weight advantage, speed advantage, and the overall cool factor is not even close.
WHAT WOULD IT FEEL LIKE TO BE IN A MOTORCYCLE ACCIDENT?
It's been described as a slow motion feeling of weightlessness at high speeds. Disorienting. Being tossed like a rag doll with no control over where your body is going
In a nutshell, it's not fun. There are some first hand accounts HERE.
Being without a seatbelt can be a bitch.
I SEE COPS ON MOTORCYCLES ALL THE TIME. ARE THEY ALL TRAINED ON A MOTORCYCLE?
Ponch and John rode the hell out of those bikes in "C.H.I.P.s" and rarely got into an accident.  But no, they are not all trained on motorcycles. In fact, some cops are definitely not  good on two wheels.
ARE THERE MORE COMPILATION VIDEOS WHERE I CAN WATCH MOTORCYCLE ACCIDENTS?
If that's your thing, then go for it. There are several other compilation videos online showcasing motorcycle accidents. Here are some of the best:
[[contentId: 2783585| | size: 75]]