A True Role Model: Women With Down Syndrome Models For Beauty Product
Let's face it, when you read a story about any model, it's often a story that might often make you dumber for having read it. But this really special exception is worth giving genuine thought to. A 32-year-old woman in Iowa born with Down Syndrome was recently named as the model for a hair care company, and we believe it's worth celebrating.
Beauty & Pin-Ups chose Katie Meade to model for their new hair mask, and she couldn't be happier. "It was amazing. It was fun trying on clothes and getting ready for the photos. I felt so special! It was really cool to feel like a true model. I am very proud of myself."
The company's CEO said "It was important to us to build a brand that mattered, that stood for something. We kind of looked at each other and all said, Katie is the most fearless person we know. So we took the style team to Des Moines and in December did a photo shoot. It was the most fun day I can remember having."
Meade wears a T-shirt that says Fearless on it, and it seems the perfect choice. She praised the company for their choice as well. "They make me feel welcome and loved. They have given me opportunities to show the world that people with disabilities like beauty and fashion, and like to look good like everyone else."
Katie, who was born with a heart defect, is also a Special Olympics Gold Medalist. "I can tell everybody that people with disabilities can have abilities like I do. And I'm blessed to be part of this."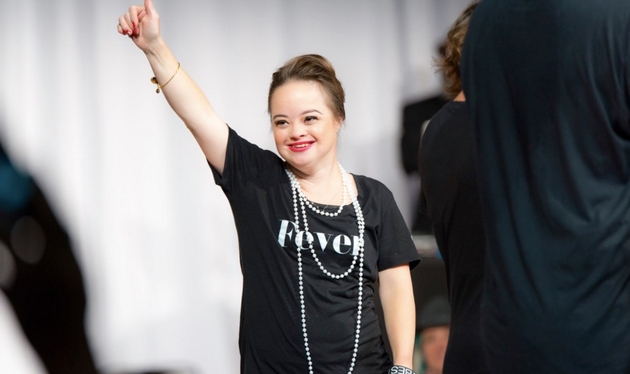 Source: TODAY 
Follow Break on Twitter @Break