Mikaela Hoover: She Definitely Doesn't Suck
Who you ask? Mikaela Hoover is one of those hot chicks you've seen but don't know her name. However, that may soon change since one of her latest films is Marvel Studios' 2014 superhero blockbuster, Guardians of the Galaxy. Mikaela plays Nova Prime's assistant and shares the screen with a bunch of big stars starting with Glenn Close as her boss. The movie features other Hollywood heavyweights such as Bradley Cooper, Zoe Saldana, Vin Diesel and Chris Pratt.  Mikaela got the chance to be a part of this illustrious group after she impressed  director James Gunn in her audition by forgetting her lines and had to start ad libbing.  Mikaela was thrilled to be a part of Guardians, saying, "It's a great film, it's very touching and beautiful. I'm so proud of James. I cried six times!" A Washington State native, Mikaela worked with Gunn several times before, appearing in several of his TV projects, "The Sparky and Mikaela Show," "PG Porn," "Humanzee," and the feature, "Super." She got her acting start in 2006 by playing Cami in the web TV series, SamHas7Friends before moving on to a regular role playing Madison Westerbrook on the 2008 web-series, Sorority Forever.
HAS MIKAELA HOOVER BEEN ON TELEVISION?
If Mikaela looks familiar from TV as well, it's because she's appeared on several hit shows such as How I Met Your Mother, Two and a Half Men and Anger Management.  It seems like television is where Mikaela will make her mark since she said about her TV experiences, "I have honestly really enjoyed almost every project I've worked on so far. One of my favorite shows I worked on was Happy Endings."
Mikaela did the pilot and her character returned for two episodes. She did another pilot with a woman director from How I Met your Mother and gushed, "The director Pamela Fryman is freaking brilliant and such a legend in the business. I just recently had the opportunity to work with her again on a pilot for CBS and her energy is incredible!" As they like to say in the biz, it seems like Mikaela is one hit show away from stardom.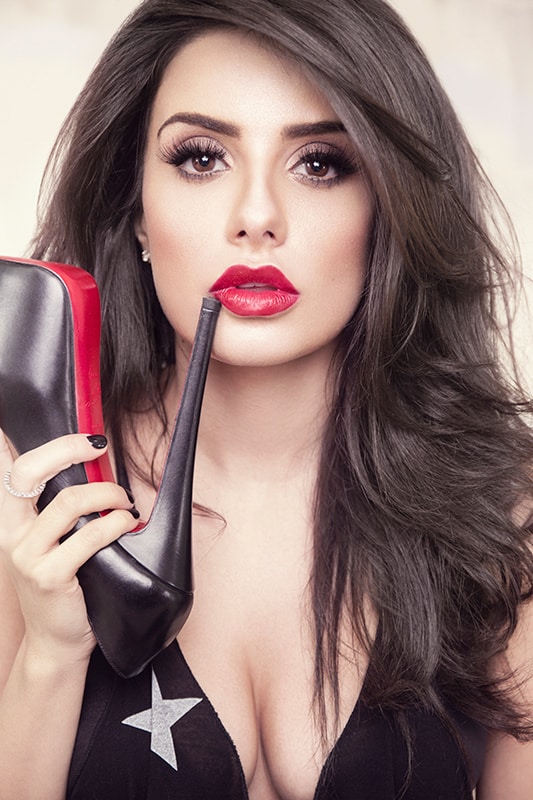 WHERE CAN I SEE MIKAELA HOOVER NUDE?
You can't right now since she hasn't done any nudity but since she's just at the beginning of her career, there will probably be plenty of opportunity in the future for Mikaela to show off her body.  However for now, if you see any Google search results advertising Mikaela Hoover nude pictures, you can be sure they are fakes. Her biggest asset is nice cleavage which you can see in various magazine photospreads.
If horror film maven Wes Craven needed Mikaela to do a nude scene for the sake of art in one of his movies, you can be sure that's one place you can see her naked. She is a huge fan of Craven and horror films and dreams of working with him.  Mikaela said she's obsessed with scary movies but not the "cheap blood & guts torture porn horror flicks that are popular right now." She's a fan of the psychological scary films and says, "It's a shame there are so few of them nowadays. If only filmmakers were still able to make masterpieces like "Rosemary's Baby" or "The Shining." And you can be sure if there were sequels to these horror masterpieces that required nudity, Mikaela would happily volunteer.
WHO HAS SEEN MIKAELA HOOVER NUDE IN REAL LIFE?
Chances are some college boy who attended Loyola Marymount University in Los Angeles at the same time Mikaela did when she was getting her Bachelor's degree in theatre may have. She's also been linked with actor Nathan Fillion who plays the lead in Castle in the ABC detective series.  But other than Fillion, there's been little mention of Mikaela's other boyfriends in the media. When asked in an interview what she looks for in a man, she said humor and confidence.