Mary Elizabeth Winstead Gets Sexy
In the spirit of taking a negative and making it a positive, if you were one of the actresses whose privacy was violated in the 2014 Celebgate aka the nude photo leaks, if people didn't know your name before, they sure do now.  Mary Elizabeth Winstead may be one of those people. The young actress/singer is best know for playing Bruce Willis' daughter, Lucy, in two Die Hard movies and starring as the pretty hot girl in several horror films such as Final Destination 3 and The Thing. She then branched out and played Mary Todd Lincoln in Abraham Lincoln: Vampire Hunter, an alcoholic in indie film, Smashed and a comic book character in Scott Pilgrim vs. the World before jumpstarting a singing career. Mary sang a cappella in Quentin Tarantino's genre film, Grindhouse and the cast was so impressed by her singing, they encouraged her to pursue music. She revealed in a 2012 interview that she is indeed planning on releasing a music album. What got released before her album were her nude hacked pictures that were distributed online by a still unknown perpetrator. Most of Mary's nude pictures look like they're from Instagram since they seem to have been taken with a vintage like filter. She's lying on a couch topless and wearing string underwear. In another picture, she's clothed and in another, she's on all fours but seems be wearing a bra and panties. Regardless, nothing nude can be seen and frankly, despite the topless pics, these nude photos seem pretty tame especially when you compare to some of the leaked photos from other female stars.
WHO WAS MARY TAKING HER NAKED PHOTOS FOR?
Mary confirmed it herself that the pictures were for her husband, Riley Stearns, a TV writer and film director from Austin, Texas. The couple met on a cruise when Mary was 18 years old and got married in 2010 when she was 26. Stearns wrote for Tower Prep, a TV show on Cartoon Network and directed an indie feature that Mary produced and starred in called Faults (2014).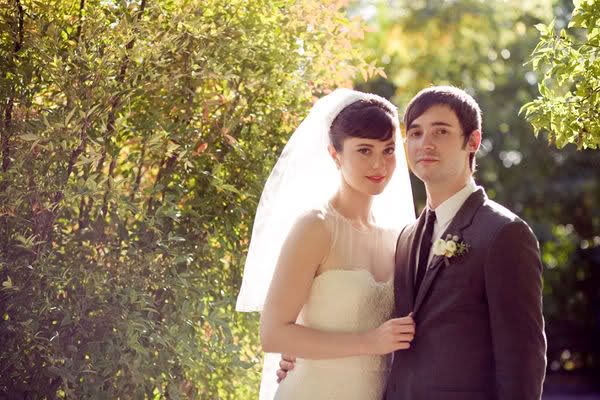 WHAT WAS MARY'S REACTION TO THE NUDE PICTURES?
On August 31, Mary shamed all the looky loos and tweeted, "To those of you looking at photos I took with my husband years ago in the privacy of our home, hope you feel great about yourselves."  In an equally strong message, she sent a second tweet, "Knowing those photos were deleted long ago, I can only imagine the creepy effort that went into this. Feeling for everyone who got hacked." Mary got an overwhelming number of responses from her 92,000 Twitter followers and sent a follow up tweet, "Great day for the block button!" A couple of hours later, she sent her last tweet on the matter, declaring that she was taking a break from the web, "Going on an internet break. Feel free to my @'s for a glimpse of what it's like to be a woman who speaks up about anything on Twitter."
HOW DID THE NUDE PHOTO LEAK HAPPEN?
There were actually two nude photo leaks. The first one happened Labor Day weekend on August 31, 2014 when almost 200 private pictures of various female celebrities, many with nude images, were disseminated via the web first on 4Chan. The second leak happened the following month during the September 20th weekend. Mary's pictures were leaked during the first wave. The pictures then went viral on various other major sites like Reddit and Tumblr before appearing on every website that could get their grubby digital hands on them. After the images were posted to Reddit, it quickly got over 100,000 views. Investigators say the cause of the leak was due to a security breach of Apple's cloud backup storage site, iCloud.  Even after pictures are deleted from a person's iphone, if they are in cloud storage, they can still be recovered. Security experts warned that other information such as text calendars, address books and any other data stored on the celebrities' cell phones and backed up to iCloud were probably also stolen. Apple said the hackers were able to obtain the pictures due to their password system which only has one layer of security unlike other systems which ask a series of password questions. The company has since improved their password security and CEO Tim Cook promises Apple "wants to do everything we can do to protect our customers because we are as outraged if not more so than they are." It seems like the violated actresses are not the only ones that are embarrassed.