Mariska Hargitay: Law And Order And Hot
When your mom is the Pam Anderson of her generation and your dad is a former Mr. Universe, chances are you've got some good DNA. The stunning result of the union between Jayne Mansfield and Mickey Hargitay is actress Mariska Hargitay who is best known for playing tough cop Detective Olivia Benson on NBC's Law & Order: Special Victims Unit.  One of the longest running dramas on television, SVU has also made Mariska one of the highest paid actors on TV. However what most people don't know is that Mariska's success didn't come easy and she labored through auditions and small roles for years despite her famous background.  Mariska as Olivia Benson the tough cop doesn't always give Mariska the brunette bombshell a chance to show off her clearly inherited exquisite beauty or dazzling smile. A former beauty queen, Mariska was once Miss Beverly Hills USA but found it daunting to follow her mother's sex kitten screen image. Mariska said, "I can never compete, so I don't try. It's mega über, it's legendary, it's iconic. Being a sex symbol is not my thing; it's not where I shine."  Clearly, this statuesque beauty has been able to shine on her own and on top of that, Mariska also does good by using her fame to support an organization dedicated to helping victims of sexual crimes. This is one girl who's definitely made momma proud.
WHO IS MARISKA HARGITAY AND WHY IS SHE FAMOUS?
Mariska Hargitay was born Mariska Magdalena Hargitay on January 23, 1964 at St. John's Hospital in Santa Monica, California.  Her mother is actress and 1950s sex symbol Jayne Mansfield and her father is former Mr. Universe and actor/bodybuilder, Mickey (Miklos) Hargitay.  Her father is of Hungarian descent so Mariska's first and middle names are Hungarian. She has two older brothers, Miklos and Zoltan and a half sister, Tina Hargitay from her father's first marriage.  On her mother's side, her half-sister Jayne Marie Mansfield is from her mother's first marriage to public relations professional Paul Mansfield and half-brother Antonio Ottaviano (a.k.a. Tony Cimber) is from her mother's third husband, director Matt Cimber.   
Mariska's parents were married in 1958 but had divorced in May 1963 before she was born.  However, since they divorced in Mexico, a judge found the divorce to be invalid. Before Mariska was born in January 1964, her parents reconciled but later separated again and in August 1964, the court ruled their divorce to be legal. Jayne then married Matt Cimber who had directed her in a production of the play, Bus Stop but divorced him in 1966. On June 29, 1967, along with a driver, Jayne and her boyfriend, Sam Brody died in a car accident while traveling from Biloxi, Mississippi to New Orleans where Jayne was scheduled for a TV appearance.  Although three and a half years old Mariska and her brothers, Miklós and Zoltán were in the back, they sustained only minor injuries.  Mariska suffered a zigzag scar on one side of her head due to the accident. To this day, she still has a little scar on her head.  Mariska talked to Redbook magazine about how her mother's fatal car accident affected her life, "Losing my mother at such an early age is the scar of my soul," she said, "But I feel like it ultimately made me into the person I am today. I understand the journey of life. I had to go through what I did to be here."
After Jayne's death, Mariska and her brothers were raised by her father and his third wife, Ellen Siano, a flight attendant.  As a child, Mariska sometimes spent her summers with her mother's grandparents in Colorado or with her father's family in Hungary. At the time, Hungary was a Communist country and being there gave Mariska a drastically different view of life from her Beverly Hills upbringing. She attended Catholic high school at Marymount High School in Bel Air and was a top swimmer and elected senior-class president.  Mariska graduated in 1982 and went to college at UCLA, located across the street from her high school.  She was crowned Miss Beverly Hills USA in 1983 and came in fourth at the Miss California USA Pageant that year.  Mariska once said, "My dad was Mr. Universe, so it would be fun for me to be Miss Universe."
Mariska in high school:
While at UCLA, she majored in theater and held part time jobs in retail and as a waitress.  She already had an agent and made her television debut in an episode of Falcon Crest in 1984 in addition to appearing in a Ronnie Milsap music video for the song "She Loves My Car."  In 1985, Mariska was cast in a small role as Donna in the feature film, Ghoulies and eventually left UCLA without graduating. She followed up with another feature role in a coming of age comedy, Welcome to 18 in 1986.  Despite her parental pedigree, Mariska found acting jobs were not easy to come by.  She was cast in a couple short lived TV series and appeared sporadically as a guest on several TV shows including Baywatch, thirtysomething, Wiseguy and had a recurring role on Falcon Crest in 1988.  Mariska said about this time in her life, "When I was younger, I used to deliberately avoid sexy roles, and even lost a part once when I refused to dye my hair blonde," she admitted, "The producer fired me but I wanted to stay away from sexual roles. I shied away because of my mother. I played lots of tomboys wearing flannel shirts and boots."
Mariska in Ghoulies: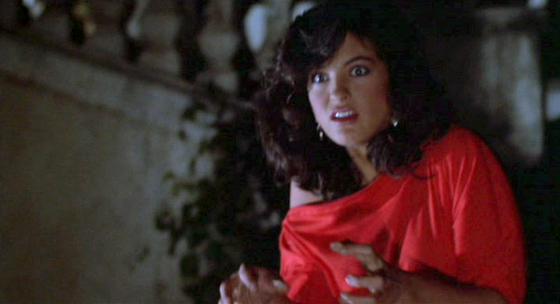 Mariska also appeared in small roles in feature films and had a small role as a prostitute in the critically acclaimed 1995 movie, Leaving Las Vegas.  Throughout the 1990s, Mariska appeared on TV shows either as a guest or as a regular on short-lived new shows.  She also did some television movies, including Blind Side (1992), the Gambler V (1994) and Night Sins (1997). Some mainstream success came in 1997 when for a season, she played Cynthia Hooper, the desk clerk with a huge crush on Anthony Edward's character, Dr. Mark Greene.  Mariska almost gave up on acting but her father kept encouraging her.  She told Good Housekeeping in an interview, "When I wanted to quit, my dad was the one who said, 'No, you don't. Get back out there and just do it better. Work harder.'"  
Mariska's hard work finally paid off and her big break finally came in 1999 when she was cast as New York City Detective Olivia Benson on the NBC television drama, Law & Order: Special Victims Unit, a spin-off from the highly successful Law & Order franchise about a police department that specializes in sex crimes.  Finally Mariska was able to demonstrate her acting abilities and she's subsequently been well rewarded.  She's been with Law & Order: SVU for 15 seasons and earns an estimated $400,000 to $500,000 per episode, one of the highest paychecks in series television. Mariska has been nominated 8 times for an Emmy award and in 2005, she won the Golden Globe Award for Best Performance by an Actress in a Drama Television Series.  Mariska also met her husband, actor Peter Hermann the set of SVU where he appears regularly as a lawyer. Mariska gave birth to their son, August Miklos on June 28, 2006.  The couple also has two adopted children, a daughter, Amaya Josephine and a son, Andrew Nicolas.  On November 8, 2013, Mariska received a star located next to her mother's star on the Hollywood Walk of Fame. In May 2014, Mariska Hargitay posted a split picture on Instagram showing exactly where she got her looks from; her late mother.
Not only is she beautiful, Mariska also has a beautiful heart.  Moved by letters from real victims of sexual abuse and assault, Mariska trained and volunteered as a rape crisis counselor. She said "I started getting fan mail from survivors who felt a connection to Olivia. In many of these letters, people would disclose their personal stories of abuse, some for the very first time."  In 2004, she founded and is president of the Joyful Heart Foundation, a non-profit organization that provides support to survivors of domestic violence, sexual assault, and child abuse.  Mariska said she was driven to start Joyful Heart because through the victims'letters, she was "getting the sense that many were living in isolation with so much shame but the shame belonged to the perpetrators. I wanted to help find a way to help people reclaim their lives and live with a renewed sense of possibility and hope. And that's what we work to do every day at Joyful Heart."
WHERE CAN I SEE MARISKA HARGITAY NUDE?
Although Mariska's mom, Jayne Mansfield was famous for showcasing her breasts, Mariska hasn't followed in her mother's footsteps when it comes to that aspect of fame.  However, she did accidentally have a nip slip on The Conan O'Brien show during her interview on April 24, 2003 when her low cut shirt flew open and the audience barely got to see a side view of her nipple.
In her screen work, Mariska has appeared in her underwear or lingerie in several movies such as Jocks (1986), Leaving Las Vegas and Blind Side (1993). 
A body double was used in the one film, Welcome to 18 (1986) in which she seemingly appears nude and you can see her backside.  But never fear, Marisk fans; Mariska posed in the nude for the May 2002 Allure Magazine issue in a feature on TV female cops.  Regarding doing the piece, Mariska joked "I don't drop trou for anyone. I want two pages!"  You can some of those pics here.
Mariska at 27 years old
Of course like most famous actresses, there are Mariska nude fakes on the web in addition to legitimate websites devoted to Mariska pictures. The websites curated Mariska pictures from various magazines and photoshoots and provide a one stop shop for fans who can't get enough of seeing this pretty lady's softer side outside of ass-kicking Olivia Benson.