March Madness: One Shining Moment
Hands down the best time of the year in the sports world is the three week stretch from mid-March to the first week of April. We're talking about the NCAA basketball tournament, otherwise known as March Madness.
It has drama like no other sporting event… some guys are playing for the last time on an organized team because they'll never make it in the pros, while others are using the tournament as their last showcase before the NBA draft. Some teams are preparing to carry on their school's legacy of greatness in the basketball world, while others are just trying to pull off an upset in order to etch their team's name in the history books. There's blood, sweat and lots of tears, and we love every minute of it.
Whatever your flavor of drama is, March Madness has it all.
BUZZER BEATERS
A shot that beats the buzzer is awesome any time during the season, but packs a special punch when it comes to March Madness. Some of the greatest and most memorable buzzer beaters in basketball history have come during March Madness.
Of course, three or four come to mind immediately. How about the 1998 matchup between 13-seeded Valparaiso and Ole Miss, the 4 seed? The Rebels were up by two with 2.5 seconds left and Valpo had to go the length of the court. Here's how it went down:
The play was actually one that Valpo practiced a few times, but had never been in a situation to try it. It worked perfectly for one of the greatest buzzer beaters in March Madness history. Bryce Drew, who hit the game winner, is now the head coach at Valparaiso. Sadly, his 13-seeded team didn't get a chance to try this play in this year's tournament. They needed a three at the buzzer against Maryland to send the game into overtime, but never got a shot off. You can break down how it happened HERE.
Another famous buzzer beater became known as "The Shot". It was 1992 and the Kentucky Wildcats had just gotten back into the tournament after probation all but killed the program. They somehow fought their way into an Elite Eight matchup against the mighty Duke Blue Devils and found themselves clinging to a one point lead in overtime with 2.1 seconds left. Duke had to go the length of the floor, so certainly Kentucky had this one wrapped up, right?
We all know what happened. Grant Hill heaved it down court to Christian Laettner, and this happened:
This year's tournament already has a handful of buzzer beaters, like R.J. Hunter's three pointer with 2.5 seconds left to lift Georgia State over #3 seed Baylor on the first day of action.
Even better than the three pointer, was his dad's reaction. Just so happens his dad is also the head coach and had to sit in a chair the whole game because he tore his Achilles in the previous game from celebrating too hard.
Oh, the madness of March.
BIG UPSETS
March Madness has never failed to disappoint when it comes to big upsets. Everyone has their favorite team, but when your team is not playing, you always find yourself cheering for the underdog to knock off a powerhouse team. Even if it means that our brackets will be destroyed, we still want to witness a piece of March Madness history.
Two of the biggest upsets in March Madness history have come in the title game. In 1983, when North Carolina State faced the dominating force that was the Houston Cougars, no one gave them a chance. Especially because N.C. State barely even made the tournament. Coach Jim Valvano and the N.C. State fans were the only ones that believed. Not only did the Wolfpack pull off a huge upset to win the championship, but they did it on one of the most famous buzzer beaters from March Madness:
Another massive upset came  two years later when Villanova faced Big East rival and defending champion, Georgetown, a team that had kicked the crap out of them during the season. The 8th seeded Wildcats hung with Georgetown and shot almost 80% for the night, sending Patrick Ewing off to the NBA without a second title.
THE LOWER SEEDS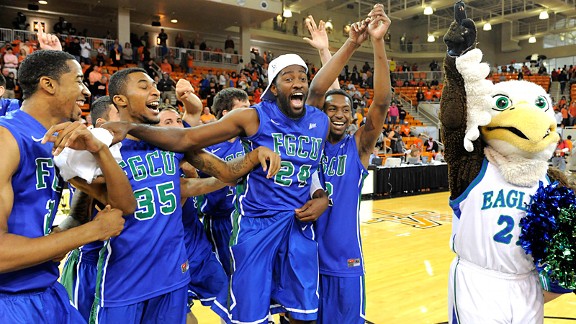 The low seeds are fun to watch and always produce an upset. These teams usually squeak into the field because they won their own conference tournament. This allows teams to get in with losing records and puts on display a group of guys that have nothing to lose. This gives us some wonderful March Madness moments and a collection of memorable upsets.
A #16 seed has never beaten a #1 seed, although some of the games have been nail-biting close. As recent as 2014, Arizona only beat Weber State by nine and Gonzaga needed free throws to ice their 2013 game against #16 seeded Southern, winning by six. But some have gotten even closer. Murray State took Michigan State to O.T. in 1990, but lost by four. And in 1989, both Georgetown and Oklahoma (1 seeds) won by just one point in their first round matchups.
Check out a great piece on the Georgetown-Princeton game HERE.
And then there are the #15 seeds, which have won seven times in March Madness history — most recently when Florida Gulf Coast (aka, Dunk City) knocked off Georgetown in 2013 and Leigh ousted Duke in 2012.
Of course, there are also the low seeded teams that capture the hearts of all March Madness fans. Butler made the title game as a #5 seed in 2010, then surprised everyone by doing it again the next year as a #8 seed. Kentucky made the title game last year as a #8 seed after a rough season by their standards. Wichita State made the Final Four in 2013 as a #9 seed, but it's a pair of #11 seeds that we remember the most – VCU in 2011 and George Mason in 2006. Both teams came from behind, scratched and clawed to get to the Final Four before their magic ran out.
…AND THERE ARE SOME CRAZY FANS
March Madness fans – or college basketball fans in general – are among the craziest in the world of sports. How about the Kentucky fan last year that got a national championship tattoo before the tournament began, even though they were not expected to do much? He almost looked like a genius until Connecticut knocked them off in the big game.
And exactly how big of a fan are you? According to THIS article from Glamour, if you aren't getting a vasectomy during March Madness, then maybe you aren't that big of a fan. Yeah, you read that correctly — but if you think about it, it's an easy way to get a four day vacation to do nothing but lie on the couch and watch TV.
March Madness passion runs deep, so there is always the inevitable fight or two.
Or how about the fan that offered sex with his wife in exchange for tickets to the Final Four? We never heard if he ever got the tickets, but we like to think he did.
DUMB MISTAKES LOSE GAMES
Almost as often as we get upsets, buzzer beaters and great performances, we get dumb mistakes and mental errors that lose games. The opening day of March Madness this year already produced one such mistake when the SMU Mustangs senior center, Yanick Moreira, was called for goal tending at the buzzer on a shot by Steve Alford's son, UCLA Bruin guard Bryce Alford. The shot, which was clearly not going to go in, was a three pointer and the goal tending call credited the shot to UCLA, giving them the win.
These mistakes happen every year, but perhaps the most famous mental error was by Chris Webber of Michigan's Fab Five. In the final moments of the 1993 championship game, North Carolina had a two point lead, but Michigan had the ball with 20 seconds left. Webber drives the ball up the court himself after his guards had already headed that direction. Before getting trapped in front of his bench with 11 seconds left, Webber calls a quick timeout. Unfortunately, Michigan had no timeouts left, a fact that all the Wolverines had already been told. This gave UNC two technical free throws, which they hit, and possession of the ball. They would ice the game with two more free throws and Chris Webber will still not discuss the moment to this day, even refusing to appear in a special about the Fab Five and their magical run.
ONE SHINING MOMENT
Every year after we watch the last game of the tournament, we always stick around for that final March Madness highlight video set to "One Shining Moment". Sure, it might be cheesy, but the tournament wouldn't be complete without it. It was inspired by teams and individual players that stepped up for their moment… yes, their one shining moment.
Guys like John Morton of Seton Hall, a team that somehow made the 1989 title game against Michigan. Morton had a monster of a game and led the Pirates to overtime against the Wolverines. However, another guy stepped up for his one shining moment at the end of that game: Rumeal Robinson. The Michigan guard was fouled (or was he? Still a debated call to this day…) with three seconds left and down by one. He calmly stepped to the line and sank both shots for the lead. It was enough to win as Seton Hall missed a buzzer beater to end the game.
Danny Manning almost single handedly won the title for Kansas in 1988 against mighty Oklahoma. Manning had 31 points, 18 rebounds, 5 steals and 2 blocked shots in the game, after catching fire during the tournament.
Or how about Keith Smart? The average player on the 1987 Indiana team who came into the game and hit a long jumper with 4 seconds left to win it against Syracuse? He definitely stepped up for his one shining moment:
And of course, there is also the all-time tournament leading scorer, Christian Laettner. As much as some may hate him – there's even a "30 for 30" special on ESPN about how much some hate him – he stepped up for several shining moments and almost always pulled his Duke Blue Devils through.
[[contentId: 2966060| allowfullscreen: | frameborder: 0| height: 360| width: 640]]
Whatever team or player we love, or love to hate, the madness of March lives within us all.