Mandy Moore: Now, That's Some Eye Candy!
It seems like these days we know Mandy Moore more as an actress than as a singer-songwriter. Named Amanda Leigh Moore, this musical hottie burst on the radar in 1999 due to, if you can believe, the help of a FedEx delivery man. Originally from Orlando, Florida, Mandy was working on her demo in a studio when Victor, the FedEx guy heard her sing. He sent her unfinished demo to his buddy who worked at Epic Records who signed Mandy to a contract. (Let's hope Victor at least got some kind of commission).  At this point, Mandy was still a freshman at Bishop Moore Catholic High School in Orlando but she left school to open for 'N Sync on their summer concert tour.
Only 15 years old, Mandy continued to study high school courses with tutors while touring. In 1999, Mandy's debut single, Candy reached #41 on the Billboard Hot 100 chart. Her first album, So Real went platinum and she followed this up with several more albums and singles which went gold. In 2003, she left her record label due to creative differences. Mandy branched into acting in 2001 in Dr. Doolittle 2 as the voice of a bear cub. Later that year Mandy played her first real movie role as a mean high school girl in Princess Diaries. Her first lead came in 2002 in A Walk to Remember, a romantic drama based on the Nicholas Sparks novel. After this, mostly teen romantic comedy leads in several other films followed along with assorted TV guest spots. In 2010, Mandy returned to her voiceover roots and starred as Rapunzel in Disney's animated film, Tangled.
In 2012, VH1 ranked Mandy #96 on their "100 Greatest Women in Music" list and #63 on their Sexiest Artists of All Time List. Mandy has ranked on Maxim's Hot 100 List several times including #73 in 2004, #48 in 2007 and #75 in 2008.
WHERE CAN I SEE MANDY MOORE NUDE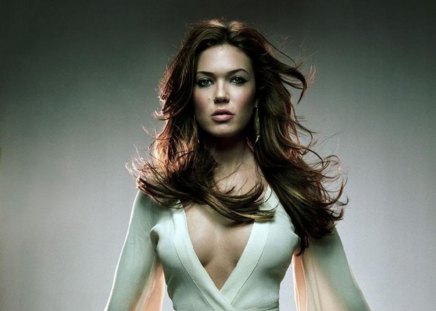 Billed as one of the "good girls" in Hollywood, chances are you won't get to see Mandy Moore nude any time soon, at least not completely.  Explaining in an interview why she won't do nudity, Mandy said, "It would be completely uncomfortable to walk down the street and know that the person passing by had seen me without my clothes on." She said that she's turned down several film roles because the producers wouldn't budge on the nudity issue. However, even though she won't get half-naked, Mandy will get sexy and has done so in several films.
In All I Want (2002), Mandy traipses around in several scenes wearing lingerie including a red nightie, a sexy blue bra and red underwear in a love scene. The most you'll see of Mandy's hot bode is in the 2003 coming of age movie, How to Deal, where in one scene, you can quickly see Mandy's side boob along with a nip slip when she wears a wide open-sleeved shirt. And although you can't see much since the scene is dark, Mandy strips to go skinny dipping in 2004's Chasing Liberty. Mandy once again shows off her behind in short shorts in 2007's Because I Said So. You can find naked pictures of Mandy nude on the internet but beware that they are all photoshopped fakes.  Mandy has posed for many magazines including Marie Claire and Elle among others and although she definitely can be sexy, she's never nude. "I'm not saying that it's wrong for someone else to do (nudity) but I think there's a way to be feminine and sexy without posing half-naked," Mandy has said. So for now, this is Mandy's way and until she changes her mind, her fans will have to settle for their imagination.
HAVE MANY BOYFRIENDS SEEN MANDY MOORE NUDE?
Mandy certainly has had her share of boyfriends starting with That 70's Show actor, Wilmer Valderrama who told Howard Stern in 2006 that he was Mandy's first lover. Mandy thought this was way TMI and said to Blender magazine, "That's not a fun thing to have said about you. Even now when I think about it, I'm like, ugh. It's pretty tacky." In 2002, Mandy dated tennis star, Andy Roddick from 2003 to 2004 after her mother met him at a tennis match and invited him to the set of one of Mandy's films. 
You can see how Mandy was Andy's main squeeze for a year:
Mandy then briefly dated DJ AM aka Adam Goldstein in 2007. She met singer-songwriter Ryan Adams in 2008 and married him in Savannah, Georgia on March 10, 2009. The couple divorced in January 2015 after a six month legal separation. So you see, there's been plenty of men in Mandy's life who got to see her naked. Unfortunately unless you date Mandy, you won't be one of them.
Mandy and ex-husband in happier times: