From comedy to drama, with a unique soulfulness that earns her praise as one of the most interesting actresses of her generation, raven haired beauty Lizzy Caplan is quickly establishing herself as a star. After several prominent guest appearances on hit shows like "True Blood" and a great part on cult comedy "Party Down," she has finally come into her own as the lead on Showtime's "Masters of Sex." If you've seen that show, you certainly know that she's not shy about taking off her clothes (in the name of science, or otherwise), and we here are primed to guide you through a tour of her on-screen nudity. You don't even need to wear a white lab coat. Just put on your research goggles and prepare to find out
WHERE CAN I SEE LIZZY CAPLAN NUDE?
The first great nude scene that Lizzy Caplan did was on HBO's "True Blood." Whether or not you understand the reference that the scene was taking place under the influence of "V Juice" or not, there's little doubt that her wild steamy moments with Ryan Kwanten were full-bloodedly smoking.
IS LIZZY CAPLAN A MASTER OF SEX?
As true life character Virginia Masters, who famously worked as part of the Masters and Johnson sex researcher team, Lizzy Caplan gets to demonstrate phenomenal range. Plus, more to our point, a phenomenal amount of bare skin. The show is chockfull of nudity, with her baring skin on the majority of episodes. Get yourself a subscription to Showtime, or if you're just too anxious, check out this clip as a good example.
Considering how often she is nude with co-star Michael Sheen, they had to learn how to be comfortable with each other without clothes on. "I realize how necessary it was for us to keep it light when shooting scenes like that…how important it was to take the power and the scariness out of the situation."
After having done it for many days, she said  "But now what's fascinating is that that's becoming less and less necessary – now we can be sitting around naked having very serious conversations about how to make the scene work better. It's pretty great, I have to admit. It's a unique way to forge a bond with another person: a platonic, fake sexual relationship."
IS LIZZY CAPLAN FINDING IT HARD TO BE SO CLOSELY IDENTIFIED WITH HER SEXUALITY?
Having now settled into the role that has made her famous, she seems to be fully at ease with what the press and fans remain fascinated by. "Three years ago, questions would have made me stutter and blush, but at this point, 90 per cent of the conversations I have in some way involves this subject matter. I've become very comfortable talking about it."
WHAT DOES LIZZY CAPLAN THINK ABOUT PEOPLE WHO POKE AROUND THE INTERNET TO FIND NAKED CLIPS OF HER?
Hmm….that does seem like an interesting question, especially as you, dear reader, are likely exactly the target she has in mind. She had this to say shortly before '"Masters of Sex" first aired.  "Of course, there was a part of me that thinks about that, especially because I've only done nudity one time and it feels like I do it every single day if you look at the fucking Internet."
"But as an actress I think you get accustomed to being picked apart and it's part of the job. Your physical appearance being picked apart unfortunately is also part of the job. So, just got to avoid reading and if it makes you uncomfortable then I'll see how much stuff I read about myself. It'll be interesting."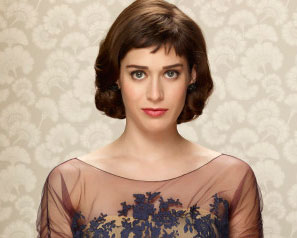 Yes, very interesting. Gee, who would have known that guys would want to troll the internet looking at hot actresses rather than actually watching the scene in context? Chalk one up to Lizzy for figuring out the point of this article you are currently reading.
WAS LIZZY CAPLAN A VICTIM OF THE ICLOUD LEAK OF 2014?
The infamous Fappening, wherein dozens of celebs had nude photos stolen and posted on-line, has become a possible turning point as to how we as a society look at celebrity privacy, and the story is not fully finished. That said, Lizzy was indeed a victim, with over a dozen photos of her posted online. The pictures themselves are no more explicit than a typical episode of "Masters of Sex," but unlike that brilliant show, there is nothing but exploitation and criminal behavior as its residue. Steer clear of them. Just pony up for Showtime and you're good to go.