Lady Gaga Has A Poker Face and A Killer Body
What can one say about a pop superstar who has become a fashion icon, a TV star, a major musical figure and a bona fide sex symbol? Especially if such a person has been written about countless times? Well, for the inimitable Lady Gaga, we will delve into one side of her that's not been explored to death – and that's her being naked. She's not shy about nudity – in fact, it doesn't seem as if she's shy about anything. Like her or hate her, listen to her music or scream when you hear it – whatever you feel about this incredibly polarizing figure, there's just no way to pretend she's not got a great body. So, as we journey to see the places to see it with little or no clothing, we ask you to put on your poker face, pack up a few little monsters and check into a freaky hotel as we find out
WHERE CAN I SEE LADY GAGA NUDE?
As mentioned, she's not shy about showing off her body so we have several options. (And hopefully none of them will include the infamous outfit made out of meat that she once wore.) Let's start with a full on, head to toe, piece of Gaga nudity from 2013. She collaborated with Serbian performance artist Marina Abramovic for a genuinely bizarre video entitled "The Abramovic Method Practiced by Lady Gaga." Is it weird? You bet. Is it sexy? Judge for yourself.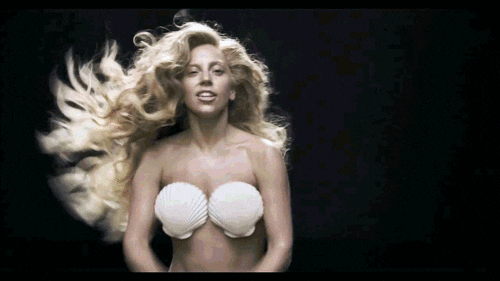 A little too highbrow for you? Here's a less subtle piece of art, as she sings on stage and even pulls down her panties to touch her you know what.
Feeling dirty? Well, here she is with a lot of tats showing in the bathtub. You get to see her Gaga butt, which may never be clean enough for the mainstream.
I LIKE BOOBS, PIZZA AND LADY GAGA. NOT NECESSARILY IN THAT ORDER. CAN YOU FIND A PHOTO WITH ALL THREE?
We can, and not only that, the boobs in question will actually belong to Lady Gaga herself. Hold on to your hats, don't hold on to yourself (especially if you're at work or in public) and hold the pepperoni.
How did such a picture come about? Well, sounds like just a typical day in the life of Lady Gaga – read all about it here. Was it a publicity stunt or was she just jonesing for a 'za? Honestly, in the world known as the Gaga universe, it's almost impossible to know the difference.
WE KNOW WHAT WE THINK ABOUT LADY GAGA'S SEXUALITY – BUT WHAT DOES SHE THINK ABOUT IT?
Well, one thing Gaga isn't is a dumb blonde. The lady is definitely "deep" and does tend to confound expectations. "I don't particularly find myself to be very sexy, actually. In the beginning of my career, I think that some of this exploration of covering myself up and transforming into other icons was a sense of sexual freedom for me, because I felt quite numb by my experiences and I wanted to escape things."
Ok, we'll grant her those feelings – who are we to question her? (Although, off the record, we don't think she's got a face nearly as hot as her body, and are tempted to make a poker face/butter face joke but will refrain for now – feel free to chime in with hate mail or positive praise either way in the comments section at the bottom.)
"I didn't lose my virginity until I was 17. But I have to say even then I wasn't ready and it was an absolutely terrible experience. It wasn't good at all. I have never not had safe sex, I have always asked a guy to be tested and to use protection, which was always my rule. Otherwise you're playing Russian Roulette."
CAN LADY GAGA ACT? AND IF SO, CAN SHE ACT WHILE NUDE?
On the new season of Ryan Murphy's dark, disturbing and often hilarious "American Horror Story," the Lady herself is the most high profile celeb to enter the setting, which this time is a Hotel. Not surprisingly, her character is a sexual one, and the premiere episode featured the most graphic sexual foresome ever shown on primetime TV. Graphic, steamy and then incredibly bloody. Like freakishly bloody.
[[contentId: 2959311| ]]
"I know what maybe everybody thinks happens is that I get a script and I go, 'Oh yay! A foursome. Whoopie!' And it's not just like that. I don't just simply do things because they are provocative or because they are shocking."
"I'm doing it because the story that [Ryan Murphy] is telling about addiction, the story that he's telling about our own narcissism, the story that he's telling about how the human being strives to survive within the challenges of the universe — that to me is what makes the sex so good."
[[contentId: 2959312| ]]
Her co-star in the scene, Matt Bomer, had this to say on the shocking scene. "Thank God [she] is not only a brilliant actress but also very relatable. She made sure she broke down the walls for all of us. When you're that big of a star, the ball is in your court to level the playing field and make yourself approachable."
Bomer wear nothing more than a sock on his junk while shooting the scene, so pressure might have been high. "By the time the cameras were rolling, I was able to relate to her as a friend. I didn't have to think of the mythos of Lady Gaga. We could just play the scene as our characters and not worry about anything else."
Lady Gaga also had this to say about working on the series, and it is actually rather interesting. "I haven't said this before, and I should have. I really hope, more than anything that anyone could take away from me being on 'Horror Story,' I'd really, really like for artists and their managers and people in any industry to know the importance of caring for people that you work with, and keeping them in a good mental state and taking care of their health and making sure that we're all OK."
"It's important to work hard, and making money is important to survive, but what's more important is that we support one another through the challenges of life."
LADY GAGA DID A SPECIAL WITH THE MUPPETS. THAT DOESN'T SOUND KINKY. I THOUGHT SHE LIKED TO DO KINKY PHOTO SHOOTS. AM I MISTAKEN?
No, you are not at all mistaken. Gaga is nothing if not eclectic, as she does G rated stuff (singing The Sound of Music on the Oscars, or singing with Tony Bennett) as well as extremely explicit photo shoots. How explicit? Well, does bondage and disturbing imagery count as explicit? Check it out here – but be warned, this is heavy stuff.

WOW. THAT WAS EXPLICIT. BUT SURELY SHE'S NOT DOING STUFF LIKE THAT MORE THAN ONCE. IS SHE?
Dude, this is Lady Gaga. She lives to shock (or shocks to live?). In 2013, she collaborated with artist Robert Wilson on a series of photos and videos of a (once again) extremely graphic nature. Want to see her tied up, naked, and hung upside down? (If you do, perhaps that says as much about you as it does about her – hmm, maybe that's the point?)
She had this to say about the images. "Allowing old souls to pass through me while I suffer for their art, and leave mine and my vanity behind. This is how I can be vehicle for my monsters all over the world."
HAS SHE DONE SEXY OR NUDE WORK WITH OTHER FAMOUS ARTISTS?
You mean besides Kermit the Frog? Well, she has worked with notoriously perverse celeb photographer Terry Richardson on some quite sexy shots and videos.
What was it like working with Terry and allowing him to see so much of her? "Terry was with me for [almost] a whole year, and, gosh, I didn't hold anything back from Terry … he was with me every minute, every moment. It's completely unfiltered. He has photographs of me waking up in the morning, brushing my teeth, in the bathroom, in the bathtub, the shower."
"And the thing about Terry, if you know anything about his photography, is that nothing is staged; I mean, that's sort of what he is renowned for. He can get you to do things and he can capture things that no one can ever capture."
"What I love so much about Terry is that he thinks everything is so beautiful. I'm always, 'Oh Terry, get out of here,' and he's like, 'Oh, it's so beautiful, let me just shoot it. 'I felt so comfortable with Terry. I love him so much. He's a really close friend, and I feel really honored that he traveled [with me]."
WHAT DOES LADY GAGA HAVE TO SAY ABOUT HER VAGINA?
The notoriously quippy Gaga always is good for a catchy quote. She told Howard Stern that "It's actually electronic. It cleans itself."