Kristen Bell: Veronica Mars' Greatest Case
CAN I SEE KRISTEN BELL NUDE?
Kristen Bell is one of the most coveted actresses in the nudity-enthusiast community. She got that way from starring roles in the beloved TV series Veronica Mars and movies like Forgetting Sarah Marshall, and she remains a hot item on many a nudity wish list today. Including, presumably, yours. If that's the case, I've got some good news I can get out right off the bat: Yes, you can see Kristen Bell nude.
HOW CAN I ACCOMPLISH THIS?
The best way to see Kristen Bell outside of her usual clothed state is to check out one of the movies in which she appears naked. Bell hasn't done a ton of nude screen work, but she has done enough so that there isn't a ton of work necessary to seek it out, and there very well might be more to come in the future. The first time Bell appeared nude onscreen was in the David Mamet film Spartan, released back in 2004 and featuring some fleeting nudity on the part of Bell. It happens during a scene that (hopefully) won't seem very erotic to you, of the woman in question getting punched by Val Kilmer. The idea of a little bit of accidental nudity isn't a big surprise given Bell's wardrobe in the movie. Uh, sexy?
HAS KRISTEN BELL APPEARED NAKED IN ANY OTHER MOVIES?
As a matter of fact, she has, and under much more pleasant/less depressing circumstances. Nine years later she appeared in The Lifeguard, in which she plays a young woman who goes back to her hometown and takes a job supervising swimmers at a local pool. What's the word for that job? Anyway, as you can imagine, she's in a swimsuit for large chunks of the movie, and takes it off a few times too. Here's a clip of Bell discussing the sex scenes in the movie, which are NSFW but probably make the movie worth a watch or two in the privacy of your own home:
ARE YOU SAYING THAT THOSE ARE THE ONLY TWO MOVIES TO FEATURE KRISTEN BELL NUDE?
I am. She has a nude scene in 2008's Fanboys, but it was created with the use of a body double and Bell doesn't actually appear nude in the film. But that doesn't mean she hasn't had plenty of sexy scenes in the movies and on TV over the years.
WELL, WHAT WERE THOSE?
Almost too many to name! We'll start with the show that made Bell a star – the cultishly adored Veronica Mars. Bell spends most of her time on this show with all of her clothes on, but she did have at least one scene in a bikini, with fellow attractive woman Amanda Seyfried. Here's the picture proof:
Next, Kristen Bell had a gig on the superhero series Heroes over the course of which she had her share of sexy scenes, many of them featuring her in a bikini. I apologize in advance for the embarrassing fan music video that follows, but it gets the job done, highlighting some of her most pertinent work on the show:
The Showtime series House of Lies offers a chance to check out Kristen on a regular basis, sometimes even hooking up with a dude in a pool. 
Kristen Bell continued to appear in her underwear in a variety of films throughout her career, including Pulse, Couples Retreat, and, naturally enough, Burlesque:
ARE THERE ANY NUDE PHOTOS OUT THERE OF KRISTEN BELL?
If you had asked me that even just a couple years ago, the answer would have been "probably not," and you'd have had to settle for a bunch of underwear and swimsuit photos of Kristen Bell (the horror). But as a matter of fact, Kristen Bell did appear nude in a photo shoot for Allure magazine in the last year or so, and even though it's definitely a photo that would be described as "tasteful", it's still Kristen Bell nude, so why not? 
Not bad, not bad at all. Unfortunately, though, that appears to be the extent of Bell's totally nude photo work, but that doesn't mean there aren't plenty of other interesting photos of Bell out there for you to check out.
WHAT ABOUT THOSE UNDERWEAR AND SWIMSUIT  PHOTOS YOU MENTIONED EARLIER?
I figured we'd get around to that. To put it succinctly, yes, Kristen Bell has been the subject of plenty of sexy photo shoots over the years, probably too many to even list in this space. But I can show you some of the best, most provocative photos from this aspect of her career. Let's begin:
That provocative shot comes from Bell's Maxim photo shoot, and demonstrates that Kristen Bell isn't exactly reluctant to get sexy for her magazine appearances, even if nudity is often not on the table. But when you look at a picture like the one above, don't you start to feel like nudity might be a little bit overrated? Here's another good shot from the same set of photos:
If bikinis are more your thing (or if you just miss summer weather), you're also in luck as far as pictures of Kristen Bell are concerned. There are approximately 5000000 pictures of Kristen Bell in a bikini out there on the internet.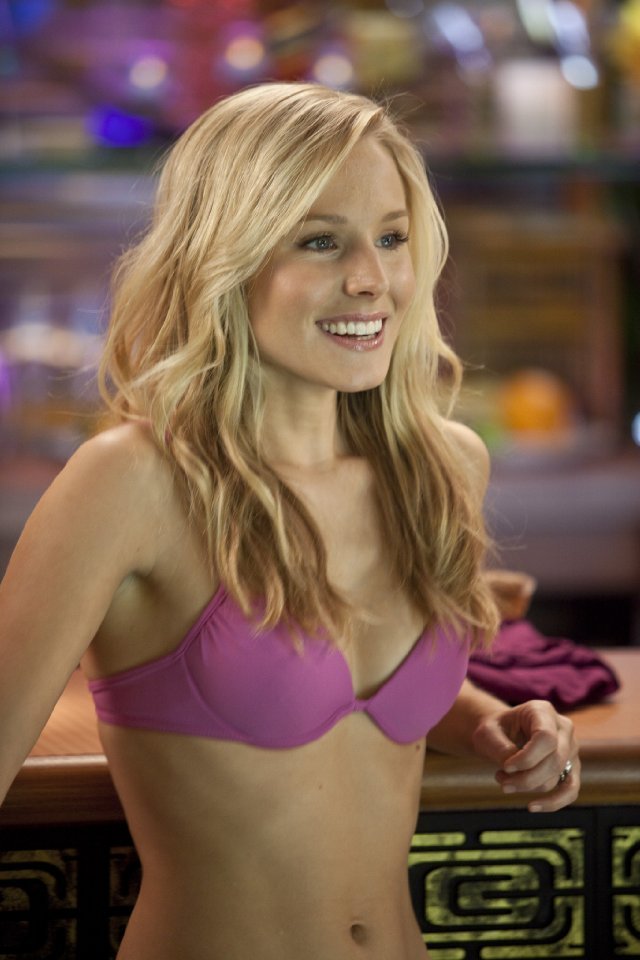 And any discussion of Kristen Bell in a bikini would be seriously lacking if it didn't include this shot from her performance in Forgetting Sarah Marshall (she plays the titular Sarah Marshall, and is consequently fairly difficult to forget):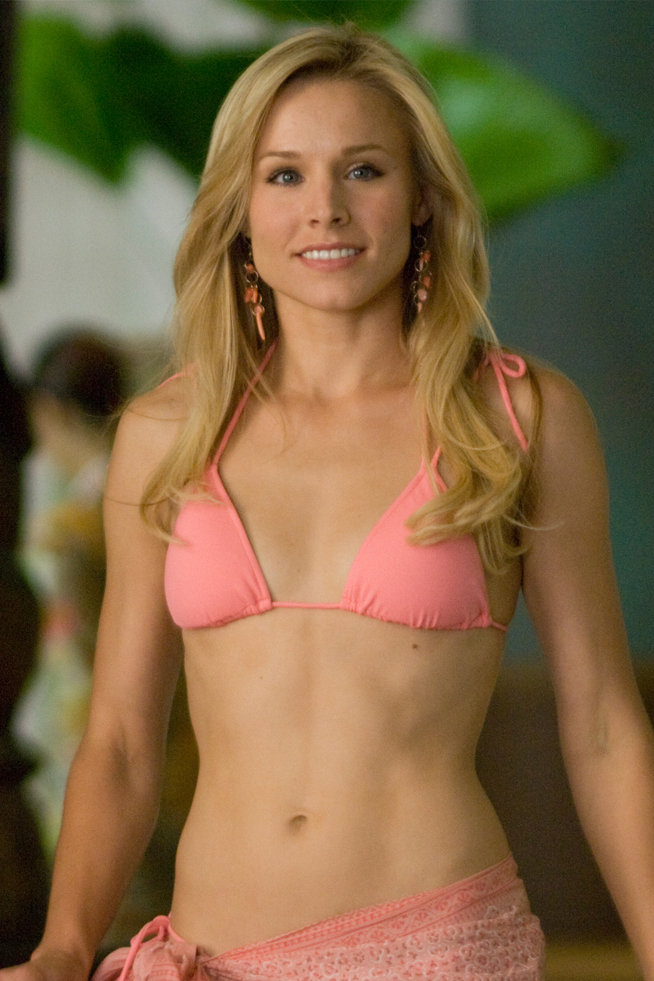 HOW ABOUT SOME CANDID BIKINI SHOTS?
Amateur photographers can go to the beach just as well as Kristen Bell can, and as a result there's a wealth of candid shots taken of her in just that locale. Like this one:
This just a guess, but judging from your obvious interest in Kristen Bell in a bikini, I imagine you'd like to see a few more photos taken from that same beach trip. If my guess is right, here's one:
And here's another one:
IS THERE ANY OTHER PIECE OF UNCLASSIFIABLE CONTENT WITH KRISTEN BELL BEING SEXY I SHOULD KNOW ABOUT?
It's a good thing you asked, because I almost forgot – back in 2010, Kristen Bell appeared in a Funny Or Die video from writer/director David Mamet (who previously worked with Bell in Spartan, which was mentioned at the beginning of this article) for a short comedy video entitled "Lost Masterpieces of Pornography." The premise behind the sketch should be obvious; featuring a fictional lost "dirty movie" entitled June Crenshaw: Sex Kitten to the Supreme Court (with Kristen Bell as Ms. Crenshaw), but the funny thing is that it's actually kind of sexy in its own weird way. 
Before I go, I'll remind you to watch out for fake Kristen Bell nude photos, which do exist and are out there. Of course, there's also a good chance that that doesn't bother you at all, but either way I thought it was a good idea to mention it. Besides that, just keep your eye out for more Kristen Bell nudity in the future, and have fun out there.