Kourtney Kardashian: Krazy & Kinky
Today is a special day, as we have been granted a free pass on a time machine. We shall go 8000 years into the future, and with this vantage point, we can study civilizations of the past. When we travel back to 2014, we will notice that the only thing that matters in the entire world is the Kardashian family. Especially when they are naked. You want to see a Kardashian sex tape? You Can! You want to see Kourtney Kardashian nude? We can help you. You will see her naked. Somehow, the Louvre, the White House, the Smithsonian and Mount Rushmore are no longer here, but at least there are naked pictures of Kourtney Kardashian. So, let's kick back and enjoy this guided tour into the exposed flesh of one of the most important women who ever lived – Kourtney Kardashian. And no, the rumors that she is actually named "Courtney" but forgot how to spell her own name are probably not true.
I HATE TIME MACHINES. CAN YOU PLEASE JUST SHOW ME KOURTNEY'S BOOBIES?
The closest to a full on naked picture Kourtney has graced her millions of fans with is this recent photo of her pregnant. Sure, it's not quite as hot as her having sex with, let's say, the entire defensive team of the Pittsburgh Steelers, but it might have to do for now.
Such nude photos aren't unique to Kourtney amongst the Kardashian clan (or is it Klan?). Here's a pic of mom Kris when she was pregnant.
I'VE HEARD RUMORS ABOUT KOURTNEY. CAN YOU SEPARATE TRUTH FROM FICTION AND TELL ME WHAT IS REAL?
If you're curious if she's done a spread in Maxim, the answer is "yes." Here's a photo from that shoot.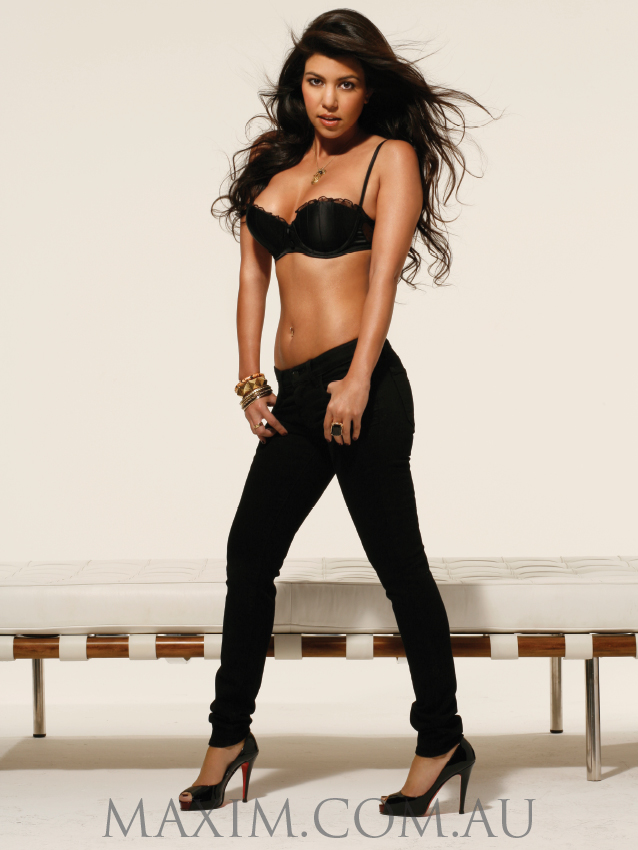 Of course, that wasn't the only picture she took for that magazine.
Need another? In the name of science, and especially as 8000 years in the future most of North America is now known as The United States of Kourtney Kardashian, we are only too happy to oblige. The fact that in 8000 years provocative pictures of Kourtney are on the flag is a mere coincidence.
WHAT ABOUT THOSE RUMORS THAT KOURTNEY IS THE SMARTEST WOMAN IN THE WORLD?
Those of course are correct. This funny clip from Saturday Night Live is proof positive of Kourtney's genius. By genius, we mean she could give Einstein a run for his money. Stephen Hawking? A mere dummy next to her.
WHAT ABOUT THE RUMORS THAT KOURTNEY HAS A NICE RACK?
Those aren't rumors. They are true.
HOW ABOUT MORE OF KOURTNEY'S BOOBS?
However much you'd like to see them, and however many we can find for you, you won't be getting an up close and personal view like her kid did. Warning: if you don't like breast feeding pictures, don't look at this.
Interestingly, in 8000 years, that child at her boob went on to become King of the Universe. Which is kind of cool.
WHAT ABOUT THE RUMORS THAT BY MERELY SAYING "KOURTNEY KARDASHIAN NUDE" THREE TIMES THAT YOU CAN FLY TO THE MOON?
Sadly, those rumors aren't true. Sorry to disappoint you, but hopefully this picture of Kourtney's butt will make up for it.
In case you were wondering how we can prove it is really her butt, it should be obvious – you can literally see the genius oozing out of her bikini bottom. It's palpable. This picture of her butt might not be as palpable, but it is nice if you like Kardashian butts.
IS IT TRUE THAT KOURTNEY KARDASHIAN'S BOOBS ARE ACTUALLY MAGNETS?
There are no concrete facts to back up this rumor, but clearly your eyeballs will be attracted to this gravity defying image.
You'll notice in this picture that Kourtney is posing in front of a Girls Gone Wild banner. By girls, we can only assume she means her boobs, which are doing their best to stay inside her shiny blue dress.
HOW DOES KOURTNEY KARDASHIAN FEEL ABOUT ANAL SEX?
My, what a strange question. Luckily (?) we actually know a bit about this.
Here's how US Magazine described an episode of Kourtney's TV show on the subject.  "I'm not a backdoor betty," she told him [hubby Scott Disick].
"If I keep knockin', that door's gonna open," Disick said with a smirk.                 
"The father of two didn't give up easily, and he sent his girlfriend a crude joke via text message. "Knock knock, who's there?" he asked Kourtney. "It's my penis knocking on your back door." Khloe then suggested that her sister give Disick a taste of his own medicine by asking him to try it first."
HAS KOURTNEY KARDASHIAN MAKE A SEX TAPE?
The answer to that seems to be a no, making her perhaps the only Kardashian not to make one. Or two. However, when she was told by her mom that she had made one, Kourtney decided to make a spoof of this (scary) video. You can read all about it here.
Here's Khloe Kardashian and brother Rob pretending to shoot the video:
Here's a teaser clip from the episode itself. Warning: your IQ will dramatically lower if you watch it all.
There are though rumors that Kourtney actually did make a sex tape years ago, which if true, proves that there is such thing as justice in the world. According to Star Magazine, a source who supposedly saw it said "It's Kourtney on her knees, performing oral sex on a guy. It's pretty graphic, and there are clear shots of her face. If the tape was ever made public, Scott would be livid — and I believe there would be serious consequences for their relationship."
WHAT DOES KOURTNEY KARDASHIAN WANT TO DO IN THE MORNING?
Husband Scott Disick said "When I wake up, she always wants to have sex." Wait, is he complaining or explaining? Should we send him flowers or be jealous?
Here's mom Kris enjoying herself nearby as Scott and Kourtney kiss. You can tell that she really does want to give peace a chance.
WHAT WOULD IT BE LIKE TO DATE KOURTNEY KARDASHIAN?
In an interview with Eye on Glam, she said "I am the worst first dater! First dates are so awkward and annoying!! Thank Goodness those days are over. But I think a casual and fun first date with friends is much more fun than a one on one typical first date."
As to what she would wear on a date, she said "I am all about being comfortable on my date nights because if I am not, it won't be fun for anyone. A pair of skinny jeans, a t shirt, a leather motorcycle jacket and some pointy pumps…easy and done! I like fun and easy date nights, not stuffy and fancy-shmancy."
HOW DOES KOURTNEY KARDASHIAN FEEL ABOUT SIDE BOOB?
We may never know, but we can safely say that her fans don't mind when she's kind enough to flash some.
Seeing that she is a Kardashian, and we are the mere mortals who want to see her and her family in as little clothes as possible, it would be very unkind of us not to offer at least one more photo of her flaunting some of that patented Kardashian side boob.
HOW ABOUT A PICTURE OF KOURTNEY'S UNDERWEAR?
Sure, if that's your thing.
HAS KOURTNEY KARDASHIAN HAD A BOOB JOB?
We realize it may be hard to believe, because everything about Kourtney and her family is always completely natural, but she has indeed had a boob job. How can we say this for sure? Well, she said that "I have had breast implants, but it's so funny cause it's not a secret, I could care less."
We care though Kourtney. We really do. We are also happy to report that there is a post on her official blog entitled "I'm Happy With My Boobs!" Take a peek here. 
There is a bit more to her feelings about her boobs, let along what her fans might think of them. After being pregnant, she said that "My belly is flabby and my boobs are so veiny because there is milk in there." Hardly the most erotic imagery to be sure, but you've got to give her credit for self-awareness, as this picture shows:
IS IT EASY BEING KOURTNEY KARDASHIAN, NUDE OR OTHERWISE?
Kourtney, like her kin, has made a tremendous amount of money by, well, basically just allowing her entire life to be on display 24/7. You'd think she would be pleased, and for the most part she is. So what does she complain about? She said that "The hardest part is wanting privacy. It's tough for people to understand: How can you want these moments to be private when you share so much? I need boundaries sometimes, so I force them, but it's difficult when people don't want to respect them."
She clearly deserves privacy, but if we had a vote in the matter, she would be naked while doing so. Plus, she could let us watch. It could still be private, but with her fans watching. Win win.