Kendra Wilkinson Gets Extra Sexy
Unlike many celebrity sex tape rumors, the one about "The Girls Next Door" star Kendra Wilkinson is absolutely true.  Filmed by Kendra's former boyfriend Justin Frye, the video was made when Kendra was 18 years old.  Kendra and Frye dated for almost five years, a relationship which began in high school and eventually they lived together.  Their relationship ended after Hugh Hefner invited Kendra to move to the Playboy mansion to be one of his three live-in girlfriends.  Their lives were documented in the E! reality television series "The Girls Next Door."  Meanwhile, Frye waited until the opportune time to sell the sex tape…like after Kendra became famous as a Playmate and reality show star.  
Hefner and his "girls next door."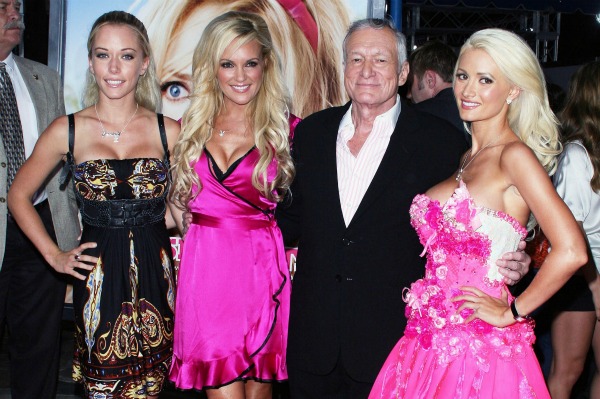 Kendra with a new chest courtesy of Playboy:
Frye sold the video to celebrity sex tape specialists Vivid Entertainment for $100,000 and it debut in May 2010 as "Kendra Exposed."  Kendra first publicly protested the release saying, "It broke my heart...it is just the hardest thing to deal with right now" and threatened to sue.  Her attorney stated the tape was made for personal use and not for public entertainment purposes.  However, Kendra backed off when RadarOnline.com reported that in 2008, Kendra had attempted to sell personal sex tapes to the highest bidder through her company Home Run Productions but negotiations fell apart.
After Vivid released the sex video, it was revealed that Kendra secretly agreed to the video release and had struck a financial deal with Vivid where she was paid $680,000 in addition to half the profits from the sales. In addition to the initial $100,000, Fyre also got a percentage of the sales but less than Kendra's deal.
Clips from "Kendra Exposed." 
WHAT IS ON KENDRA'S SEX TAPE?
The video reveals a young Kendra who is clearly comfortable with her body and sexuality and knows how to showcase both.  The tape shows a pre-breast implants Kendra and Frye graphically having sex in various positions with many scenes where you get to see Kendra up close and personal. The tape reveals the only thing 18 year-old Kendra doesn't know how to do is to assert herself when Frye does things she asks him not to do…like film her while they're having sex.  But perhaps Kendra has forgiven Fyre since she's now received a big payout.
 As demonstrated by this video, Kendra is very comfortable in front of the camera:
DID THE SEX TAPE HURT KENDRA'S CAREER?
It certainly didn't hurt Kendra's bank account as Vivid reported "Kendra Exposed" is one of its best-selling celebrity tapes.  And since Kendra found fame at the Playboy mansion where sex is served on a silver platter, the only thing that the sex tape could hurt is her marriage to NFL football player Hank Baskett whom she married in June 2009.  When the tape was released in May 2010, conflicting sources reported Baskett was upset and threatened to leave her while other media said Baskett completely understood that the tape was a part of Kendra's past.  The couple have discussed the ups and downs of their marriage on Kendra's former E! reality show and on her current Wetv show, "Kendra on Top". Currently, the Basketts are still married and have one son with another child on the way.
Kendra and Hank Baskett on their wedding day
IS THERE ANOTHER KENDRA WILKINSON SEX TAPE?
When Frye and Kendra lived together, he filmed Kendra for many sex videos including one in which she had sex with a woman, Taryn Ryan.  In 2010, RadarOnline.com reported that Taryn's ex-boyfriend Kavi Cermak told them that Taryn co-starred with Kendra in a sex video.  Other reports detailed that the girls were hanging out with their boyfriends and encouraged by the guys, started to fool around with each other and eventually had sex.  The tape is supposedly about 45 minutes and also shot by Justin Frye.  RadarOnline.com reported that Frye sold as many as 20 home sex videos featuring Kendra with multiple partners to Vivid Entertainment and Vivid plans to release a series of sequels to "Kendra Exposed."  So far none of the sequels have yet surfaced although RadarOnline.com has pictures of Kendra having fun with a couple of girls in bed.
WHERE CAN I SEE THE "KENDRA EXPOSED" SEX TAPE?
You can buy it at Vivid Entertainment or without further ado…you can watch here.