Kelly Brook: British, Bursting Out
It was the great Oscar Wilde who said that, when comparing Great Britain and the United States, "We have really everything in common with America nowadays except, of course, language." This quote is over a century old, and while still super damn clever, many things have changed. For instance, the number one food in England is chicken tikka masala, believe it or not, which long since passed fish and chips as the favorite national dish. Meanwhile on our side of the pond, most of us have never heard of the dish and would happily settle for a burger or pizza. On the musical side of the equation, 50 years ago both countries fell in love with The Beatles, but in the years since our interests overlap less and less. Robbie Williams is a bona fide superstar singer in England and has been for many years, but he likely would have a hard time selling out a Taco Bell in Iowa. There are countless other examples of our two similar cultures wildly diverging, but the one we will focus on today deals with a phenomenon known as a Page Three girl.
In England, unlike in the U.S., there is still a thriving newspaper industry, and the popular tabloid The Sun began in the '70s including a sexy picture of a topless woman on the third page of each edition. The feature caught on, and soon became a staple of many newspapers, with the term a "Page Three girl" becoming an almost generic term for a big boobed topless British woman. Sadly, this feature never caught on in the United States, which is perhaps why the industry seems to be dying domestically, or perhaps naked chicks in The Wall Street Journal would have caused too many CEO's to get distracted from manipulating their stock prices. One of the most popular and successful of these woman is Kelly Brook, who remains well known years after her first tabloid appearance. Now that we have given you a decent understanding of the phenomenon, it is high time to delve into a question much more likely to get your heart racing.
WHERE CAN I SEE KELLY BROOK NUDE?
There are many photos of her floating around, and fear not, dear reader, we will get to those in due time. Let's begin though with some of her more recent work that actually did get attention in the United States. 2010's "Piranha 3D" was actually a rather clever spoof on a silly genre, and featured lots of skin amidst the gore. Kelly played a porn star shooting some porn, which seems logical enough as a porn star doing Shakespeare would be harder to pull off, and has a full frontal scene in the water. Besides, her measurements are bigger than a mere 3D cup, as she sports a remarkable pair of 34E's. The film had a really good cast to go along with the boobs and carnage, with Richard Dreyfuss, Adam Scott, Elisabeth Shue and Ving Rhames all enjoying themselves, but Kelly's nude scene is what you'll be feasting on when you click here.
Kelly's first real nude scene in film was in 2005's "Survival Island" (also known as "Three") opposite Billy Zane. We won't get too tangential here, but keep in mind that this is the same Billy Zane who only a few years earlier was a world class douchebag to Kate Winslet in "Titanic." If you think that this film was a slight step down in budget from "Titanic," you would be completely correct. There was though at least one major saving grace to Zane slumming in this far less prestigious film.  He began dating Kelly after meeting her on the set, and the two stayed together for four years, even becoming engaged at one point. Although both films feature British girls naked, "Survival Island" is a hell of a lot sexier if less waterlogged. Check out a sexy clip and some topless pics here.
DO I HAVE TO BE AS STRONG AS SUPERMAN TO HOOK UP WITH KELLY BROOK?
Dude, we've got some tough news for you. Despite whatever putative strength you may possess, the odds of your hooking up with Kelly Brook are about as good as Americans dumping their Big Macs for an order of chicken tikka masala. Speaking of Superman though, one of Kelly's most memorable roles on this side of the pond was in the WB's "Smallville." In the first season she played Lex Luthor's girlfriend, and despite the matter that of Luthor being kind of a butthead, the fact that he scored with Kelly Brook definitely earns him villainous brownie points in our book. Who says crime doesn't pay? Here's a clip of Kelly on the show:
[[contentId: 2623704| ]]
IF I TRIED TO SEE KELLY BROOK NUDE IN PERSON, WOULD HER BOYFRIEND TOTALLY KICK MY ASS?
Much like the existential question of how many licks does it take to get the center of a Tootsie Pop, we will likely never know the answer. We can though say with some certainty that for about seven years, Kelly dated actor Jason Statham, who always plays a total badass in whatever film he is in. Meaning, if during that period you tried to get too close to her, yeah, he likely would have pounded you into hamburger meat.
HOW DOES KELLY BROOK FEEL ABOUT ANIMALS?
Kelly is rather vocal about her feelings in this area, even going so far as to pose for a "Whose Skin Are You In?" ad for PETA. "'It makes my skin crawl to think about the violent ways snakes, lizards, alligators and other exotic creatures are raised and killed for boots, bags and belts. Our message is to support the designers who are creative without being destructive, and go for the great fakes that pay tribute to the animals' beauty without killing them."
WHAT HAS KELLY DONE TO GET BETTER KNOWN IN THE US?
Perhaps her most overt attempt to crack the American market was a well-known 2010 spread in Playboy, for which she received a reported $500,000. You can check out the best pics here. She was 30 at the time of the cover shoot, and said that "I'm not 20 any more. My boobs are real, and they even hang a little."
She also said that "I was a little self-conscious about the shoot because I look at the other girls in the magazine and they're just so perfect." Well, if this doesn't seem damn close to perfect to you, perhaps it's time to readjust your scales.
WHAT DOES KELLY BROOK SMELL LIKE?
My oh my, we do like to get personal, don't we? Anyway, the world can now discover at least what she wears by buying some of her perfume, which is called Audition. Does this mean you actually get to audition to smell her? Sadly that's a big fat no. Here's a sexy photo shoot of her doing sexy stuff in order to sell her scent.
HOW DOES KELLY FEEL ABOUT LOVE AND PUPPIES?
That odd question actually has a perfectly sound answer. She recently spoke to The Daily Mail and had this to say about the subject. "I've probably been in love only a couple of times in my life. When I was really young and in my first relationship, I was in awe of the person I was with, because they were a lot older than me. Now I'm with someone who's a lot younger (rugby star Danny Cipriani) and it's like having a puppy; they make mistakes and do silly things, and you have to love them unconditionally and understand that they are young and learning."
IS KELLY BROOK THE SEXIEST WOMAN IN THE WORLD?
According to FHM Magazine, she sure was in 2005. In fact, she has been ranked on their list every year since 1998, when she came in 29th.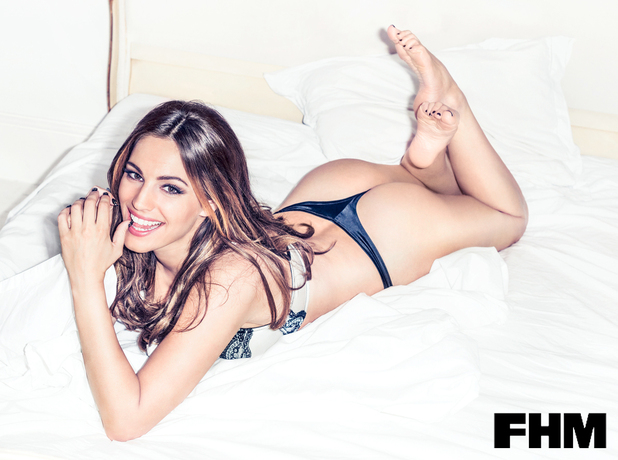 I LOVE KELLY BROOK AND CHRISTMAS, BUT WISH AS I MIGHT, ALL THE ELFS I IMAGINE LOOK LIKE WEIRD VERSIONS OF THAT LITTLE DUDE ON "GAME OF THRONES." ISN'T THERE SOME WAY I CAN SEE A HOTTER ELF THAN THAT?
Kelly clearly felt your pain, as she shared this rather adorable video on her own Instagram feed last year. What it lacks in the boobage department it makes up for with the oodles of cuteness.
IS KELLY BROOK FINALLY READY TO SETTLE DOWN?
In 2014, after a three month courtship, Kelly got engaged to David McIntosh." Was it a shock when he got down on one knee? Just a bit! I think it took both of us by surprise, to be honest, how quickly things have progressed."
She went on to say this about her soon to be husband. "But I've never met a guy like David before and although it seems soon to be planning our wedding, there's nothing to wait for in my mind because at the moment everything's fantastic and there's no reason why it can't continue to be like that. I hadn't been looking to fall in love."
You've been so nice, so we thought we would reward you with this too.