The Katy Perry Sexy Rumors... True or False?
IS THERE A KATY PERRY SEX TAPE?
That would be a no although many try to capitalize on key search terms like "Katy Perry sex tape" or "Katy Perry sex video leaked."  The results lead to disappointing random videos made by unknowns promoting themselves or misleading captions that promise you can "See Katy Perry in various states of undress" and instead it's a collage of Katy Perry pictures which anybody can see on a fan site.  Some sites take advantage of the key words by posting sexy pictures or random sex videos of Katy Perry look-a-likes. 
Be aware of imposters! Looks like Katy from that angle but it's not.  It's a British glamour model named Rosie Jones but even some Katy Perry fans mistake this picture to be the singer.
In December 2011, one particularly inventive site went so far as to report from their hotel rooms which where across the street from Katy's rented downtown Los Angeles apartment. Journalists from three TV networks saw the singer naked in the bathtub. So of course they supposedly filmed a fifteen minute video containing footage of Katy singing while rubbing her hair.  The site said that the video "has already been sent to three of America's leading television stations. Although limited copies are still shown on the tube, it will be just a matter of time before the web gets its superhighway." 
Guess we're all still waiting.
Adult sites are notorious for linking keywords "sex tape" with a celebrity name. These search results take users to a member's only subscription website.  For some famous women, if there are actual nude pictures or sex videos, the site will advertise a photo still or a brief clip but alas, for Katy Perry admirers, the lack of such footage means it probably doesn't exist. 
Perhaps if Katy and ex-husband Russell Brand had stayed married, a sex tape may have actually been produced.  Back in October of 2010 when the two were engaged, Brand on a book tour and was asked whether he and Katy would ever work together on a movie.  He responded, "We'll do a sex tape! Give them what they want!"  Unfortunately for Katy's fans at least, it was a joke.  And while on the subject of Katy's love life, there is also no sex tape with sometimes beau John Mayer either although once again, some entrepreneurs like to exploit those keywords.
CAN WE SEE KATY PERRY NAKED?
If not naked, this model-like sex symbol known for her unconventional style does give her fans plenty to gawk at having posed for a variety of photospreads and gracing many magazine covers in addition to her fantastical and fun videos.
Katy's most striking asset is her cleavage and she's been photographed many a times presenting "the girls" at their best.  Her chest is so admired that it has prompted many discussions of whether her breasts are real or not.  Through photos, Katy gives you plenty of opportunities to decide for yourself. 
Whatever your verdict, the consensus is they are pretty spectacular.
If you like your pictures to be moving, this video shows the many sides of Katy including of course, her best, the front.
In May 2010, Katy modeled for photographer Yu Tsai for a spread in the August 2010 issue of the UK edition of Esquire magazine.  Famously uninhibited, see the video of Katy at the photoshoot and some of the pictures below.  It may not be a sex tape but the results should keep Katy's fans happy.
Another way Katy puts her God-given talents to good use is through her philanthropic work. In 2008, Katy participated in a fundraiser in which she had a mold made of her 32D breasts.  The final sculpture painted by artist Jim McHugh was auctioned off for $3500 to raise money for breast cancer research for Keep-A-Breast.org.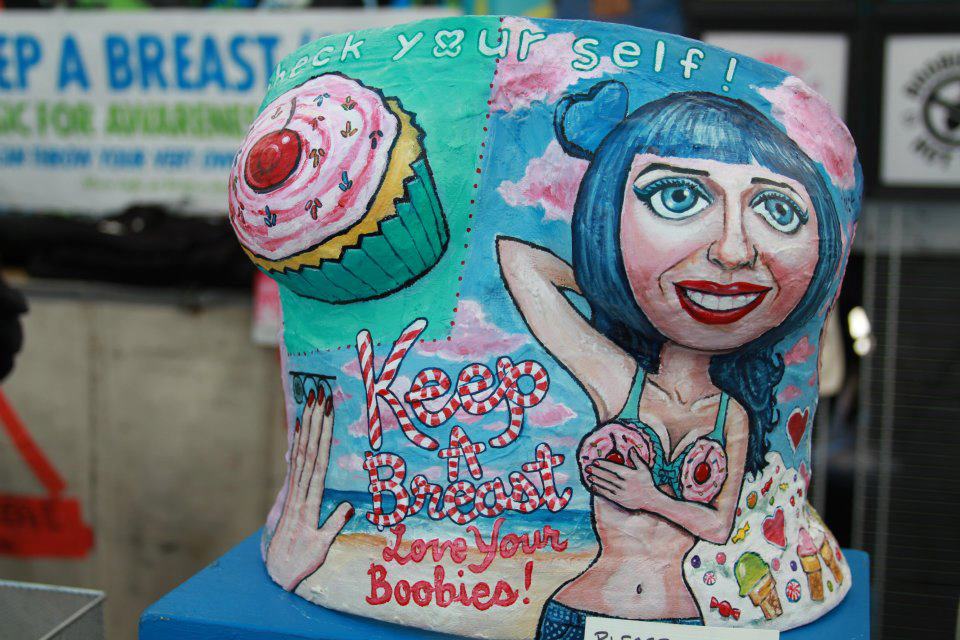 And if this is any comfort, in the December 2013 annual poll by XCritic.com and adult site Vivid Entertainment, when asked which female celebrity they'd most want to see in a sex tape, people voted Katy Perry #1 who received 26% of the vote. For now, Katy's admirers will just have to be satisfied with a teaser from Katy such as in the following picture: