Katrina Kaif: Bollywood Star In The Buff
Katrina Kaif is a famous actress and model in India known primarily for her Bollywood films.  She is considered a superstar in India and one of their highest-paid actresses.  Katrina is of British and Indian heritage and was born in Hong Kong.  She originally took her mother's last name of Turquotte.  In addition to being one of the most often web searched names in India, Katrina is considered to be one of the country's most beautiful celebrities and often ranks highly on lists of the most attractive Indian celebrities.  Katrina has topped FHM India's "World's Sexiest Women" list in 2008, 2009, 2011, 2012 and 2013.  In 2011, the Indian edition of People magazine named her "India's Most Beautiful Woman."  UK magazine Eastern Eye called her the "Sexiest Asian Woman" from 2008 to 2011 and she was on Verve's list of the most powerful women in 2009 and 2010.   In Forbes' 2013 Celebrity 100 list of the biggest earners in Indian entertainment, Katrina was the only woman in the Top 10 with an estimated annual salary of US$10 million.
HOW IS KATRINA KAIF FAMOUS?
Katrina's parents, Mohammed Kaif and Suzanne Turquotte divorced when she was a child and she has six sisters and one brother.  Because of her mother's job working for charitable causes, Katrina and her family lived in many places including China, Japan, Hawaii and various European nations.  Eventually they settled in the U.K., her mother's homeland.  A British citizen, Katrina lived in England for three years before moving to India and that's when she took her father's last name.
Katrina started modeling when she was 14 years old when she won a beauty contest in Hawaii and posed for a jewelry campaign.  When Katrina was seventeen, she studied engineering in London and began to model professionally.  She participated regularly at the London Fashion Week and attracted the attention of filmmaker Kaizad Gustad who casted Katrina in the English /Hindi film, "Boom" which ultimately was critically and commercially unsuccessful.  However, while shooting "Boom" in India, Katrina began receiving modeling offers and she decided to stay in the country.  She soon became a successful model and appeared in various high profile brand name campaigns such as Coca-Cola, LG and Samsung.  Katrina appeared in a string of films in which she played throwaway roles that didn't require any acting talent. Katrina was also criticized for not having a command of the Hindu language and often had to be dubbed so she started taking Hindu language lessons.
Katrina's commercial success in Bollywood came with her roles in several romantic comedies particularly "Namastey London," in which Katrina was praised for her performance. She then appeared in various glamorous but unsubstantial roles in a series of box office hits.  Katrina's career took a turning point when she starred in the 2009 terrorism drama, "New York" which earned her critical praise and she received a Filmfare Award for Best Actress nomination.  Katrina subsequently appeared in  several hit Indian films but it was the 2013 action thriller "Dhoom 3" which became the highest-grossing Bollywood film of all time that established Katrina as a commercially successful actress in Hindi cinema.
Like most popular actresses, Katrina's romantic relationships are frequently discussed in the media and she is constantly photographed by the paparazzi.  Katrina Kaif admitted in a 2011 magazine interview that she was in a serious relationship with actor Salman Khan for several years but they broke up in 2010.  She is reportedly engaged to fellow Bollywod actor Ranbir Kapoor with a wedding date set for 2015. 
The paparazzi caught Katrina and Kapoor on vacation in Ibiza, Spain: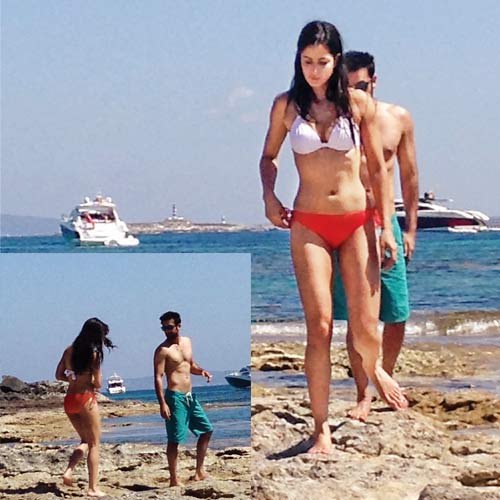 IS THERE A KATRINA KAIF SEX TAPE?
There is a 10 minute sexually explicit sex video floating around the internet starring a female who bears an uncanny resemblance to Katrina and an unidentified man. Various websites posting the video actually claim that it's her younger sister, Isabel.  The video starts with the woman giving the man oral sex before moving to the couple having sex in the missionary position.  The video ends with the man releasing himself on the woman.  Throughout the video, it's apparent the woman knows she's being filmed since she's constantly looking at and playing to the camera.  Katrina and her mother Suzanne  Turquotte have publicly denied that the woman in the video is Isabel.  In response to the question whether the woman is Katrina herself, the Bollywood star said, "The video is disgusting and the girl clearly doesn't even look like me. There's no room for any speculation whatsoever. How can you even call her my lookalike? The girl's face is completely different! I think it's ridiculous to even talk about it."
Katrina and younger sister, Isabel:
From the sex tape…is it Isabel or Katrina or somebody else?
Judge for yourself here.
ARE THERE FAKE KATRINA KAIF NUDE PICTURES?
As with most famous celebrities, Katrina has been the subject of photoshopped nude fake pictures in which her head is placed on somebody else's naked body.  She hasn't done nudity in films yet and at this point in her career, there is no need to unless there is a huge monetary offer or she wants to break into the U.S. marketplace where nudity can help get you noticed.