Katie Price: Soap Opera Story With Sex Idol Stars
Katie Price, also known by the pseudonym Jordan, is the UK's version of Pam Anderson, Paris Hilton and Kim Kardashian blended in one person.  She's Pam Anderson since like Pam, Katie is known for her highly publicized relationships and owes a large part of her fame to her large bust.  Katie is similar to Paris Hilton because like Paris, she became famous for no apparent reason, and Katie is comparable to Kim because presumably people care about their messy lives so they both have their own reality shows.  But what Katie has the most in common with all these ladies is that she also has a leaked sex tape.  The busty former glamour model may now be a reality star, a sometime singer, an author and business woman, but she's also the star of a sex tape made with ex-boyfriend Dane Bowers of the former British boy band, Another Level. 
Katie and Dane Bowers when they were together in their youth:
The sex video was leaked to the internet in 1999 after it was reportedly stolen from their home.  Apparently the public embarrassment wasn't that bad since a year later, Katie ran as a candidate during the British General Election in 2001.  She ran on the platform that if elected, she would offer free breast implants, more nudist beaches and a ban on parking tickets.  She won 713 votes; 1.8% of the votes cast.
WHO IS KATIE PRICE?
Katie before the plastic surgeries: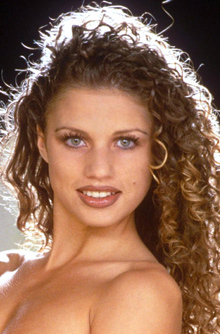 Katie was born in 1978 in Brighton, East Sussex in southeast England.  Her father left her mother when she was four and when her mother married Paul Price, Katie took his last name.  She started modeling as a child and although not an academic student, she did well at sports.  Katie left school when she was 16 years old and decided to pursue a modeling career.  She had professional photographs taken and sent them to a London modeling agency.  In 1996, British tabloid The Sun offered Katie a job to appear in a Page 3 pictorial as a topless female glamour model.  She took on the professional name "Jordan" and modeled frequently for Page 3 and in men's lifestyle magazines. 
Katie as "Jordan":
Katie started to also receive notoriety for her many breast enlargements.  She started getting breast enhancements first when she was 19 years old and ultimately increased her breast size from a natural 32B to a 32FF.  Katie's also had a series of plastic surgery and other beauty enhancements that have transformed her looks over the years.  She's been quoted as saying, "Some people may be famous for creating a pencil sharpener. I'm famous for my tits." 
Katie received exposure in the U.S. when she became the September 2002 cover girl for the American edition of Playboy magazine.  In January 2004, Katie appeared on several British reality shows including "I'm a Celebrity...Get Me Out of Here!" a show where a group of celebrities live together in the a jungle without amenities.  It was there that she met singer Peter Andre who she eventually married.  Their relationship was chronicled in various reality television shows that gave viewers a look into Katie's often chaotic domestic life.  Katie made a splash in the publishing industry starting in 2004 with the first of four autobiographies called "Being Jordan" ghost-written by Rebecca Farnworth.  She's written five novels, all ghostwritten in addition to several children's book series.  Katie tried her hand at singing when she was one of the contestants for the UK at the 2005 Eurovision Song Contest.  She wore a skin-tight pink catsuit and sang a song titled "Not Just Anybody" and came in second.  
Katie and Peter Andre:
With Peter Andre, Katie released a duet album, "A Whole New World," in November 2006.  The album debuted at number twenty on the UK Albums Chart and went platinum. The couple divorced in 2009.  In July 2010, Katie released a single "Free to Love Again," but it didn't do well on the charts, rising no higher than number sixty.  Katie explained, "I'm not a singer, this is just something that I'm doing for fun. It's not like I'm worried about getting a chart position or number one, this is purely for fun. Whether people like it or not, I'm doing it."  Katie also has various fashion and perfume endorsement deals.  She is the mother of four children; two with Peter Andre, one with her current husband Kieran Hayler.  She had her oldest child, Harvey who has health issues with former soccer player Dwight Yorke.    
WHAT IS ON THE KATIE PRICE SEX TAPE?
From 1998 to 2000, Katie was in a relationship with Dane Bowers, of boy band Another Level.  They made a sex tape in their apartment in which Katie calls Bowers by a nickname, "the Great Dane" and talks dirty to him.  Supposedly there is a female friend watching this particular sex session.  The video starts with the couple standing up and Bowers is filming while Katie performs oral sex on him.  There is a shot of Katie lying on the bed as she takes out a silver sex aid and black frilly underwear from a large bag that she calls her "Mary Poppins bag of tricks."  Katie uses the sex aid as she and Bowers performs various sex acts.  The video ends with the couple in a hot tub where Bowers uses his foot to rub Katie's private parts. 
The stars of the sex tape at a party:
The video was then allegedly stolen from their apartment in 1999.  Katie said after the theft, "I am upset. This was meant to be private."  However, the "theft" could also mean that publicity hungry Katie intentionally leaked it to boost her profile.  Bowers alluded to this fact in January 2010 when he participated in the British reality show, "Celebrity Big Brother."  He said, "At the time when it came out it was us [Another Level] that were big, it made her a lot bigger. It's what set her up."  Bowers went on to brag that their sex tape was the biggest thing on the internet" and had more internet searches than the Pamela Anderson and Tommy Lee sex tape.
The couple broke up soon after the leak.  Katie was jealous of the time Bowers spent with Posh Spice Victoria Beckham when the two recorded a duet," Out Of Your Mind."   Bowers said the split was because of "lots of little things really. If you hear her side of things it was because of Victoria, I was working too hard with Victoria."  But from his point of view the real reason for their break up was due to her Page 3 career.  "At the time I was quite jealous, he revealed, "She stopped doing all the nudie shoots, the really naughty things.  Then she did one just to spite me and I said if you do it I'll leave you and she did. We were together two and a half years, it was quite substantial really." 
Guess Bowers had problems with pictures like these:
Katie had gotten pregnant with Bower's baby but had an abortion when she thought he was cheating on her.  She said in an interview that she once went to Bowers' residence to catch him cheating with a friend of hers so that she could "beat the shit" out of the woman but they weren't there.  Katie confronted the woman later and "She never bothered me again."  Katie also revealed when her relationship with Bowers ended, she was so upset that she overdosed on pills but it wasn't a real suicide attempt, "It was probably just to get his attention. Stupid. I don't recommend it to anyone. It doesn't get you anywhere."  However, once Katie felt she was emotionally over Bowers, she told a reporter that she put on a lacy pink G-string and went to sleep with him one last time out of revenge. 
WHERE CAN I SEE THE KATIE PRICE SEX TAPE?
Since Katie and Bowers didn't take any legal action in stopping the distribution of the sex tape, it can be found in various forms on the internet or you can see it here.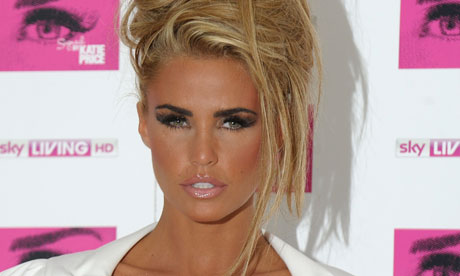 As an interesting side note, Katie's latest husband, bodybuilder and part time stripper,  Kieran Hayler made a sex tape of his own with porn star Paige Turnah (her real name is Kiri Meads) while they were dating.  Turnah told The Sun that she suggested to Hayler that they make a sex tape so he can see what her job was about and to spice up their love life.  Turnah said, "Kieran was completely up for it and got very excited.  He didn't need any persuading. "A few days later we set up a camera on a tripod in my bedroom and filmed ourselves." 
34 years old Katie and 25 years old third husband, Kieran Hayler on their wedding day in the Bahamas:
When asked what she thought Katie would think if she ever saw the tape, Turnah replied, "Katie probably won't be very impressed, of course, but that's not my problem or my fault. I'm sure she's broad-minded enough to shrug it off.  If not she'll just have to take that up with him. Making the tape's nothing for Kieran to be ashamed of."
Hayler and Turnah in their sex tape: