Kate Winslet: The Oscar Winner Who Bares All For Art
If you've seen the blockbuster movie, Titanic (and who hasn't?), you know Kate Winslet played Rose, the love interest of Leonardo DiCaprio's Jack.  One of the most memorable moments in the movie before all the mayhem and drowning is the scene in which Rose asks artist Jack to draw her "like one of his French girls" in the nude, only wearing the Heart of the Ocean necklace. To this day, Kate says fans are still asking her to autograph a copy of the infamous nude portrait, "I don't sign that one," Kate says, "It feels very uncomfortable. People ask me to sign that one a lot and actually there's a photo of it as well that someone's lifted from a still of the film. That photo gets passed around."  She added, "It is still haunting me. It's quite funny, really."  Interestingly enough it was "Titanic's" director, James Cameron who actually drew the sketch of Rose that was used in the film and the original picture sold for $16,000 at an auction in 2011.
Kate as Rose in "Titanic":
WHERE CAN I SEE KATE WINSLET NUDE?
Where can't you see Kate Winslet nude? Kate has appeared 12 times in various forms of nudity in films starting with her movie debut in "Heavenly Creatures" in 1994 when she was 17 years old and showed her breasts while bathing with her teenage lesbian lover. 
Here's a trailer.
In interviews, with trademark British humor and candidness, Kate has talked about what it's like to strip down for her art in front of the camera. "I hate it! Listen make no mistake, I just get on it. I just go in and say 'Oh f*ck' let's do it,' and boom. If you complain about it or procrastinate it's not going to go away. It's a profoundly bizarre thing to do. As actors you talk about it all the time. You can literally be tangled in sheets, and you turn to the other actor and say 'What the f*ck are we doing?' 'Dear Mum, at work today I had so-and-so's left nut-sack pressed against my cheek. It's sort of unethical if you think about it in those terms."  Despite the occasional oddity of her job, Kate explained why she doesn't have a problem doing sex scenes, "There's not an awful lot that embarrasses me. I'm the kind of actress that absolutely believes in exposing myself."  But Kate also acknowledges that as she ages, her nude scenes will be limited, "I can't keep getting away with it. There was so much of [nudity] in "The Reader" because the story required it but people have seen enough of my bum and my boobs. I have to put them back." 
The three films in which Kate is completely nude including rear, breasts and full-frontal are "Titanic," "Iris," and "The Reader."   Kate discussed preparing for her role in her Academy Award winning performance, "Let me tell you, "The Reader" was not glamorous for me in terms of body-hair maintenance. I had to grow it in because you can't have a landing strip in 1950, you know? And then because of years of waxing, as all of us girls know, it doesn't come back quite the way it used to. They even made me a merkin because they were so concerned that I might not be able to grow enough. I said, 'Guys, I am going to have to draw the line at a pubic wig but you can shoot my own snatch up close and personal.'"
Kate in "The Reader":
Projects where Kate displays breasts and full-frontal nudity are Jude (1996) and Mildred Pierce (HBO).  She displays breasts or butt or both in these following films, Hamlet (1996), Hideous Kinky (1998), Holy Smoke! (1999), Quills (2000), Little Children (2006) and Cleanflix (2009)
. 
Kate had a seriously nude sex scene with Patrick Wilson in "Little Children":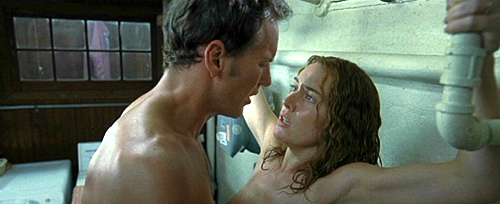 Despite her obvious comfort level at doing nudity as an actress, Kate revealed that when she was younger, felt she was fat. "'I never had a desire to be famous. I was fat. I didn't know any fat famous actresses. You know, once a fat kid, always a fat kid. Because you always think that you just look a little bit wrong or a little bit different from everyone else. And I still sort of have that." She struggled with her body image and admitted, "When I was 20, I pretended it didn't bother me, but I felt very bad, I did. In front of journalists and the public I acted superior, but I was dying inside."  Perhaps international superstardom and acting accolades have helped Kate make peace with the girl from her past and accept the woman she's become especially when becoming role model for her daughter.  She has stated, "It's true that you need much time to get rid of the fat girl you once were but you know I am sincerely grateful for my buttocks. I've decided I am going to start loving my backside because I don't know anyone who does that. And for my daughter, I want to be able to say to her, 'I love this.'"
Kate shows off what she loves in a Vanity Fair shoot:
Since "Titanic," Kate has gone on to have a stellar acting career.  She is the youngest person to achieve six Academy Award nominations, winning Best Actress in 2008 for "The Reader."  She is also one of the few actors to have three of the four major American entertainment awards having won an Oscar, an Emmy and a Grammy.  Among her many accolades, awards and nominations, Kate has also won a BAFTA, a SAG Award and the Honorary César Award, France's national film award.  Kate has accomplished the unusual position of being an actress who is well respected and often does nudity in her films.  For directors, Kate is the ultimate thespian since not only is she attractive and can act, she also has no problems with taking her clothes off for a project and even doing full-frontal nudity.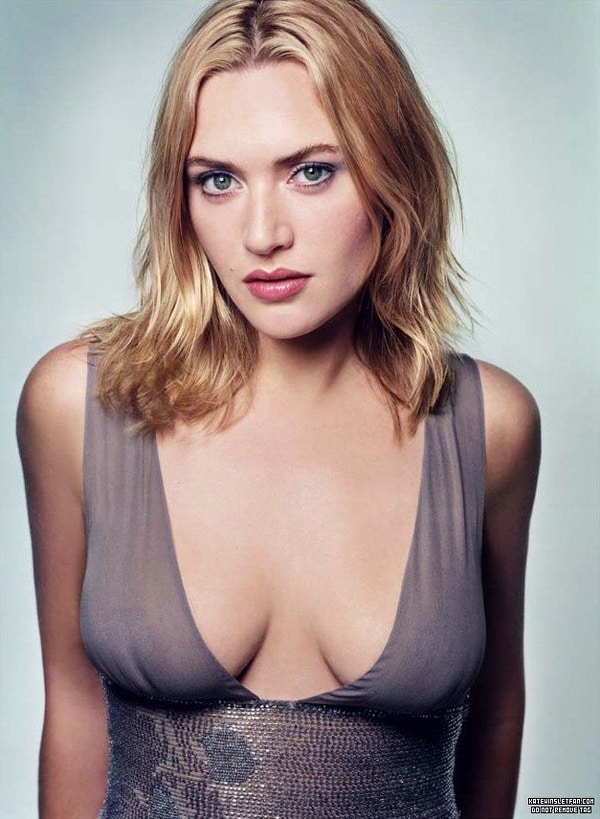 WHO IS KATE WINSLET?
Kate Elizabeth Winslet was born on October 5, 1975 and raised in Berkshire, England.  Her parents are Roger John Winslet and Sally Ann Bridges who were also actors and she is the second of their four children. She studied drama and acting when she was 11 years old and began her acting career in 1991 with a co-starring role in "Dark Season," a BBC children's sci-fi series.   Kate also appeared in the TV movie, "Anglo-Saxon Attitudes" in 1992 and an episode of "Casualty," a medical drama in 1993.  She first received attention and critical praise when she made her film debut playing a murderous teenager in 1994 in "Heavenly Creatures" a film directed by Peter Jackson.  Kate got the role over 175 other girls in a casting call and she won an Empire Award and a London Film Critics' Circle Award for British Actress of the Year for her performance. 
As a 17 year old actress in Heavenly Creatures:
Kate's career continued to rise when she next played Marianne Dashwood in Jane Austen's "Sense and Sensibility" directed by Ang Lee.  Her critically acclaimed performance won her a BAFTA and a Screen Actors' Guild Award in addition to Golden Globe and Oscar nominations.  Although Kate had to initially campaign James Cameron to cast her in 1997's "Titanic," the film's success solidified Kate's status as a commercial movie star.  She said making the film was an emotionally demanding experience, ""Titanic was totally different and nothing could have prepared me for it. We were really scared about the whole adventure. Jim is a perfectionist, a real genius at making movies. But there was all this bad press before it came out and that was really upsetting."  The film ultimately became the highest grossing film at the time and received a slew of high-profile awards and nominations.  It also won Kate a European Film Award for Best Actress.
After Titanic cemented her place as a true superstar, Kate had her choice of roles and played a variety of characters in both mainstream and arthouse films.  Among the most notable films are the indie "Quills" (2000), "Iris" (2001) where she shared the role of portraying novelist Iris Murdoch with Judi Dench. Both women earned an Academy Award nomination.  Also in 2000, Kate narrated "The Face in the Lake" for the anthology album, "Listen To the Storyteller" and she won a Grammy Award for Best Spoken Word Album for Children.  Kate starred with Jim Carrey in Eternal Sunshine of the Spotless Mind (2004) which earned her a forth Oscar nomination. 
In 2005, Kate spoofed herself when she guest-starred in an episode of the BBC and HBO comedy series "Extras" which earned Kate her first nomination for an Emmy Award. Kate's performance as a bored housewife who has an affair with a married neighbor in director Todd Field's "Little Children" got rave reviews and Kate was once again nominated for an Academy Award for Best Actress. Kate reunited with Leonardo DiCaprio to play a couple with a failing marriage in the 1950s "Revolutionary Road" (2008) directed by Sam Mendes, Kate's husband at the time.  On working with Leo again, Kate said, "He's probably the world's most beautiful looking man, yet he doesn't think he's that gorgeous. And to me, he's just smelly, farty Leo."  For this role, Kate received her seventh nomination for a Golden Globe.  Also in 2008, Kate played a former Nazi concentration camp guard who has an affair with a teenager who later witnesses her war crimes trial in the film adaptation of Bernhard Schlink's 1995 novel, "The Reader."  Kate later commented that this was a difficult role since she couldn't "sympathize with an SS guard" but she clearly did a good enough job since this time, she finally won the Oscar for Best Actress.  In 2011, Kate won an Emmy Award and a Golden Globe Award for Best Actress in a Miniseries or Television Film for her work as the lead in the HBO miniseries, "Mildred Pierce."