KATE UPTON NUDE: GETTING DOWN WITH UPTON
In the 1970's and 80's, the term "super model" was often used to describe a model who had transcended typical status to become a household name. Cheryl Tiegs, Cindy Crawford and Elle Macpherson were among the biggest stars, but today, the number of  super models is really down to one. The gorgeous Kate Upton is arguably the biggest name in swim suit modeling today, and for good reason. She's not the skinny twig that can walk the runway, nor the glamorous high fashion icon likely to be found in the pages of Vogue. Nope, she's the All-American girl with big boobs and meat on her, and we know you'd like to see her get naked. Fear not, because before we are through, we will show you more of her flesh than you will have likely have seen before. Do her boobs deserve a parade in their honor? A national holiday? A monument in Washington? Do they deserve to be carved into Mt. Rushmore? Should they be worshipped as though they were the greatest thing since sliced bread? If you vote yes to any of those questions, then today is truly your lucky day as we will now answer that magical question of
WHERE CAN I SEE KATE UPTON NUDE?
Although she has never actually posed fully nude per se, she has come super close countless times. Maybe the most erotic and skin baring of all was for her July 2012 cover shoot for GQ Magazine. Just about every image in the shoot would be enough to wake the dead, but the series of wet t-shirt photos are worthy of special mention.
Unfortunately, there are only a finite number of pictures of her in a wet t-shirt available, but perhaps that's a good thing. If there were too many, there's a good chance that countless people worldwide would never be able to get any work done.

Is it possible to get too much of a good thing? When it comes to Kate Upton naked, we'd have to vote no.
The now legendary shoot also offered a terrific chance for a wardrobe malfunction. As she told the magazine "we were on that ride where the seat spins while the actual ride is spinning, and I'm wearing a one-piece. And all of a sudden the whole entire top falls off! I'm holding myself, laughing, turning bright red, but a lot of people are watching, so they kicked us out of the Santa Monica Pier—it was so embarrassing. You wouldn't think that would happen with a one-piece!"
The GQ shoot is the gift that keeps giving, as even some of the outtakes offered fantastic images. Check out this one, which is kind enough to give us a nice glimpse of nipple underneath the outfit.
DO KATE UPTON'S BOOBS HAVE A MIND OF THEIR OWN?
There is no scientific evidence to support that theory, but perhaps the laws of gravity and physics can offer some insight. Take a large object (or objects, in this case) and put them into a smaller space and things are bound to happen. This may explain why her uber-boobs do have a tendency to jump out when cameras are around.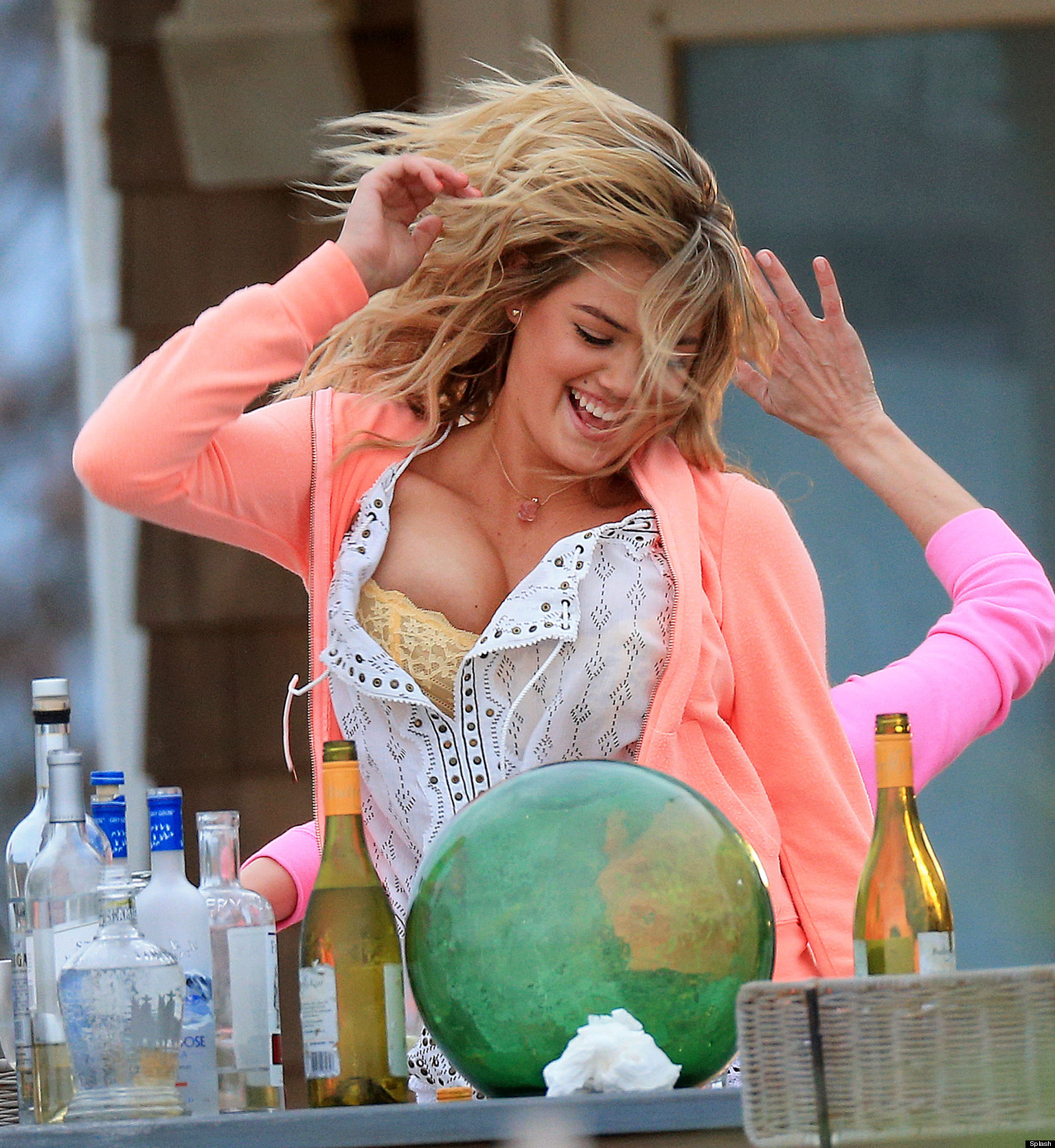 They can even leap out and make an appearance when Kate is wearing bunny ears. Feel free to fill in your own punch line, but enjoy the view either way.
That shot is from a video shoot that includes lots of other classic images. Here's a bit more, including parts of it in slow motion for added visual pleasure.
IS IT TOO MUCH TO ASK TO SEE KATE UPTON PERFORMING ORAL SEX?
To see her actually going down on a dude? Yes, that is too much to ask for. Then again, the imagination is a very powerful thing, so enjoy this GIF of her and a lucky popsicle.
WOULD IT BE FUN TO HOLD KATE UPTON'S BOOBS?
Fun? Would it be fun? Clearly, you gest. Fun might be the understatement of the century. Although you, dear reader, have virtually no chance of doing so, she can and does hold her magnificent treasures quite often.
She sure seems to be having fun.
Ready for more fun?
In case you are wondering why she is holding her boobs in these pictures, the answer should be obvious. If you had boobs like that, wouldn't you want to hold them too?
DOES KATE UPTON FEEL AS CONFIDENT ABOUT HER BODY AS HER FANS FEEL CONFIDENT IN SAYING SHE IS INCREDIBLY HOT?
She was asked whether she has become a role model for women who aren't super skinny. "I hope I have, as I feel really confident in my body. I grew up in Florida and we were always running around in bikinis, so it was something really natural for me. But to hear that many women don't feel that way, and they feel judged – and I've been under that judgment, too – it sucks. And it's not just the media; being judged hurts just as bad if it's from your colleagues, or your family, or whoever is judging you."
Kate, babe, don't worry, we really aren't judging you! Unless screaming from the highest mountain top that you are so freaking hot is judging.
I WOULD LIKE TO HEAR KATE UPTON TALK ABOUT HER BOOBS. CAN YOU FIND ME A CLIP OF THAT?
Indeed we can. There was a quote in a British newspaper that was attributed to her where she supposedly said that "I wish I had smaller boobs every day of my life as I would love to wear spaghetti tops braless and go for the smallest bikini designs." She was then asked about this quote, and said she was misquoted. She followed with comments including "I'm happy with my boobs" and "I love my body. I always feel incredibly grateful for what I have. But there's times when all women don't feel their best." Here's the clip from an Australia radio station, which also features her co-stars from "The Other Woman," Cameron Diaz and Leslie Mann.
HOW DOES KATE UPTON FEEL ABOUT MEN WITH BALLS?
We have no specific answer if you are referring to testicles, but when it comes to baseballs, she definitely is into them. She has been linked with Detroit Tigers superstar pitcher Justin Verlander for a few years, and it does seem like a good match for a girl who was born in Michigan.
She also did one of her many Sports Illustrated covers with baseball stars BJ Upton and Justin Upton. Let's do the math here. Three Uptons. Two hot boobs. Two baseball players. What does it all add up to? We have no idea, because we keep getting distracted by the boobs.
HOW DID KATE'S FIRST SPORTS ILLUSTRATED COVER CHANGE HER LIFE?
We know how it changed millions of men's lives, as it gave them something marvelous to drool over, but it had quite an effect on her too. "After my first Sports Illustrated cover, I felt terrible about myself for a solid month. Every single guy I met was either married or about to be married, and I felt like I was their bachelor present or something. I'm not a toy, I'm a human. I'm not here to be used. I am a grown woman, and you need to figure your s--t out."
IS IT TRUE THAT KATE UPTON DID A DANCE SO SEXY THAT YOUTUBE BANNED IT?
It is indeed true. When this now classic video of her doing the "Cat Daddy" dance in a tiny red bikini was first posted, it quickly went viral until it was banned for violating the website's "policy on nudity or sexual content." It has since been reinstated to the delight of millions, so feel free to check out the unforgettable video below.
The video was a follow up to a more spontaneous one that was shot while Kate was at an LA Clippers game doing "The Dougie." Although lower quality, it is easy to see why it became a phenomenon.
HAS KATE UPTON POSED FOR PLAYBOY?
To date she hasn't, but recently had a few choice words on the subject that will give her many fans hope. When asked if it was something she might do, she responded by saying "I never like to say never. Because there are circumstances that I could do pretty much anything if it inspires me and if I think that it's cool at the time. But right now, at this point in my career, I'm not doing Playboy."
IS IT POSSIBLE FOR KATE UPTON TO HAVE AN ORGASM WHILE HAVING SEX WITH A HAMBURGER?
Kate's now famous ad for Carl's Jr. involved her getting kinky with a jalapeno topped burger. While whether or not she actually made love to completion with the sandwich may never be known, the spicy ad is likely enough to even make a vegan salivate. Was it successful in helping the restaurant sell more burgers? Maybe. Was it successful in allowing audiences everywhere to see what it was like to watch Kate Upton getting busy? Most definitely.