Kate Mara: The Visible Woman
Ask nearly any college age dude what the best things in life are and there's a good chance that girls, football and pizza will rank highly. Now, imagine having two of the three combined in one sexy package and you may either come up with a female pizza delivery person or the sexy Kate Mara. Mara is football royalty in addition to being a talented actress, as her family includes current or former owners of both the New York Giants and Pittsburgh Steelers. So yeah, this hot babe can get you Super Bowl tickets as well as turn you on, and we are going to show you her most revealing images and videos available. Don't feel too bad about missing the pizza part, as she could probably bring you a pizza too if she set her mind to it. So strap on your shoulder pads, get in the huddle, diagram a play or two and get ready to find out
Where Can I See Kate Mara Nude?
Kate Mara has done a decent number of TV and film roles, but her most widely seen and discussed role was her Emmy-nominated work as Zoe Barnes on "House of Cards." She definitely had some steamy moments on the show, but whether or not they were done with a body double is open to debate. You can judge for yourself.
She certainly wasn't shy about her sex scenes in the show, as can be seen in this clip.
She found shooting such scenes to be relatively easy. "It's not uncomfortable at all. We were cracking up a lot of the time…You can't really prepare to do a sex scene. We were drinking coffee right before. It was nothing."
"My dad keeps just saying what we (referring to her actress sister, Rooney Mara) told him when were about 12 and started acting—'It's just acting, Dad! So he keeps reminding himself of that every time we have to disrobe in any way."
Then again, she really doesn't want to watch such scenes with her father.  "Absolutely not. I mean, I don't like sitting next to him whenever we're watching my sister's movies. I just kind of hold my hand over his eyes when certain things happen."
Does Kate Mara Wear Pasties With Famous People's Faces on Them?
While that might seem to be among the dumbest questions of the century, it actually is backed up with something resembling logic. For some of her most explicit scenes in "House of Cards" opposite Kevin Spacey, she did indeed do just that.
"From day two of working with Kevin, I found him just as playful as I am. He would definitely up my game. I tried to get him to laugh by wearing pasties with his face on them. Of course, because Kevin wants to win whatever the game is and because he always wins, he did not laugh. He waited until the director said 'Cut' and then he laughed. Kevin has an amazing sense of humor, but he's also a great professional and he's really f***ing good at it."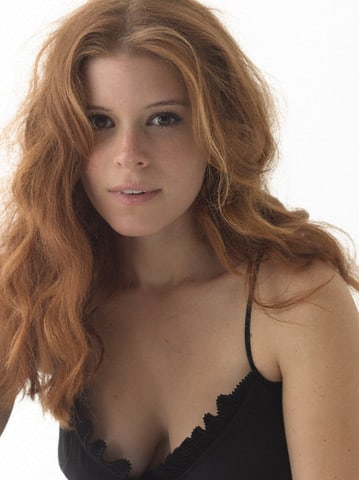 Is Nude Kate Mara A Good Shooter?
It's hard to know exactly how different she is when she's naked, but she did have one of her sexiest on-screen moments in 2007's  "Shooter." Want to see her take off her top and reveal a sexy bra? We are only too happy to oblige your request.
Does Naked Kate Mara Tuck Her Nips?
We aren't quite sure what that means so can't fairly answer it, but it is a nice segue way into our next clip. On FX's ground breaking TV series "Nip/Tuck," a young Kate Mara had a very sexy menage a trois. Although there was only a relatively small amount of skin on display, we will bet that you won't be disappointed in this clip.

Even steamier is this scene from the episode, with plenty more kissing, moaning and erotic action.

How did her family react to this rather juicy scene? "They have a sense of humor about it that they didn't used to have. They were very upset when I was 19 and had a scene in 'Nip/Tuck' that showed only my back but suggested nudity. I tried to explain that it's acting and part of the craft, and if it's important to the story and tastefully done, I will choose to do certain things."

Does Kate Mara Forget Her Pants?
This rather amusing clip from "The Late Show with David Letterman" addresses that topic head on. Or pants on. Or pants off, for that matter. Whatever the verbiage, the image of her minus clothing is worthy of allowing itself to percolate in your brain.
Is Kate Mara the Only Hottie In Her Family?
Kate Mara has a sister who is perhaps even better known, actress Rooney Mara. Rooney was an Oscar-nominee for "The Girl with the Dragon Tattoo," and like her sister, has done her share of sexy screen moments. Unlike her sister, Rooney's done lots of actual nudity on-screen. This clip compilation has her naked messing around with Channing Tatum and Catherine Zeta Jones, though sadly not at the same time. That would have truly broken the internet.

Rooney is also pretty open about her sexy screen work. "I certainly don't want to be involved in anything that is gratuitous, but I don't think the human body is something to be ashamed of. Every other person on the planet has the same parts as I do. So seeing them shouldn't be a huge shock to most people."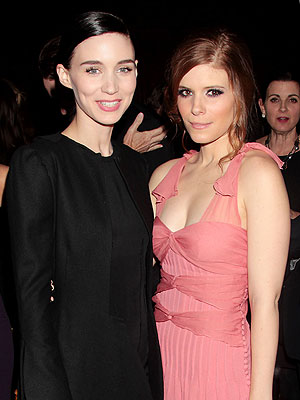 Director Steven Soderbergh, who made "Side Effects" with Rooney, joked that she's "naked in every movie." Good sport Rooney quipped back that "When you asked me to do reverse cowgirl with Channing [Tatum, who plays Mara's husband in 'Side Effects'], I put my foot down. If the character should be nude in the scene and it makes sense and I trust the person making the film—and I regret my decision to trust you now that I know you more—then I don't see a problem with it."
The sisters claim to get along very well. Kate said "There's something about having the girl closest to me in my life also experiencing the exact same job - I know how unique that is. I don't take it for granted at all. Now I have someone who's in the club with me. There was such a long period of time when I didn't have that."

Does Nude Kate Mara Have a Fantastic Pair?
She does indeed have a terrific set of boobs, but they probably won't be on display too much in the movie that's bound to make her an even bigger star. She'll be playing The Invisible Woman in "Fantastic Four," and though that doesn't necessarily mean her bra will be any less visible, she will soon prove to be a total bad ass.
What was it like to play a character that so many people already feel they know so well? "I don't feel more responsibility with this role that I've felt with others. I understand that there are many fans of Fantastic Four and I guess they expect a lot from me, but I prefer not to be pressured by that. We are also trying to create a new way of seeing these superheroes. I'm focusing on making her as real as possible."
How Can I Get to See Kate Mara Nude in Person?
It's not too likely (to put it mildly) that this will happen, but to do so, you'd need to be dating her. How do you do that? Well, this clip offers some insights. One hint – don't be a football player. As mentioned, her family features many football business legends, so her lack of interest in dating them might make sense.
What Would it Be Like to Give Oral Sex to Kate Mara?
While we probably won't ever be able to answer with any kind of authority other than to say it would be rad, we do have this GIF file from "House of Cards" of what it looked like when Kevin Spacey was going down on her. Obviously this isn't real and is only "acting," but hey, it sure looks like fun.
Is Nude Kate Mara Funny As Well As Sexy?
Let's face it – she's hot, knows more about football then most dudes, and she definitely has a great sense of comic timing. This very clever clip shows her and Ellen Page in a silly spoof of "True Detective." Time may be a flat circle, but Kate's circles are definitely not flat.
Is it Worth Checking Out a Behind the Scenes Video of Kate Mara Doing a Photo Shoot?
It most certainly is! This smoking piece shows just how sexy she can be, and is worth watching until you've memorized it frame by frame. Whatever her hair color or whatever clothing she (is barely) wearing, there's no denying that Kate looks great.