JWoww: Jersey Shore Star Gets Wild!
In some possible future, perhaps one where apes haven't taken over the planet, there may be a female version of Mount Rushmore. If one were to take a guess as to whose head might appear, we can guess as to possible choices. Hilary Clinton. Eleanor Roosevelt. Meryl Streep. Sandra Day O'Conner. One person who almost certainly would not appear is JWoww, the reality star who rose to fame on MTV's "Jersey Shore."
It's not that she isn't as famous as the women mentioned previously, at least among some people. It's more that, for example, Sandra Day O'Conner was the first female Justice of the United States Supreme Court and that JWoww is mostly famous for being slutty and tan. Not that there's anything wrong with that, as characters on "Seinfeld" memorably said. It's just our hypothetical Mount Rushmore is meant to embody our culture at its finest, rather than as the one that aliens might look down on from outer space and think "Good grief, that's an incredibly stupid planet."
Ok, it's easy to poke fun at JWoww or countless other reality "stars" as their aspirations often tend to be more about being famous than about doing anything helpful for society. Then again, pretty much no one google searches for pictures of Eleanor Roosevelt's sex tape. So perhaps the question we should begin with is:
WHERE CAN I SEE JWOWW NUDE?

If history has taught us anything, it is that celebrity is fickle, fleeting, ephemeral and wildly unpredictable. Anyone who guessed that "Jersey Shore" would have been such a huge hit might perhaps have been better off having put their minds to picking horses, going to Vegas or becoming a Wall Street trader. That said, JWoww has never appeared nude on screen, but will she at some point when her star power has faded? That's certainly a real possibility. Until then, the best a fan of hers can hope for are the many bikini pics and the like that are floating around. Or you can settle for this clip of her squeezing her surgically enhanced rack:
I ONLY WATCH PBS, LISTEN TO OPERA, AND DON'T USE THE INTERNET BECAUSE IT IT TOO LOW BROW. PLEASE EXPLAIN TO ME WHAT EXACTLY IS A "JWOWW." IS IT SOME KIND OF DISEASE?
First of all, good luck in reading this article as you will need the internet to read it. If you do read it because your friend printed it up and sent it to you via snail mail, you will soon learn that JWoww is the pseudonym for a TV personality born Jennifer Lynn Farley. Her rise to fame began when she played herself, a role she was seemingly born to play, on MTV's "Jersey Shore." The premise was simple — she and seven other Jersey residents of tanned body and likely low IQ lived together in a house while the cameras rolled. The bickering, fighting, flirting and especially the sexual antics of the group quickly made it a hit, with many people aspiring to the lifestyle. A great many other people watched the show not to look for role models but more to watch a freak show of vanity, fake boobs and bravado that made pro wrestling seem sweet and wholesome.
JWoww quickly emerged as one of the better known characters, both for her big and clearly fake boobs, as well as for her candor. One quote of hers stands out as especially  apt. "I am like a praying mantis, after I have sex with a guy, I will rip their heads off." She also mentioned that  "I have a bad habit of playing little emotional games with men. When they date me it's cool in the beginning, we do our thing in the first month, and then I send them on a rollercoaster ride to hell." If you think you measure up to her standards, her is her quote on the type of men she's drawn to: "Tall, completely jacked, steroids, like, multiple growth hormones … that's the type I'm attracted to."
Her best friend in real life as well as on the show is Nicole "Snooki" Polizzi, who actually sometimes made JWoww seem like a Rhodes Scholar by comparison. The two of them got their own series, "Snooki and Jwoww" after "Jersey Shore" completed its six season run.
WHAT IS THE DIFFERENCE BETWEEN JWOWW AND J. LO?
There are truly a world of differences between the two. J. Lo is a nickname for Jennifer Lopez, a multi-talented singer, actress and entrepreneur.  She has dated famous people including Sean Combs, Ben Affleck, Marc Anthony.
JWoww on the other hand is still looking for the parts of her talent that are "multi" other than her artificially dark skin and artificially big boobs, although that hasn't prevented her from trying. Her dating history includes far less famous people like Tom Lippolis, Paul "Pauly D" DelVecchio and fiancee Roger Mathews.
To summarize, if you are given a chance to change places for a day with either J. Lo or JWoww, choose J. Lo.
WHAT'S IT LIKE TO HAVE SEX WITH JWOWW?
One thing that JWoww clearly isn't is shy. She is expecting her first child in July of 2014, and the always candid star had plenty to say on sex while pregnant. "If you can keep the spark going, do it. But for me, it's awkward. My body's going through so much that I'm just like, 'Ick!'" She also had some thoughts on pregnancy and what it does to her body. "Pregnancy sucks! I'm exhausted, my boobs are massive and I've never been this big. I mean, it's a blessing, but it's crazy. Roger's family was visiting, and I tried to hold in a sneeze – and peed my pants! He just got me a new pair of pants and said, 'Try not to hold in any more sneezes.'"
WHAT SHOULD YOU DO IF THE SEX SUCKS WITH JWOWW?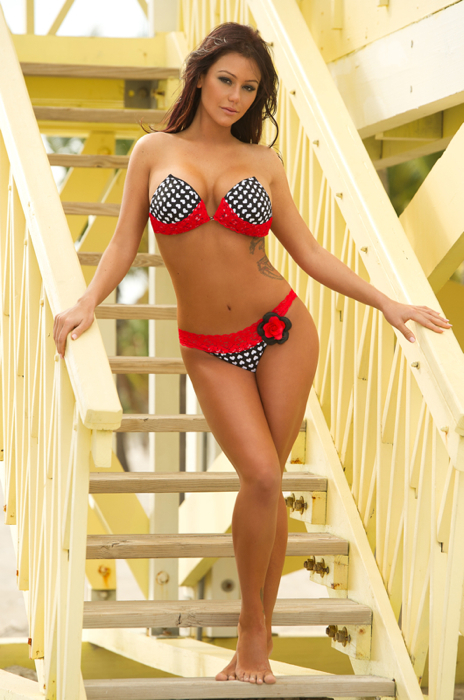 First of all, it doesn't seem likely that anyone reading this is going to find out either way. JWoww does though offer advice to other women about what to do if indeed if the sex sucks in an article she wrote for the Divine Caroline website:
"Show and Tell. Be vocal about what you like and hopefully he will do the same. Sometimes, people just need a little guidance as to what you like – everyone has different preferences. Show him what (and where!) feels good – not in a bossy way, but in a sexy, purring voice – and you'll be steaming it up in no time. Make a mind-body connection. How the fuck are you supposed to share an intimate act without any intimacy? If the sex was off, it could mean you need to make a connection outside of the bedroom- just try to spend a few hours getting to know each other before getting in the sack. Sharing jokes and having something in common can be a major turn on. Work out. I'm not calling you fat – it's a fact that working out can totally increase sex drive because it stimulates the nerves and the brain. Plus, when you feel good about yourself, you feel sexier and more confident in bed. Win win! Use your mouth. Sometimes sex can feel little too physical – tangled up with arms and legs and feet every which way. Take down the wrestling match and amp up the sexy factor by using your lips, teeth, and tongue to lick, suck, nibble and kiss. Hot!! Rub him the right way. Easy – I'm talking about massages. A good massage can do wonders by making both of you feel comfortable and relaxed. It's a great way to ease into smushing and heightens your senses."
ARE JWOWW'S BOOBS REAL?
Even a blindfolded baboon who had been dropped on his head would recognize that JWoww's rack has undergone the knife. Although there are no nude photos of her available, there is a revealing side boob shot of her that clearly shows the evidence:
DOES JWOWW GET NUDE WITH OTHER WOMEN?
JWoww's prodigious appetite for sex is well documented during basically every episode of any TV show she has ever appeared in. She does also admit to at least one evening of same sex coupling. If only there was video of that.