Julia Roberts: More Than a Pretty Woman
Hollywood has a long and nearly unbroken streak of taking raw young talent, chewing it up and spitting it out. There are countless examples of celebrities becoming yesterday's news, or drug casualties, or becoming too old to have any real cache. In the earliest days of American cinema, there emerged a young woman named Mary Pickford, who became among the first true superstars and was known as America's Sweetheart. If there is a modern analogy, it might well be Julia Roberts, who for over two decades remains one of the most popular and beloved actresses in the world. She even appeared in a film of a similar title, "America's Sweethearts," lending even more credence to this theory. Why exactly does she remain such a star, even though her days as a sex symbol have passed? Clearly she is very talented, but what she has is the indefinable yet still powerful "it factor." In a nutshell, it means that when she smiles on screen, it's pretty hard not to smile along. Smiling is one thing, but you've likely come here for another reason. Catching glimpses of her naked.
WHERE CAN I SEE JULIA ROBERTS NAKED?
Ms. Roberts has done dozens of films, but it was only in the movie that made her a superstar that she actually bared a breast. In 1990's "Pretty Woman," there is a lot of her parading about in skimpy clothes, but for a very brief moment you can see her bare boobs. You might need to watch in slow motion to really see much, and it is indeed very brief, but this NSFW clip is the one and only bona fide nude scene that she has done.
One might think that by playing a proverbial "hooker with a heart of gold" that there'd be a bit more flesh. Nope. The film itself, despite becoming a huge hit, generated a fair amount of controversy for its rather shallow if not misleading message. How many hookers in the years since have thought they could find the man of their dreams as part of their job? The film found plenty of feminist enemies, but nearly 25 years later, it holds up reasonably well as a piece of Hollywood fluff and absolutely shows how damn cute she was back in the day.
HAS SHE DONE ANY NUDITY IN THE YEARS SINCE?
Not only hasn't she, but it has become quite well known that she has the buzz killing "nudity clause" in all her movies since. In the very clever 1999 film "Notting Hill," she plays a fictionalized version of herself and has a funny scene where she describes her nudity clause. This chunk of dialogue, with Roberts as Anna and Hugh Grant as William, sums it up nicely.
Anna: What is it about men and nudity? Particularly breasts? How can you be so interested in them?
            William: Well...
Anna: I mean, seriously- they're just breasts, every second person has them. They're odd looking, they're for milk from your mother. What's all the fuss about?
William: Actually, I can't think of what it is, really. Let me just have a quick look... [peeks under blanket] No, no, beats me.
Anna: What's so annoying is now I'm so totally fierce when it comes to nudity clauses.
            William: You have clauses in your contract?
Anna: Yeah. "You may show the dent at the top of the artist's buttocks, but neither cheek, or, if a stunt bottom is being used, artists must have full consultation".
Despite the no nudity clause, she has often shown tantalizing flashes. In her Oscar winning work in 2000's "Erin Brockovich," much is made of the character's superb cleavage. The trailers shows the wonders of the wonder bra in action:
The film itself is much more than just a showcase for Julia's jewels, and is must see viewing for her fans or for fans of its brilliant director, Steven Soderbergh. Heck, it's so good that we should watch another clip of her cleavage in the film, this time with a comedic spin.
If you just need a quick image to gaze upon that fantastic bra in action in the film, feel free to enjoy this picture.
OK, SO I REALIZE FINDING NUDE JULIA IS GOING TO BE A TOUGH NUT TO CRACK. THEN AGAIN, I'M AN ACCOMODATING PERSON. I'D BE PLEASED AS PUNCH TO SEE HER IN A BRA. CAN YOU HOOK ME UP?
Pleased as punch, eh? Well, if you put it that way, who are we to turn you down. In 1993's "The Pelican Brief," we can see her briefly in a brief white bra standing in front of a mirror. There are no pelicans in the shot, which is likely a good thing as a pelican near Julia Roberts in a bra is not exactly the stuff that erotic dreams are made of.
SURE, SHE WAS HOT ALL THOSE YEARS AGO, BUT HOW IS HER BODY NOW? 
Remember, this isn't some random hose bag we are discussing here. If that's what you wanted, we could have shown you pictures of Melanie Griffith. Nope, this is Julia Freakin' Roberts, and you'd damn well better believe she keeps her body in fine shape. In 2007's underrated "Charlie Wilson's War," we get a nice glimpse of J.R. in a bikini. While the blonde hairdo isn't the most flattering, it's clear that she still keeps in great shape.
I LOVE ALL THOSE VEGAS MOVIES WITH HER PALS GEORGE CLOONEY AND BRAD PITT. DOES SHE GET NAKED WITH THEM IN THOSE MOVIES?
Sorry to disappoint you, but that's a big fat no. In the series of movies starting with "Ocean's Eleven" she plays a character pretending to be Julia Roberts, and as we now know, Julia Roberts doesn't get naked in movies. There were though some famous behind the scenes tales of pranks being played on set. George Clooney  put a series of large potted plants outside her trailer so she couldn't get out. Another time, he put a bucket of water above her doorway, rigging it to fall on her when she opened the door. Supposedly it fell on a bellman instead, so hopefully the bellman at least got a big tip instead of just becoming a footnote to a Clooney prank.
As to Brad Pitt, although she has done other movies with him as well, it seems that they never dated. That's probably good because that likely would have caused the paparazzi universe to explode.
WHO HAS JULIA ROBERTS DATED OVER THE YEARS?
As is well known, she is now in a seemingly perfect state of wedded bliss with cameraman turned director of photographer Danny Moder. In the years prior though, her love life was interesting enough to feed an army of tabloids for well over a decade. Among the many names she was linked with were Jason Patric, Liam Neeson, Dylan McDermott and Matthew Perry. She was also engaged to Kiefer Sutherland, who she famously dumped only days before their wedding to run off with Jason Patric.  
Does are imitate life? Does life imitate art? Does Hollywood like to play upon real life tabloid follies and turn them into movies? Does a bear poop in the woods? A resounding "duh" to all of the prior questions. In 1999's "Runaway Bride," Julia got to have fun with her famous last minute dumping of Kiefer. Although the film didn't offer much if anything in the way of nudity, it did give her a chance to reunite on screen with Richard Gere. Plus, fans got to see her ride a horse, which some might find kinky.
Before settling down with Danny Moder, she briefly married country singer Lyle Lovett. Countless beauty and the beast jokes ensued, as the talented Lovett would never be mistaken for a Chippendales' dancer. Their wedding did though give hope to talented but dorky looking guys everywhere that maybe they too could nab themselves a pretty woman.
ARE THERE ANY GOOD SEE THOUGH PICS OF JULIA FLOATING AROUND?
There are indeed. A fine boob sometimes has a mind of its own, and we have the photographic proof right here for you.
MY TWO FAVORITE THINGS ARE JULIA ROBERTS AND PIZZA. CAN YOU SHOW ME WHAT IT WOULD LOOK LIKE TO SEE HER EATING PIZZA?
Congratulations, that may be the oddest request we've had yet. Then again, we live to serve so will happily point you in the right direction. Beyond the mere coincidence that one of her first movies was called "Mystic Pizza," here's a picture that you might find a bit saucy.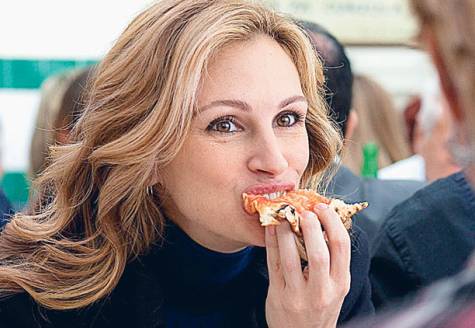 Of course, no mention of Julia and pizza would be complete without discussing the famous pizza delivery at the Academy Awards. She was game for a slice. Nothing too cheesy about our beloved Ms. Roberts.
DOES SEXINESS RUN IN THE ROBERTS FAMILY?
We can't speak to all of her clan, but niece Emma Roberts  is well on her way to becoming a sex symbol as well.