Joanna Krupa: Supermodel Housewife
When it comes to seeing supermodel Joanna Krupa nude, her fans have hit the jackpot.  Not only is she a swimsuit and lingerie model which means you get to see her semi-nude a lot anyway, but Joanna has posed for Playboy not once but twice!   Interestingly enough Joanna had trouble signing with a modeling agency when she first started out since she's only 5'7 and can't do high fashion. Agencies viewed her as either too short and/or too sexy, if there was such a thing.  Well, clearly those agents are kicking themselves now since Joanna is a bona fide "10" and has turned into an international superstar.  Although well-known as a model, Joanna didn't become famous until she started appearing in reality shows like Season 9 of Dancing with the Stars and The Real Housewives of Miami. In between television shows, Joanna has continued to model in the U.S. and internationally and has racked up a long list of pictorials including nude and almost nude photos. Raised a Roman-Catholic, when asked about her decision to pose nude, Joanna said, "I think worrying about going topless in a photo shoot or film is really ridiculous. And the fact is Pope John Paul said since we were born naked, it is art and it's just showing a beautiful body that God created."  It's lucky for Joanna fans that she has such a sensible outlook on showing off her body.
Behind the scenes as celebrity photographer Mario Barberio shoots the 2014 Joanna Krupa calendar
WHERE CAN I SEE JOANNA KRUPA NUDE?
Joanna has heated the covers and pages of various magazines worldwide but most memorable are her two appearances in Playboy, first in 2005 then again in 2009.  In 2005, Playboy featured on the cover and in their July issue in addition to naming Joanna the Sexiest Swimsuit Model in the World. When asked how it felt to sport such a title, she said, "It was definitely an honor because there are so many beautiful women in the world so for magazines to recognize me as one is an amazing feeling and quite an accomplishment. Makes what I do so much more meaningful."  Joanna's work is probably really meaningful to her legions of male fans as well.  In the 2005 pictorial, 24 year old Joanna is posing naked next to a pool and a beach.  In other pictures, she's on a cabana type set wearing only a mesh scarf and jewelry. On June 15, 2005, Playboy threw her an Issue Release Party at the Montmartre Lounge in Hollywood, CA which was attended by celebrities, former Playmates and of course, Joanna.  See Joanna's Playboy spread here.
DIDN'T YOU SAY JOANNA DID PLAYBOY AGAIN?
Yes!  Joanna did another pictorial for Playboy again in December 2009 and also graced the somewhat tame cover. Joanna looks like she's simply wearing a superhero costume on the cover which doesn't give much of a clue to the hot pictorial inside.
Playboy allowed Joanna to pick her own photographer and be involved in deciding how she would be portrayed in the pictures. This time around, Joanna does a few nude portrait type shots in which she's in a studio in addition to some interesting location shots in a nature setting.  In a couple of pictures, water is splashing down on her while she's posing against a stone wall.  The below picture from the December issue actually was on the cover of Playboy's Ukraine issue proving that the Russians are a lot more liberal than we think. See the entire spread here.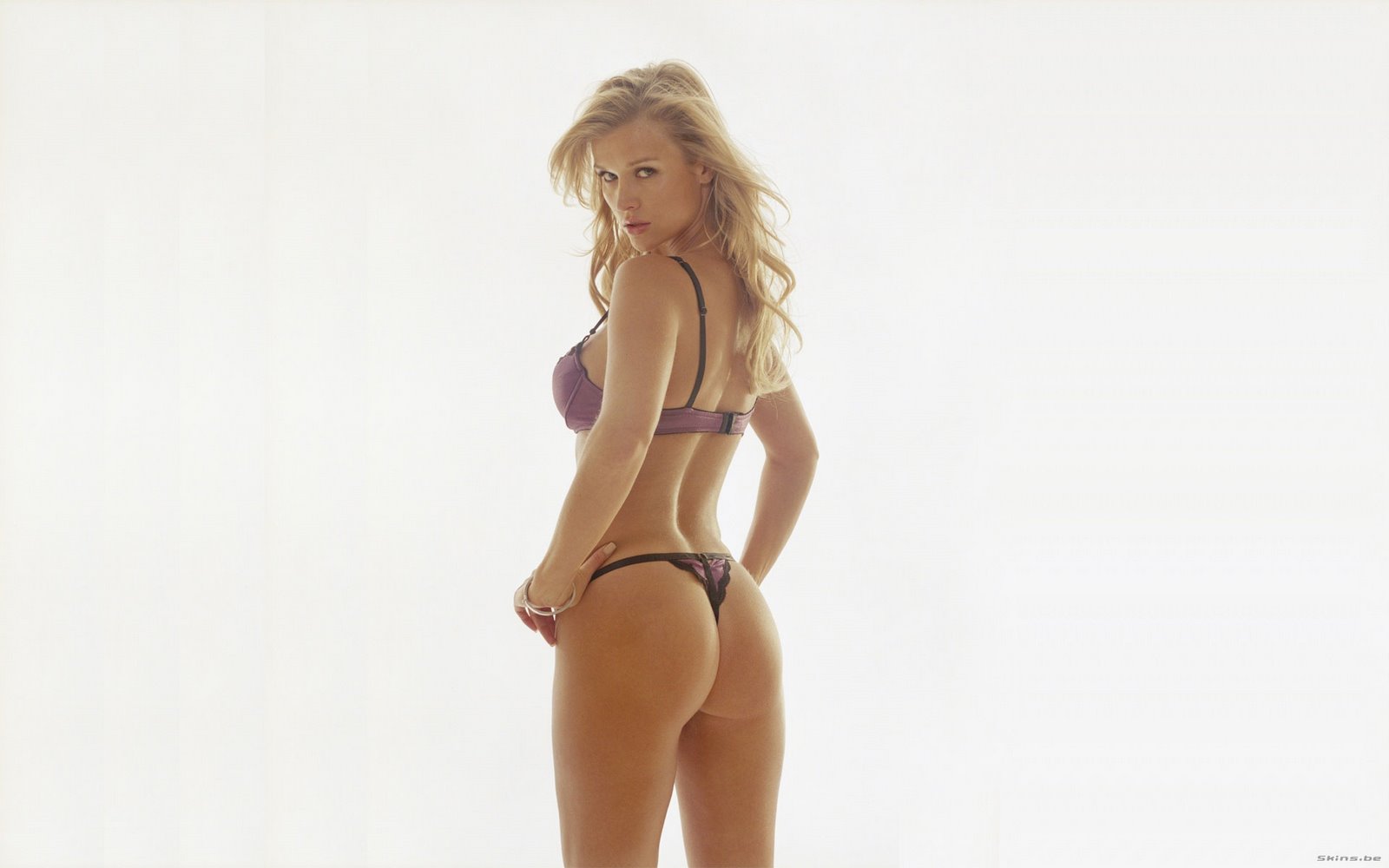 Among Joanna's many accolades is being a Miss Howard TV model in December 2007 for Howard Stern's on-demand pay television service.  In 2004, she was voted German Maxim's Model of the Year and she was number 61 in 2006, number 55 on 2011 and number 89 in 2013 on Maxim's Hot 100 List which ranks the world's hottest women.  Joanna has appeared in the pages of Maxim several times which you can see here but is probably best loved for telling the magazine that she would absolutely date a man with a beer gut, as long as he had a personality.  She also told the magazine about her first catfight which was with (are you surprised) Paris Hilton at a Hollywood club.  Joanna claims Paris walked into the club's VIP area like she owned is and as Joanna tells the story, "She tried to get my girlfriends and me kicked out since she was too insecure to have much better looking girls next to her."  Joanna said since she is friends with the owner, Paris' plan to have Joanna kicked out didn't pan out since the owner said, "If anybody is leaving, it will be Paris!"
Joanna doesn't take spoiled heiresses or hot lists too seriously.  After Playboy voted her Sexiest Swimsuit Model in the World she revealed in an interview, "A magazine about three years ago -- Australia's Inside Sport -- they named me the sexiest woman in the world and it's funny because magazines have started kind of copying from them and using the same title and then Playboy used the same thing."  When asked about her family's reaction to her sexy image, Joanna replied, "My mom of course would rather see me in more clothes. Every time a cover comes out, I'm like in a swimsuit or half-naked, she's like, 'You could have been a little more dressed!' And I'm like, 'Mom, it is what it is.' But she's been such a great supporter. My dad, you know, he doesn't really comment much about it. He's just, like, there."
Well, what can you say when your daughter looks like this:
What is the deal with her NSFW Peta pictures?
Playboy is the best place to see Joanna totally nude but you can see her pretty nude in several interesting ads that she did for PETA.  An animal activist, in 2007, Joanna participated in PETA's celebrity ad campaign, "I'd rather go naked than wear fur," which shows the model in several ads basically naked with her private parts covered.  Joanna said she was moved to get involved with PETA after seeing a video of animals in China being skinned alive for their fur.  She said, ""There is nothing sexy about wearing something that is so obviously tied to senseless pain." 
In 2009, Joanna did another PETA ad that caused some controversy with the Catholic Church since in this ad she's naked and holding a large cross that conveniently covers her lady parts.  She's depicted as an angel floating in a church filled with dogs. The tagline is "Be an angel for animals, always adopt dogs, never buy." In another ad, Joanna is topless, holding a puppy and rosary beads, wearing angel wings and a halo. The ads are designed to encourage people to adopt animals instead of buying them from breeders. "We're trying to spread the word that breeding isn't the way to go," Joanna explained. She added that she felt somebody, "needs to put their foot down and stop this breeding and these puppy mills."  However, many people wish there was some way to breed more of her.  
The Catholic League was not happy with the symbolism portrayed in the ads and claimed it was improper usage of a sacred Christian symbol.  Joanna responded by saying, "As a practicing Catholic, I am shocked that the Catholic League is speaking out against my PETA ads which I am very proud of. I'm doing what the Catholic Church should be doing, working to stop senseless suffering of animals, the most defenseless of God's creation."  She added, "In my heart I know that Jesus would never condone the suffering that results when dogs and cats are allowed to breed."  Amen to that sister.  Those who love to see Joanna Krupa naked frankly need to send a thank you card to PETA.  In her third ad campaign for PETA in 2012, Joanna gets outrageous to show people just how ridiculous wearing fur looks.  In the ad, she is topless with her long hair covering her breasts but wears underwear with a large amount of fake fur trim tucked in and sticking out the sides to prove a point.  Joanna said the reason she wanted to do this campaign was "to keep talking to people about how bad fur is. Fur is not sexy. It's not cool."  
Besides PETA ads, you can get a glimpse of Joanna almost naked in her private her life.  Her husband, Romain is a very generous sort and in September 2013, he posted a picture on Instagram of a nude Joanna wearing a mud mask sitting in bed looking through her cell phone.  He wrote, "Ok, I am a dead man for posting this... Lololololol."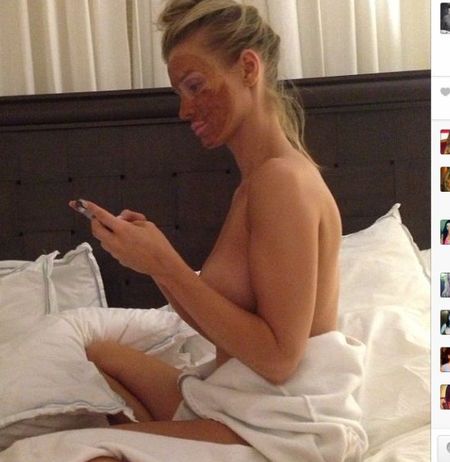 He also shared a picture of Joanna in a bikini sleeping by the pool but ultimately, Joanna probably doesn't mind since she isn't shy about showing off her bikini body.  Joanna tweeted out a selfie showing herse;f standing in front of a bathroom mirror covering her breasts with her arms and only wearing thong underwear.
HAS JOHANNA KRUPA BEEN IN ANY NUDE SCENES?
If you like obscure films, Joanna had a bit part in a 2006 movie, The Dog Problem in which she plays Taffy and shows her breasts briefly before putting on a bikini top.  And unless you're acting in a cable show, you can't be naked on TV, however, the closest Joanna has come is discussing the essence of her lady parts.  On the Bravo show, "Watch What Happens," Brandi Glanville of Beverly Hills Housewives claimed that Joanna was the reason Yolanda Foster (Brandi's "Beverly Hills Housewives" fellow cast member) and her ex-husband Mohamed Hadid ended their marriage. When Brandi heard Joanna's comment on Twitter, "No wonder her husband left her" referring to Brandi's divorce from actor Eddie Cibrian, she said, "Well, Mohammed did tell me her (euphemism for cat) smelled." Appearing on Access Hollywood, Johanna responded to Brandi's comment and said about Mohammed, "I've know the guy for 10 years, he's a dear friend of mine. I've never hooked up with him. I've never broke up a marriage." Joanna went on to complain about Brandi, "Then she was saying that my junk stinks."  Johanna then started to fan air from her body toward the show's hosts and asked them, ""Do you smell anything? That's going low, but that speaks volumes of her." She fretted, "Everybody thinks I stink now." These are the problems a supermodel has.