Jessica Pare: She's Got a Perfect Pair
Ok, let's play a game of name that hottie. She's Canadian, bilingual (but probably not bisexual, much to the chagrin of countless frustrated male dreamers), a star on one of the most respected television series of all time, and has teeth that are either the sexiest things you can imagine or will remind you of Bugs Bunny with boobies. If you guessed the stunning Jessica Pare, you definitely win a gold star. She's been acting for over a decade and a half, but only with her work in "Mad Men" did she reach critical mass. These things might be interesting, but not as interesting as to whether or not this article will help you get to see her naked. Rest assured, it will help you. So, now that we've established that, let's enjoy this well paired chance to find out
WHERE CAN I SEE JESSICA PARE NUDE?
The first role that Ms. Pare was kind enough to bare some skin in was in 2000's "Stardom," and it does indeed offer hints of the star to be. Especially bare hints, as this scene attests.
What was it like shooting scenes like that? She said "I don't have very puritanical feelings about that kind of stuff. But when you do nudity for a drama, for instance, and it gets taken out of context and just put on the net, that gets creepy. You're like, "You know there was a whole emotional content to the scene."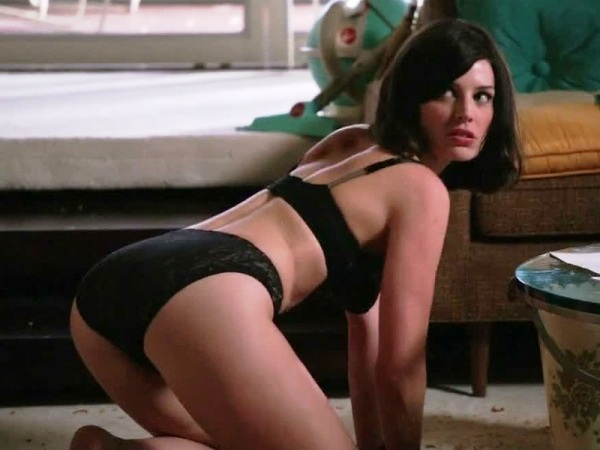 For even more chances to see her getting lost and delirious in a copious display of nudity, look no further than the aptly titled 2001 film "Lost and Delirious." Not only does it have lots of naked Jessica, it even has an unforgettable lesbian scene with the equally hot Piper Perabo. This scene might well fog up your computer screen for good.
What about the questions she got about that scene and the other nude scenes in the film? She said "It happens whenever anybody does nudity. I think it's just one of those things that you have to either learn to live with or you just don't do it. But it's a part of our lives. Sex is a driving force that would be ridiculous to not talk about."
For a more recent glimpse at Jessica's twin marvelous assets, look no further than the cult comedy from 2010 entitled "Hot Tub Time Machine." Her nudity in the hot tub with the always funny Craig Robinson is one of many highlights of the film – it might not be the funniest scene in the film, but it definitely is the hottest.
WHAT EXACTLY IS A ZOU BISOU BISOU AND WHAT DOES IT HAVE TO DO WITH JESSICA PARE NAKED?
As the young secretary who marries Don Draper (or Dick Whitman, if you're up on your "Mad Men" details), Jessica hit a new level of fame. Perhaps her most famous scene was when she sang in front of an embarrassed Don and a room full of friends the provocative French song "Zou Bisou Bisou." Whether or not you understand the lyrics, it's hard to not recognize the sensuality oozing out of the performance.
When she was asked if the performance made her blush, she said "Yeah. And I did turn to my companions last night and said, "So, be honest. Did I just embarrass myself on national television?" They didn't feel that was the case, which makes me feel good."
WHAT ABOUT THOSE FAMOUS TEETH OF JESSICA'S? DO THEY ENHANCE HER NUDITY?
Let's face it – some people think she has the world's sexiest mouth and others prey she would see an orthodontist. She herself deserves the final word on them though. "I forget about them. They're in my face and do their job just great. I never get anything stuck in them!" The accompanying photo shoot from British GQ might very well make you put the matter to rest forever.
WAS JESSICA PARE PART OF THE INFAMOUS ICLOUD LEAK OF FALL 2014?
When the first batch of names of female victims who had private photos stolen and leaked was released as part of the notorious Fappening, Jessica's name was on the list. However, like several other people involved, no such photos of her have yet to be released. This doesn't mean that they don't exist (we may never know the answer to that) or that they just haven't been released as of yet. The sad fact of the matter is that if they do exist, they will at some point likely be released. Do yourself and the rest of mankind a favor if they do leak – avoid them.